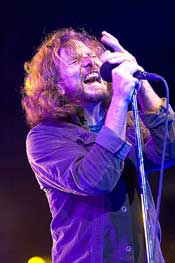 The roars of 18,000 fans pierced my eardrums as Matt Cameron's drums and Jeff Aments' bass pulsated like an hyperactive heartbeat, Stone Giscard and Mike McCready clashed with their guitars as if their were fighting for their lives and their leader, Eddie Veddar, screamed with rage. Pearl Jam circa 2006 are no longer a band with a rabid fan base but one who is ready to take back their place as the conscience of rock n' roll with a ferocious roar. The once pissed-off flannel wearing voice of a generation sung lyrics of disillusionment disconnect and disorder from his pulpit with a sense of urgency and intensity I haven't seen in well over a decade.
It's a shame to awake in a world of pain
What does it mean when a war has taken over?
-"World Wide Suicide"
Over the last fifteen years, I have had a tumultuous relationship with Pearl Jam. I bought "Ten", in late 1991, based on buzz from RIP magazine and I knew it was merely a matter of time before the public at large attached themselves to these melodious songs of torment. For the next few years, especially with the release of "Vs." in 1993, I felt that Pearl Jam was the most important band in the world. They encompassed everything I loved about rock n' roll-anger, aggression, hope, gorgeous storytelling, great hooks, soaring melodies and immortal lyrics- and struck a chord with the disillusioned youth of the world. I don't care what anyone says, but I love it when a band finds their place in time and everyone feels connected to that music. However, beginning with the release of "Vitalogy" in November of 1994, I found myself disillusioned with the bands need to be experimental and non-commercial. While I enjoyed "Vitalogy", it wasn't the home run their two previous releases were. Besides a small decline artistically, I felt the bands reluctance to shoot videos, give interviews and tour because of a $3.50 service fee added by Ticketmaster were grandstanding in the worse form. Pearl Jam was no longer speaking to my heart, my soul and my troubles. I wanted to see them give interviews, I wanted to see them live and I wanted to read and hear them tell me that despite the darkness that surrounds one growing up, it was all going to be ok. For the time being, only their first two albums were accomplishing this. As a result of all of this, I lost track of the band. I knew when new albums were released, but they did not move me the way "Vs." and "Ten" did. In short, they became a footnote in my musical collection.
In 2000, I rediscovered the band through the release of their official bootleg series. Pearl Jam was the first band to actively release every concert they performed, fully mixed and mastered for commercial consumption. This is something I wish every band did and to support what they were doing, I bought a few shows merely as a show of support and to my surprise these were not merely souvenirs, but revolutionary documents of the band doing what they do best; performing live. They still possessed the rage and fury I originally fell in love with back in 1991 despite albums like "No Code", "Yield" and "Binaural" leaving me uninspired. In the context of a live performance, I found songs from each of these discs to come 'alive'. In late 2002, the band released their best album since "Vitalogy"; "Riot Act". While it was not quite the return to form many fans hoped for, the songs and album gave birth to one of the most audacious tours in rock n' roll history. The brilliance of these shows lied in its shock factor. One night you may see a solid two-hour show whereas on other night, for no apparent reason, the band would tear through a three-hour plus show with forty-songs. One never knew what to expect and this was highlighted by a three night stand in Mansfield, MA in July of 2003 where the band performed just under one-hundred different and unique songs over three nights. By the end of the tour, I was once again a card carrying member of the Pearl Jam fan club as a result of these electric performances.
While they took some time off from the road, they remained in the public consciousness and mine with the sublime B-side collection "Lost Dogs", the salient live acoustic album "Live At Benaroya Hall" and the exceptional hits package, "Rearviewmirror", which helped put many of the latter 90's songs into context by aligning them with their early anthems. Despite the rebirth of my love and admiration for this band, nothing could have prepared me for what happened when they descended upon Chicago in May of 2006.
You're always saying you're too weak to be strong...
You're harder on yourself than just about anyone
-"Life Wasted"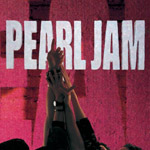 The first week of May, Pearl Jam gave birth to their most potent and relevant album since "Vs." with their self-titled J Records debut. The voice of a generation was back with a vengeance with screaming declarations of hope and despair. These new songs speak to the public consciousness and the state of the world in 2006. However, two weeks after the album's release, I was astonished to have a revelation that usually only occurs at one or two concerts a year. Over two nights at Chicago's United Center arena, I witnessed Pearl Jam tear through over fifty unique and different songs with less than ten being repeated on both nights. It's rare to see any band be this adventurous so early in a tour. I don't think there are words to express what it feels like to see something so captivating that it releases the weight of the world from your shoulders. The first night commenced with the staple opener "Release" and while I was initially disappointed (I was hoping for a more adventurous opener) the disenchantment turned into euphoria as I heard Eddie and 18,000 voices howl the chorus in unison. The stage was dimly lit without a spotlight showcasing the unity of the band. Having a big rock star moment announcing your presence is not what is important to this band, as the lyrics took center stage here. There was no ego-tripping, rock poses, indulgent guitar or drum solos. The two nights were about unity.
While the opening number set the stage, it was the second song performed on both evenings that defined the show. "World Wide Suicide" is the most important Pearl Jam song to be written in years. The intensity of this number was a blueprint for the remainder of the evening which found the band in an unrepentant manner never resting on their laurels or their legacy performing every song as if these would be the last shows the band were to ever play. Both shows flirted with the 160-minute mark and exhausted me mentally and physically as I witnessed the band hold nothing back. The biggest difference between the electrifying performances of tours past and this one lies in the intricately crafted and riveting new material. Over the last decade, Pearl Jam has improved on their studio templates to make their sometimes sterile studio versions fixating when performed in front of frenzied audiences. Eddie's voice showcases all the intensity and anger one needs to believe that Pearl Jam has a fire lit underneath them. Anyone who has continually seen the band live over the last decade knows that when it comes to concerts, they're challenging their audience nightly with blistering performances few can match.
What is making this tour so magical is the variety of material performed nightly. Night one saw the band confidently change up classics ("Alive", "Go", "Black", "Better Man", "Jeremy", "Even Flow", "Given To Fly" and "Corduroy") alongside the potent new songs ("Life Wasted", "Comatose", "Severed Hand" and the melodic "Unemployable") which will no doubt be future classics. For the first time in well over a decade, casual fans may have found themselves wondering if these songs were new or forgotten deep cuts hidden on "Ten", "Vs." and "Vitalogy". The bands ability to shuffle between the two mediums was inspirational, especially when the entire crowd sung along to the gorgeous new ballad, "Come Home" proving that songs merely two weeks old can be tour de force moments alongside the war horses.
You can spend your time alone redigesting past regrets, ohh,
Or you can come to terms and realize you're the only one who can
forgive yourself. Oh.
Makes much more sense to live in the present tense.
-"Present Tense"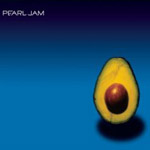 However, it was one specific performance which left me in awe. Eddie, born in Chicago, spoke of the Chicago Bulls championship runs in the 1990's and in their honor, performed "Present Tense", a gem from "No Code" and a song I have ignored since its release. On this particular night, band and fan converged into an awe inspiring moment which may make me change my entire opinion of "No Code". When it came time for the chorus, the entire crowd didn't just sing the song, but they screamed it back to the band for a spine tingling moment I will never forget. It was right at this moment, when all of Pearl Jam's decisions as a band over the last dozen years came into focus for me; their Ticketmaster fight, shunning of the press and the complete and total embrace of their fans made complete and total sense. All these years Pearl Jam has fought corporate sponsorship of their music and I realized, that if they had ever chosen a sponsor or had continued to fight to be the best selling band in America, a moment like this never would have been possible. Instead of fighting for mass acceptance, they sought something far better...a family. No other band on the planet takes better care of their fans than Pearl Jam; from preferred tickets, a holiday single and official bootlegs, Pearl Jam puts every other fan club organization to shame. By showering their die-hard fans with respect, the fans in turn has become more than fanatical, but devoted. In today's market place, Pearl Jam makes sure that this core fan base comes first and then the people who may or may not buy their albums next because they know that you can't have a number one album every time and chasing that train is a losing game. I began to see WHY they fought the fights they fought. They wanted success on their terms. Because of keeping it in the family "Present Tense", a deep album cut, came alive and had more crowd participation than even "Even Flow". This isn't "Piano Man", "My Generation" or "Hey Jude"...but a lost track from a widely misunderstood album. It was at this moment that I knew it was unlikely I wouldn't see a better performance of any song in 2006 no matter how many shows I see.
The extended encore was thrilling when Eddie Veddar gave a spirited solo performance on the Beatles classic "You've Got To Hide Your Love Away". As the lights overtook the crowd and the band tore through a blistering version of the Who classic "Baba O'Riley", the sold out crowd belted the song out at the top of their lungs as the voices soared above even the band's frenzied playing. I didn't see how anything could touch this opening night, but I was about to be stunned once again.
For the lights of this city
They only look good when I'm speeding
Gonna leave 'em all behind me
Cause this time
I'm gone
-"Gone"
The second night was as magnanimous as the first with the band once again reclaiming their destiny as the conscience of rock with an endearing, unrelenting and iconoclastic performance. If one ever has the chance to see Pearl Jam on back to back nights in the same city, I wouldn't just suggest it but demand you see them both nights as the band changes their entire set list. Less than ten songs from the previous night were repeated giving the show an entirely different make-up and feel. I found the band revisiting forgotten classics and digging deep into their vast catalog for a few surprises. The best song never to make a proper Pearl Jam album, "Down" brought the house down while the band sprinkled the set with cult classics "Lukin", "Last Exit", "I Am Mine" which stood side by side with ferocious performances of "Once", "Gone", "Animal", "Do The Evolution", "Why Go" and "Better Man" (which never gets old no matter how many times it is performed). Even "Insignificance" from the 2000 album "Binaural" gleaned like a star.
Once again, one of the new songs, "Gone" reached new heights as the crowd slowly whispered the lyrics back to Eddie before hitting the chorus and like a shotgun the crowd fired themselves into a tizzy egging the band on. The amazing aspect of all this is that Pearl Jam delivers each song with subtlety and restraint because they have already won these fans over by making them part of the family. It was in this moment when I realized that Jon Bon Jovi, Mick Jagger, Steven Tyler and Bono are such great front men because their livelihood depends on it. Don't get me wrong, these guys can work up a sweat whether it is in a small club or a football stadium, but Pearl Jam didn't have to resort to any shtick because the fair weathered fans in the crowd were few and far between. They don't hold ticket auctions and don't fill the best seats with industry peeps, they save the best seats for their fans. At the United Center, there are ten Will Call windows and eight of them were reserved for Ten Club members. By giving everything they can to their fans, they don't fall into a trap of having to rely on their past and the stadium anthems to fill seats at $100 a ticket. No other band at Pearl Jam's level has cheaper tickets. Besides price, you will be hard pressed to find better value as the standard concert is well over 150-minutes long.
Eddie Veddar may not be as nimble as he was fifteen-years ago, but the aggression and passion with which he delivers these lyrics is second to none as the second encore proved to be one for the ages kicking off with "Last Kiss", which featured Eddie Veddar singing from the soundboard at the back of the floor. If this wasn't enough to seduce the audience with a seductive finesse, Eddie returned to the main stage for a defiant performance of "Last Exit" and an unyielding sense of driven nostalgia with "Glorified G", a song that was completely off the hook. Figuring the band had reached their nexus I was planning on a rocking finale but was pulled back in for the serenely subtle and elegiac "Crown of Thorns", a song performed only at "special" shows, according to the band. It's a Mother Love Bone track which appeared on their only album and the "Singles" soundtrack and is usually reserved for Seattle, Madison Square Garden or Boston (where the fan base is beyond fanatical). When the band launched into "Rocking In The Free World" and "Yellow Ledbetter" it was almost an after thought for me as my expectations had been blown out of the water by this time.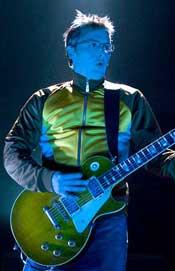 With the house lights on, I viewed the intensity of the sold out arena and saw them rocking in a way I had not seen before. While many acts have torn down the walls of the United Center before, few have made it like a communal gathering the way Pearl Jam did. For that, I am grateful...
Over two nights earlier this year, I saw Pearl Jam present its catalog in a fearless fashion with aggression and anger. This was a band who has once again converged everything I love about rock n' roll to become the conscience of rock n' roll for not just one but multiple generations. Pearl Jam may never have the years top grossing tour, but that's OK, they'll settle for being the best instead.
"...I'm still alive"
-"Alive"
Set list for Chicago 5/16/06
Release, World Wide Suicide, Life Wasted, Severed Hand, Comatose, Given To Fly, Low Light, Corduroy, I'm Open, I Got Id, Even Flow, Unemployable, Daughter/(W.M.A.), Present Tense, Do The Evolution, Jeremy, Save You, Porch Encore 1 You've Got To Hide Your Love Away, Better Man, Come Back, State Of Love And Trust, Black, Alive Encore 2 Go, Blood/(Atomic Dog), Indifference, Baba O'Riley, Yellow Ledbetter.
Set list for Chicago 5/17/06
Set 1 Severed Hand, World Wide Suicide, Life Wasted, Animal, Marker In The Sand, Do The Evolution, Whipping, 1/2 Full, I Am Mine, Even Flow, Gone, Insignificance, Better Man, Save it for Later, Down, Garden, Inside Job, Lukin, Why Go Encore 1 Wasted Reprise, Man Of The Hour, Footsteps, Once, Alive Encore 2 Last Kiss, Last Exit, Glorified G, Elderly Woman Behind The Counter In A Small Town, Crown Of Thorns, Rockin' In The Free World, Yellow Ledbetter
Anthony Kuzminski can be found at The Screen Door.
---
RELATED LINKS