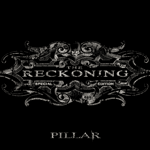 The special edition release of Pillar's new release, The Reckoning , features the band's forth album in addition a DVD bursting forth with rock and roll goodies.
The thirteen track CD release features Pillar as a maturing, evolving set of song writers and musicians - still rocking out as hard as before, and in a couple of cases even harder. Yet, the band is also willing to take a chance on some songs that are more experimental, even more emotional.
However, being well honed hasn't turned these guys into dinosaurs - The Reckoning is a cutting-edge, contemporary release. The songs are laced with just a tolerable touch of emo accentuating meaty grooves - and influenced by the Devine, as these Christian rockers believe.
Three of the tunes on this disc which together offer a hint at the diversity of this album:
"Last Goodbye" - inspired by a heartbreaking and horrific true story - an emotional reminder to cherish the people who are each a part of our lives.
"Crossfire" - a heady, catchy rocker. It takes true talent for a band to harmonize during such driving, powerful songs but Pillar manages to do it with ease.
And "Elysian" - a hypnotic instrumental showcasing the talents of drummer Lester Estelle, bassist Kalel, and Noah Henson on guitar. With vocals as powerful as crooner Rob Beckley's, it's easy for the rest of the band to remain in the shadows, but "Elysian" reminds us that the rest of this band is just as integral.
The DVD component of The Reckoning 's Special Edition release begins with an entire concert from Pillar's performance at Cornerstone 2006 - a massive Christian music festival in Bushnell Illinois.
Dominating an insanely large audience Pillar plows through their songs while rows upon rows of moshers are in a frenzy. Simply watching this performance and listening to the driving tunes, one would never guess how faith-based Pillar's members are. Very little talk between songs, the band delivers one solid song after another.
The cinematography is stunning. With Pillar taking the stage amid a magical twilight, the visuals are vividly crisp and colorful.
Set list for the Cornerstone show is as follows:
"Fireproof," "Hypnotized," "Simply," "Everything," "Tragedy," "Underneath It All," "Aftershock," "Crossfire," Bring Me Down," and "Frontline."
Additional special features include interviews with each band member talking about their specific roles in the band musically, and their equipment - be that drums, guitars, or vocal chords. There's also commentary from the guys on every song off the new album - definitely a unique characteristic for a rock video. Any Pillar fan around will be thrilled to hear each member's perspective on the songs and the writing and recording process of the band. Also, the hard-core musical geeks out there will love all the musical jargon the band throws around as well.

Sadly, during the interviews there are tracks from the new album being played as an over-dub, and at times it's very hard to hear and understand what the guys are saying. But that's the only negative thing to say about this powerful special release - over two hours of bonus features in all.
---
RELATED LINKS