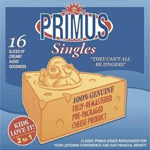 Leave it to Primus to release such goodies as a lengthy DVD along with a 'most loved songs' album of sorts, only months after the release of Les Claypool's solo project Of Whales and Woe. Do these guys ever sleep?
Primus - to someone who's never heard them before - is weird. But listen long enough and you'd recognize them as creative geniuses - even if their music isn't your cup of tea. Quintessentially, musician's musicians.
Bass-bashing and funk-flinging enigma Les Claypool - half space alien, half college professor, has continually put out the groovy goods time and time again. On the new CD, They Can't All Be Zingers , the meaty, 16-track compilation of songs was chosen by the cult-like Primus following, and includes:
"To Defy The Laws Of Tradition," "John The Fisherman," "Too Many Puppies," "Jerry Was A Race Car Driver," "Those Damned Blue-Collar Tweekers," "Tommy The Cat," "My Name Is Mud," "Mr. Krinkle," "DMV," "Over The Electric Grapevine," "Wynona's Big Brown Beaver," "Southbound Pachyderm," "Over The Falls, "Shake Hands With Beef (Extended Version)," "Coattails Of A Deadman," and "Mary The Ice Cube."
Then there's the very visual Primus. What to know what the world looks like to a bass guitar on an acid trip? The Blame In On The Fish: An Abstract Look At The 2003 Primus Tour De Fromage DVD is artistically disjointed in a way that only Primus fans can truly get.
Interview excerpts, back stage footage, and music rehearsals spliced in with live concert clips, this DVD release is a candy store for those with a tooth sweet on Primus. It's also an audio-visual extravaganza of Primus' tunes psychedelically inspiring freaky neon colors and bizarre film and camera effects.
Live performances from the band's 2003 tour include:
"Mr. Krinkle," "Jerry Was A Racecar Driver," "Southbound Pachyderm," "Deanza Jig," "Over The Electric Grapevine," "Hello Skinny," "Nature Boy," "Bob," "Mary the Ice Cube," "Pilcher's Squad," "American Life," and "Mr. Knowitall."
The film also features Claypool in full makeup as a 105-year old doing an interview 59 years from now, speaking in hindsight on his life and musical career.
You'll also see exactly why Primus blamed it on the fish.
And as if 70-minutes of play time weren't enough to satisfy, there is also a whooping 90 minutes of bonus footage. Never let it be said that Primus doesn't give their fans the material they want, nor enough of it.
---
RELATED LINKS