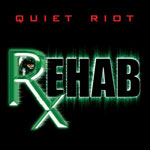 It's almost impossible to think of Quiet Riot without "Mental Health" suddenly playing in your head. As one of the biggest, Platinum Record heroes of the 1980's Quiet Riot left their mark on not only the hearts of metal-heads, but also on the pages of Billboard's music charts.

Sadly, too many bands from that era and genre don't seem to have the motivation - or maybe even the guts - to attempt to release a new record in this day and age. Quiet Riot, however, had not only the inspiration but also the chutzpah to write and record Rehab , a diverse, 11-song release that undeniably delivers the heavy metal goods.

Recorded and produced by original members Kevin DuBrow, with his unmistakable vocal sound, and drummer Frankie Banali, they solidified the recoding process with Tony Franklin of Blue Murder and The Firm fame on bass, and session guitarist Neil Citron.

DuBrow's singing is amazing; both the rocking, wailing crooner Quiet Riot fans know and love, without having lost any of his power or rasp. Some of his singing on this disc is just what the hard-cores will expect, yet in other areas his range is notably and pleasantly distinctive.

The opening cut, "Free" is heavy-hitter with a contemporary, edgy groove.

"Blind Faith" is a solid song, exemplifying the maturity of these songwriters. They are no longer the " Cum On Feel the Noize" boys - they've grown as musicians but still know how to rock as hard as ever.

"Old Habits Die Hard" is a surprising cut on the record - almost gospel rock - yes; you read that correctly - with a bluesy guitar solo.

"Strange Daze" is in-your-face with ballsy guitars, and "In Harms Way" showcases more vocal uniqueness for DuBrow.

"Beggars And Thieves" is a catchy; dare I say - poetry set to a solid groove. And "Don't Think" begins with a sexy bass line - this is a great song to strip or lap-dance to. Then there's the humorous "Sucks To Be You" which will have you snickering while singing along.

A couple of the songs where the instruments themselves are the rock stars: "South of Heaven" has got a gritty, almost southern-rock sounding guitar sound, and the driving force behind "Black Reign" is actually the rhythm section.

Rehab wraps up the disc with a soulful rendition of the 1969 classic "Evil Woman" where former Deep Purple/Black Sabbath's Glenn Hughes joins DuBrow on vocals. Together Hughes and DuBrow sing their hearts out.

One of the best recordings of this year; I'd call this a comeback record extraordinaire but these guys really hadn't gone anywhere, they've just been lying a little under the radar while pertinaciously getting better and better.
---
RELATED LINKS