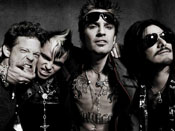 I never watched a single episode of the first season of Rockstar with INXS. One of the reasons being is that I find the whole process by which they pick a singer to be downright insane. Anyone who has ever been in a band knows that it's all about CHEMISTRY. It's about each unique individual bringing something to the table that is electric and explosive. It's incredibly hard to find one person with whom you will spend the rest of your life with, let alone trying to find four or five with whom you may see more than your life partner. This is why the number of bands who stay together for the long haul is few and far between. You have to hand it to the Rolling Stones, U2 and Aerosmith for holding it together for decades. How many of us have friendships that last that long? Despite all of this and my better judgment, I did find myself enjoying the INXS album with JD Fortune, "Switch". This was a one in a million shot where they created a damn fine pop-rock record and while it's not a five-star affair, it was representative of who INXS was and will continue to be. With this in mind, I was open and optimistic when I heard there would be a second season of "Rockstar". However, when I heard they brought Tommy Lee into the project, I immediately knew something wasn't right.
You see, back in the day, Tommy Lee was my favorite drummer and something people do not realize is that he's a rather extraordinary musician. His second solo disc, "Never A Dull Moment", was a deep, brooding, melodic and introspective disc that arguably is the best music he has ever created. However, since its failure to light up the charts back in 2002, he's been on a downward slope. First came a ridiculous autobiography where his most famous body part narrated a few chapters (no, I am not making this up). To make matters worse, inside sources have told me that despite making the New York Times best seller list, the book never came close to recouping its initial payout to the star. Next up was a limp third solo album followed by a reality show that had dismal ratings. Despite all of these failures someone thought it was a good idea to partner with him for a reality show? The only positive from a financial and artistic standpoint from the last few years has been his reunion with Motley Crue. However, even Motley has begun to call in their performances after a surreal unbelievable and explosive start. They are limping their way into mediocrity now charging $100+ for co-headline gigs as the once extraordinary reunion tour has now become a yawn fest. I want to love Tommy Lee, I really do. Deep down, I believe he's a misunderstood artist and even more so, a misunderstood human being. My personal take on it is that he has horrible advice from his management whom seem more concerned with his presence in the news (whether it being good or bad) than they do about his credibility as a musician. This is a man who is striving deep down to be taken seriously as an artist, yet aside from the first four months of the Motley reunion tour, everything else he has been involved in since 2003 has only tarnished his image and takes him further and further away from being respected and viewed as a musician. This is why I never thought Rockstar Supernova would ever take off.
Despite my reservations, I was actually optimistic about this latest incarnation of Rockstar because of one person; Butch Walker. I've sung his praises time and time again. Butch has the magical melody gene in his body and can take a throwaway song and make it into a Top-40 smash. However, after Butch disappeared after the first episode, I had a feeling there was trouble in paradise. He was heading out on the road to support his vastly underrated solo disc "The Rise and Fall of Butch Walker and the Let's-Go-Out-Tonites", however, I bet he could have been flown in for some of the tapings if he really wanted to be there which my gut feeling tells me, he didn't. He probably did not any attention brought to him as what he probably saw as a disaster waiting to happen. The chosen talent for the competition was weak at best and only two people appeared to have the chops to play with these seasoned veterans. However, when they chose Lukas Rossi as the winner, there almost appeared to be an immediate backlash. It was as if the band has put a nail in their coffin even before the album had been completed.
Although, I was expecting the worse, I'm glad to say this album is nowhere near as dreaded as I had initially feared it would be. This album should have been one of the worse of the year, but it's not and I credit Butch Walker directly for holding this project together. There are some soaring chorus' with a kaleidoscope of gorgeous sonics which encompass Walker's bigger than life sound as a producer. All of that being said, not much stands out on the album either. If this was a Butch Walker album of B-sides, I probably would have given it a "B" (I'm hoping the demos of these songs with Walker's vocals leak one day). While Walker's efforts are heroic, he alone couldn't save this album from tanking. Nevertheless, the performances here fall flat and there is no emotion whatsoever in the vocals. I want to FEEL the music, have it shake my body and make my heart skip a beat.Lukas Rossi does none of this and this is when I can understand what he's singing.
The album's two opening tracks, "It's On" and "Leave The Lights On" should be riding the FM airwaves, but Rossi under whelms them on every level. The first week sales are in and the album didn't even hit the Top-100, it came in at #101, with a meager 16,679 copies sold. Now it's not that this is necessarily a horrible number, but considering this show was shown worldwide to millions of people for three months, it's dismal. It goes to show you that music fans are not stupid. They know when something is true and genuine and they also know when they are being taken for a ride. The music industry has become obsessed with selling units over creativity in the last decade and as a result, the industry as we know it is dying. What kills me is that I truly and genuinely love bassist Jason Newsted, deeply admire guitarist Gilby Clark and want to love Tommy Lee (see paragraph above). These are talented guys and despite one of the most renown producers at the board, this project lacked one major ingredient; passion. I hope they all find it again soon one day and if they do, I'll be the first person out of the gate to sing its praises. In the meantime, if you are truly looking for some masterful rock melodies, support Butch Walker and go and buy his solo albums at the link found here.
---
RELATED LINKS