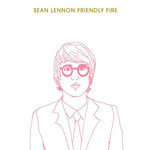 Sometimes all it takes are some major love issues to kick-start the writing of a new CD, and Sean Lennon has definitively applied his experiences in his new release called Friendly Fire.
It has been nearly eight years since his debut CD Into the Sun, and the new CD is packed with nine original songs Sean wrote and a remake of the Marc Bolan song called Would I Be TheOne.
With an exclusive interview, Sean was proud to speak of Friendly Fire as he noted, "that the songs deal with betrayal, broken promises, forgiveness, and an integration of love." Dead Meat, the lead-off song, demonstrates Sean's ability to really feel the hurt of betrayal with lyrics like "In the end you're gonna learn/All you get is what you deserve." With his airy vocals, you almost want to run and give the guy a hug and tell him all will be ok. Sean says, "The song expresses anger when you are betrayed, and you will reap what you sow." Sean had a big break-up with former girlfriend Bijou Phillips after his best friend for thirty-some years went behind his back to start dating her. Then before Sean and his friend could make amends, his friend ends up being killed in an accident. Sean called this tragic mishap not a love triangle but a polygon. His song Friendly Fire takes a look at this stunning yet sad chain of events with clever lyrics and surprisingly calm voice. Two songs that are major standouts include the upbeat vocals in Spectacle and the hand-clapping Headlights. Sean sings, "Before you go to bed tonight, you must turn off all your headlights." Sean describes this song as turning off all your thoughts and emotions. Parachute has a Beatlesque sound and feel as Sean drains out "If I have to die tonight/I'd rather be with you/ Cut the parachute before we die."
Once you have listened to the CD, then take out the DVD that is included, and you will see "art films" that Sean helped create about each song. This is a nice twist and Sean described the filming has "physical and intense."
Sean said his mom –Yoko Ono- gave him advice on the music industry "Be careful and don't get ripped-off like The Beatles did." Sean also said he has been influenced by many bands and artists like The Rolling Stones, Black Sabbath, Michael Jackson, and of course The Beatles. With only seven rehearsals, Sean and his band have hit the road and are now on their fall tour promoting Friendly Fire.
The CD Friendly Fire is pop-driven, but in a style that is unique, free-spirited, and exciting to sink your ears and mind into. Sean has taken one large step up both lyrically and musically and Friendly Fire has hit the bullseye!
---
RELATED LINKS