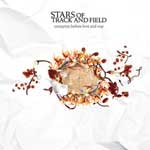 Stars of Track and Field originate out of Portland , Oregon . The members are Jason Bell - Vocals, Kevin Calaba - Vocals/Guitar/Keyboards and Daniel Orvik - Drums/Samples/Programming. Stars of Track and Field lost their bassist several years ago, and actually went digital in their base guitar tracks instead of having a replacement for this instrument. The album "Centuries Before Love and War" is actually their first full- length album release. Prior to this album release, they had created a self-released debut EP "You Came Here for Sunset Last Year." This actually received radio play in the Pacific Northwest, where I believe they may have a more popular reputation as opposed to the Midwest and east coast music fans, which, have not really heard of this band until their recent new album release.
Upon review of the album "Centuries Before Love and War" by the artists Stars of Track and Field, I am having a hard time describing my thoughts on this bands overall musical talent. I say this largely, because point blank, these artists are not necessarily my type of music genre, and because they are way too mellow for my tastes. I have, however, done my best to try and step into a non-biased reviewers mind while giving feedback on this album, and I would hate to see some music fans out there not want to get this album based just off of my review. I can see some good points to their music, as they are very melodic, and almost "Radiohead like" in their music style, but I had a hard time truly loving this album. I will say for those out there that truly like softer, slower paced melodies, this would be the album for you. "Centuries Before Love and War" definitely have their own unique sound; especially considering the digital path this band has taken in creating their music. I do feel that this is something to at least be appreciative of as a lover of music, since originality always puts an artist higher up on my appreciation list. I do, however, have a hard time giving all praise to 'Stars of Track and Field" on their newest album, which, also happens to be the only album I've heard by them.
I will have to say that the musicianship in itself on this album is actually quite intriguing, but for some reason, when the vocals kick in, I would lose interest in the song that had some great melody to begin with. Some of the songs that really caught my attention musically were "Say Hello", "US Mile 5" and "Fantastic." These songs started off sounding promising in faster paced music, and as soon as the vocals kick in, they slowed down to "love song ballad" pace. Unfortunately to me, most songs on this album sounded similar because of the vocals. I had a hard time distinguishing different songs halfway through the album. Each time a song started off with a faster tempo, and a faster beat in the guitars, drums and keyboards, the vocals would kick in and wouldn't seem to match the pace the song started out in, making the song sound the same as the one I had just heard. Regardless of my impression of Stars of Track and Field's newest album I do believe if you are a huge fan of Radiohead, The Cult or even a Smashing Pumpkins fan, you may really enjoy the album "Centuries Before love and War." If you are interested in purchasing this album, or hearing some of their songs, you can visit www.StarsofTrackandField.com or you can go to www.winduprecords.com for more information on the band.
RELATED LINKS
---