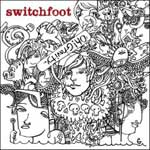 Oh! Gravity has the spirit of a freshly waxed surf board ready to take on the ocean. It grips and glides you though sonic waves bringing you to a familiar shore. According to co-founder Tim Foreman (bass, backing vocals) the process of recording was an enjoyable effort in that, "The studio was just 15 minutes away so we could go home to our families at night," Oh! Gravity is a departure from their previous release Nothing Is Sound, which was recorded in dressing rooms and studio's along the tour.
Spending some time back home has affected the band's sound. They're louder, energized and more confident than the introspective nature of Nothing Is Sound. With Oh! Gravity the group returns to a more Punky feel. The playful edge is back and challenges the listener to challenge themselves.
The title track poses the question of "Why can't we seem to keep it together?" by appealing to that scientific law that should to apply to our lives and not just how we relate to the earth. Without as much as a how do you do they launch into the excessive American Dream. This song is an all too common tale of how we all, in one way or another, think that we are the center of our own universe; creating our own gravitational pull.
The band then gets down right sully with the track Dirty Second Hands, the current single from the release. It appears that they may have been around the self absorbed. In a statement from their website Jon states, "We've always wanted to make music for everyone, not just for the scene. We've tried our best to live out the idea that it's better to be honest than momentarily cool."
The heart of the release comes forth in track number four; Awakening. The song is a primal wake-up-call that brings down the sky and thrusts the listener high upon a mountain top. With the lyric "I want to know that my heart is still beating," Jon Foreman's (Lead singer and guitar) primal canyon scream rallies the foot solders back into formation.
It wouldn't be a Switchfoot release if there weren't songs that speak of the internal challenges and urges of life. With Amateur Lovers Foreman' abdicates that life can sometimes dizzy you up. "We don't know what we're doing, let's do it again." With Head over Heels (In This Life) and Let Your Love Be Strong Jon doesn't allow the consumerist edge to weaken the one thing that saves us all in this life; LOVE.
Jon still channels his dreams into his music with the tracks, Faust, Midas and Myself and 4:12. He continues having visions of the materialistic nightmares that can consume us all. Is it better to have a golden heart or a heart of gold? Heck, the song "4:12" could be any number of Bible verses but then again, in true Switchfoot style, it's probably about something else.
The closest religious passage I found was the in the book 1 st Timothy 4:12, "But the Spirit explicitly says that in later times some will fall away from the faith." – The Bible, but the song is really not about that. It's more of those morning thoughts when you find yourself wide awake at some un-Godly hour trying to remember a dream.
Oh! Gravity's overall message comes from the overwhelming need for people's need to belong to something; something greater. It's a call for community.
Track List:
Oh! Gravity
American Dream
Dirty Second Hands
Awakening
Circles
Amateur Lovers
Faust, Midas and Myself
Head over Heels (In This Life)
Yesterday
Burn Out Bright
4:12
Let Your Love Be Strong