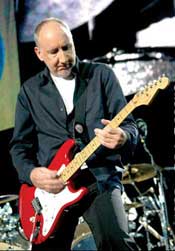 A few weeks back I pulled out the recent archival Who DVD release of their live performances from "Tommy" in 1989. I was astounded when I saw Pete Townshend; he looked tired, scrawny, disenfranchised and depressed. While he put forth effort, it was far from his best and was as if he couldn't wait for the evening to end. It wasn't until a decade later that Townshend became animated once again and since then he's been delivering potent performances like it was 1970 all over again. The last seven years have found Pete delivering some of the most energetic and radiant performances of his life. After the death of bassist John Entwistle in 2002, both Pete Townshend and Roger Daltrey knew they had to take everything to another level if they wanted to continue under the "Who" moniker.and they have done just that.
At the duo's recent United Center gig in Chicago, The Who were alive and well as they battered their instruments opening the show with a frantic rendition of "I Can't Explain". How many acts can continue to kick off every one of their concerts, for close to forty-years, with their first single? Following in quick succession was "The Seeker", "Anyway, Anyhow, Anywhere" and "Who Are You" to the raucous screams of the sold out 16,000 in attendance. There are those who have had issues with the Who because they have emerged from retirement one too many times. I feel sorry for these people because the current state of the Who is out to reclaim their music. It's easy to criticize the band for still touring and making money even though it is only half of the original band. Despite what anyone says, this band is timeless and Roger and Pete have really upped their antes after Entwistle's death giving some of the most effervescent shows of their careers in the last four years.
What differentiates this tour from every other tour the band has embarked on since 1989 is that it is the first to incorporate new songs. The good news is that it's the best material the Who have created in a quarter century.the downside to that comment is that aside from two songs on a throwaway compilation from a few years back, it's the bands first material since 1982's "It's Hard". Despite being performed alongside legendary classics, the new songs held up surprisingly well. Trying to even compare the new material to their vintage masterpieces is a losing game and one not worth playing. These new songs show there is still life to be breathed into the Who and that they don't plan on coasting into their retirement solely on the basis of their legacy. Eight new songs from the band's upcoming album, "Endless Wire", were performed and while not all of the songs were great, they are far superior to the majority of material found on the band's last two official albums, "Face Dances" and "It's Hard."
Even though it does not appear on "Endless Wire", the Elvis inspired "Real Good Looking Boy" proved the band still has the magic with this gorgeous ballad which was delivered elegantly with heartfelt precision by the six-piece band. Daltrey gleefully sang with a defiant delivery, despite having some coarseness and scuff on his seasoned voice. The evening's most unexpected moment was when Daltrey had to unexpectedly leave the stage due to an allergic reaction to something he inhaled (no joke) from the crowd. Townshend apologized before he and the remaining band members pulverized the arena with a scorching rendition of "My Generation"/"Cry If You Want", after which the band took a short break before everyone, including Daltrey, returned for a searing performance of "Won't Get Fooled Again". Even with Daltrey's strained voice, the band exerted themselves giving their all and in truth, they have much more to prove now without Entwistle and Moon than they did thirty-years ago. This alone is reason enough to fork over your hard earned cash to see the Who. Pete and Roger are stretching themselves and as a result, you will see both of them be as animated, gracious, determined and emotional as they have been on a concert stage since before "Tommy". Every time they play these songs it's not just for a pay day, but because they still have something to prove.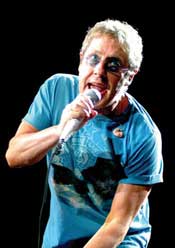 I'm a third generation Who fan and can't really accurately compare how the band is today to how they were in their first forty years, but being an avid bootleg collector, I can tell you that after Keith Moon died, the band never quite found it's footing again, until the son of a Beatle came on their radar; Zak Starkey. Kenny Jones and Simon Phillips handled drumming duties for the band between 1979 and 1989, but neither came close to capturing the essence of Moon. In fact, much like Led Zeppelin drummer John Bonham, no one ever could replace him as he was one of a kind. But there's something mystical about Zak being behind the kit. Despite his father being a drummer, Zak received his first drum kit and lessons from none other than Keith Moon. My seats gave me a bird's eye view of Zak and his drumming was not only manic, but meticulous as well. Zak pushed these songs forward making them feel like Keith was there.which I believe he was. I've always been a spiritual person and while Starkey is a first-rate drummer, every time he gets behind the kit at a Who gig, I truly believe Keith Moon is side by side with him in spirit. Zak Starkey is one of the best drummers working in music today and in truth, I'd fork over money just to see him drum for two hours. Zak's playing may not be as primitive as Moon's, but it's equally effective and for the only time since Moon's death, the Who felt whole again, which made the death of bassist John Entwistle in 2002 even more devastating as I believed the band was set to truly reinvent themselves. In Entwistle's place, session player Pino Palladino has done a stand up job since stepping in on short notice in 2002. He has found his groove with the band and happily is hiding in the background of the stage amplifying these songs and along with Zak, keeping the beat for Roger and Pete.
Throughout the evening the band performed the old and new with vigorous energy that was forthright and sincere. However, the most surprising moment of the evening was the final number, "Tea and Theatre", a new song which featured only Roger and Pete. It was an odd way to end a show, especially after the "Tommy" suite and the trancelike strobe light jam of "Won't Get Fooled Again", but this was something different I nor anyone else had ever seen at a Who show before. The power of these two legends spoke to the masses and as the final note was performed, I grabbed my wife to make a rush for the parking lot, but something happened. The crowd gave a deafening roar that made both my wife and I stop dead in our tracks. It wasn't the kind of triumphant roar heard at the end of a nostalgic number, but something entirely different. Even my better half looked stunned and said "Wow, now that's a standing ovation". Sure it's nostalgia filled, but the Who may have some fire left in them and even if they don't, if they continue to perform like they did at the United Center recently, I'll make a point of seeing them in concert whenever I can. Despite what anyone says, seeing these two performers push themselves to that next level is not only surprising, but rewarding as well. As far as I'm concerned, as long as these two never rest on their laurels and give half-assed performances, they deserve to play their classics anytime, anywhere they choose. As I watched these two take their bows to the deafening roars of the crowd, I could help but think that despite forty-plus years together; these kids are still all right.
Set list
I Can't Explain, The Seeker, Anyway Anyhow Anywhere, Fragments, Who Are You, Behind Blue Eyes, Real Good Looking Boy, Sound Round, Pick Up The Peace, Endless Wire, We Got A Hit, They Made My Dream Come True, Mirror Door, Baba O'Riley, Eminence Front, Man In A Purple Dress, Mike Post Theme, You Better You Bet, My Generation, Cry If You Want, Won't Get Fooled Again, Pinball Wizard, Amazing Journey, Sparks, See Me Feel Me, Tea And Theatre
2006 Touring Lineup
Roger Daltrey: Harmonica, Vocals, Guitar
Pete Townshend: Vocals, Guitar
John Bundrick: Piano, Keyboards
Pino Palladino: Bass
Zak Starkey: Drums
Simon Townshend: Backing Vocal, Guitar
---
RELATED LINKS