I'll give you everything you want
Except the thing that you want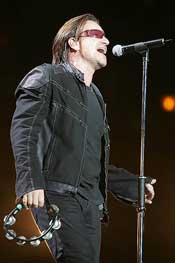 Thirty-years ago today, September 25th 2006, the seeds were planted for one of the world's biggest, best and most cognizant bands ever to grace planet earth. Larry Mullen Jr., Adam Clayton, Paul Hewson and brothers Dick Evans met to discuss the formation of a rock band initially titled Feedback, a year later the Hype and then when Dick Evans left the band, settled on the name that would change the face of rock forever; U2. One year ago today, I was catching my third U2 show in a little under a week. If I were to go back 53-weeks, you would have found a very disinterested writer begrudgingly attending three U2 shows. The "Vertigo" tour from March to August had given us some nice moments and a handful of killer shows (the final nights in Chicago and Boston), but overall left a lot to be desired. I'll admit it, I'm a die-hard snob and want to see the band take me to another place each and every time they hit the concert stage. I felt the band coasted through the first few months of the tour giving sluggish performances that were anything but riveting. This was largely due to the static set lists. In the last quarter century, no other act on the planet has a catalog as well known or respected as U2; it's a mystery to me as to why they don't take more chances with intricately crafted sets like Pearl Jam and Bruce Springsteen. One may never know the answer but when I looked online to see the previous nights set lists only to continually see the same set performed night after night. As a result, I lost most interest in U2 and began to doubt their willingness to give a singular performance to every city and fan. In short, if someone had been willing to give me face value for my tickets, I would have handed them over quicker than you could say "undo, dos, tres, catorce".
Despite all of these reservations I was there for the bands fifth Chicago stop on September 20th, 2005. As the band arrived on stage, it was immediately apparent they were exuding more confidence than they had four-months earlier. Slowly, my icy isolation began to melt away as the opening chords of "City of Blinding Lights" spun throughout the arena. Even though I still find a lack of creativity in their set lists, I looked down upon my arms and saw goose bumps. I didn't expect the evening, and the ones to following it, to be epiphanies. After the riveting opener, "Vertigo" came roaring out of the gates. The performance was slicker than Bono's hair during the Zoo TV era as the band, especially the rhythm section of Larry Mullen Jr. and Adam Clayton, led the crowd with their thunderous beats with a stronger and improved arrangement. One advantage to performing certain songs continually is they begin to fit the band like a glove and astoundingly many of these static songs would take on a life of their own on the final US swing.
On this particular evening, the interaction between the band and crowd was in another stratosphere. "Elevation" found the crowd transmuting the bands power back to them with hands and hearts. Proving that even deep cuts can bring a crowd to life, "Electric Co." was a blast of energy to the crowd which found the prophet Bono on another plane. As he stood in front of the ellipse he channeled Jim Morrison and Roger Daltry singing portions of "Break On Through" and "See Me, Feel Me". With his arms spread like a prophet, I knew the Chicago crowd would follow his every move because at this moment there was no doubting the deliriousness of the crowd. His partner in crime, The Edge, was unyielding with his axework as the band delivered a dynamic performance of a cult song from their debut which translated to the masses. As the band immediately segued into the subdued "The Ocean" this was definitive proof the first of two nights in Chicago would be far from standard. Even though the song was a quarter of a century old, one would never tell as there was a deep intensity to the performance, most notably in the subdued backbeat of Adam Clayton and Larry Mullen Jr. Their rhythm over these two nights would be pitch-perfect with neither of them ever missing a beat.
Up next was a tour premiere of the Grammy winning "Walk On", which was the closer of virtually every show on the previous tour, but in the first six months of the tour, did not receive a full airing until this night. There was something alive and well on the stage this night tat was missing from the majority of "Vertigo" shows up to this point; adventure. It's amazing what is possible when an act relinquishes their self imposed chains and is free to experiment. On the second night, they switched it up again with a full band acoustic performance of the forgotten gem "Who's Gonna Run Your Wild Horses". Later in the week, they resurrected "I Still Haven't Found What I'm Looking For" in Milwaukee giving each show its own unique imprint, something every concert should have. If I have ever had one complaint about live U2 performances is that they are far too sterile in their song selections night to night. I wish they would view the concert stage with the same level of experimentation they view their studio recordings. It is dazzling to see the difference a handful of chosen rarities, deep album cuts, forgotten classics or creative arrangements can do for the intensity and lasting impact of a concert.
Even more stirring was the startling intensity and emotion the band brought to the cherry-picked hits performed nightly; "Miracle Drug", "Beautiful Day", "Sometimes You Can't Make It On Your Own", "Love & Peace or Else", "Sunday Bloody Sunday", "One", "Bullet The Blue Sky", "Where The Streets Have No Name" (arguably the greatest arena song ever which brings magic to every show) and the tours biggest surprise, "Miss Sarajevo". The band's experimental album, "Passengers", released in 1995, is the ultimate coffee house album and one that is best appreciated when digested over time. The performances of "Miss Sarajevo" during the second half of the tour were nothing short of triumphant as Bono wielded his voice in ways never seen before as he tackled Pavarotti's vocal each night as if it would be his last. A widely unknown number became a show stopper, by the use of an instrument many felt was lacking in past tours; Bono's voice.
Everywhere you go you shout it
You don't have to be shy about it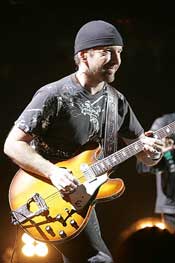 The tour de force moments of the two-night Chicago stand proved to be in the encores each night as the band dusted off some fan favorites (most notably a reworked heavy on guitar "Discotheque") but there were some spellbinding revelations that would etch these shows in my mind forever. "Fast Cars" (a bonus track on "How To Dismantle An Atomic Bomb") was performed to the delight of the crowd and another "Bomb" track, "Original of the Species" took on another life. When I first heard "Bomb" I dismissed most of side two as mostly forgettable ballads. A year after its release, I hold "Species" in my Top-Five U2 songs ever. It's not just because it grew on me as I continued to listen to it, but because its visceral power came to light when performed live. Even though it may be a little rough around the edges and is not as slick as the many of their songs, it resonates like a lost love, which is never far from your heart and mind. The emotion put forth nightly on this song is nothing short of astonishing. Even more flabbergasting was the world premiere performance of the forlorn "Zooropa" track "The First Time". Most of the songs on "Zooropa" are lost on us because it was piggy backed so closely to "Achtung Baby". Up until 2001, "Zooropa" went unaired in America from a live perspective and the lack of live performances from this album has distanced it from many fans minds. However, during the slow periods of U2's career, I have found myself returning to this album time and time again to its lush and seductive melodies. Earlier in the day, a fan outside the arena asked for this song to be performed and the band delivered a stripped back performance with the Edge tackling the electric guitar for one of the most unanticipated and poignant performances I've ever seen in concert. The second night, Bono sang the entire song right before the bridge in "Bad", which has had many definitive performances over the years but this performance took the cake. Each time Bono sang the lyric "For the first time I feel love.love!" He sung the second "love" just like he does in 1988's "Hawkmoon 269" and before you knew it, he had the crowd chanting it as well before the band surged back into "Bad" bringing it to a rousing finale. It was the most vivid and defining moment of the 2005 "Vertigo" tour for me.
I love U2 and their music more than words can express and yet for several months during 2005, I viewed them and their tour with a cynical eye. However I was converted with the two Chicago shows in the fall. On my way out of the arena I had a conversation with a woman who flew from San Jose at the last minute and she was just as stunned to me. She asked if I was from Chicago and when I affirmed, she said "You do realize that Chicago is special because I'm not sure if I've ever seen the band push themselves more than tonight and I've seen 40 shows on 2 continents". While U2 has always unleashed some of the most defining shows of their career in Chicago, they took the template for these shows with them for the remainder of the tour as the band gave multi-night stands in Philadelphia, New York and Boston the same level of love proving they were just warming up in the spring and summer.
When U2 wants to be, they are the most significant, imperative and inspired rock band in the world. There were a few shows early in the 2005 tour that did not take me to the next level, which scared me at first, but they more than made up for it with some of the biggest chances and bombshells I have ever encountered at a U2 show. I look forward to the band putting the cherry on top of the sundae this November as they officially close out the "Vertigo" tour (performing four-weeks of cancelled dates overseas). As long as U2 wants to continue performing and creating at this level, they can easily be an essential and weighty rock band for at least another thirty years.
Come on now show your soul
You've been keeping your love under control
-"Original of the Species"
"Zoo TV Live From Sydney" has just been released on DVD and the band's first autobiography; "U2 By U2" hits stores on Tuesday September 26.
---
RELATED LINKS