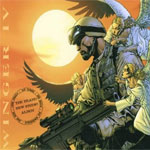 Though it's only Winger's fourth studio album, it's their first in 14 years. With Kip Winger's wicked smile, silky hair, and sinful good looks still burned into the memory of many females from the 80's, if anyone had anyone forgotten the fact that the band actually did release some good music over the years, IV will not only remind them but might surprise a few as well.
Unlike a lot of the pretty-boy hair-bands of the 80's who are still trying to pay off their sports cars with the songs they wrote 20 years ago, Kip Winger and company have become grown-ups maturing into respectable songwriters. Even Winger's vocals have evolved some, not to take anything away from the hit "Seventeen" (I still love listening to that song), but Winger's vocals have filled out - his singing is fuller now, more sensual and versatile.
Some highlights of this album begin with IV 's opening cut, "Right Up Ahead," which is lyrically poetic and musically progressive. All at once, here's the new Winger, so fasten your seatbelts...
"Blue Suede Shoes," which is dedicated to U.S. troops, soars with a tender melody and touching sentiment. "M16" is daring and eerily visual. And the catchy "Four Leaf Clover" impresses me more and more with each listen. Not only are the lyrics creative, but the arrangement is crisp and flawless.
"Your Great Escape" has got radio hit written all over it. A solid back groove with a memorable rocking melody wafting through it. "Living Just To Die" is another that will have you singing along before song's end, and will stick in your head after it's over.
"Disappear" is hypnotizing with a heavy edge and accentuated by a throbbing bass line, and "Short Flight To Mexico" is a tough, fun tune with guitar solos that pay homage to the glory of rock and roll.
Winger has always known how to weave together good songs, but with IV they've moved into the present without a hint of dating themselves to the past, and also without cowing to the current trends. The result of which is a quality record that will stand the test of time. A collection of songs, 11 in all, that are deep, inspiring, and - dare I say - almost spiritual - in a hard rock kind of way.
---
RELATED LINKS