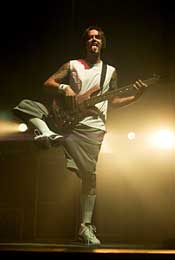 UnRated Magazine was able to speak with the bassist from 311, P-Nut a few days prior to the kick off of their 2007 summer tour with Matisyahu. P-Nut sheds some light on the future of the band, 311-Day '08, and his current side project.
---
Dan: What's going on P-Nut?
P-Nut: Oh I'm just chillin out here in California.
Dan: How's the weather?
P-Nut: It's great. It's really nice I'm going to miss it a little bit when I'm gone. That's one of my favorite things about travel especially now that I've been living in California for 15 years. With all the variation of weather that we used to get out in the Midwest and it's so consistent out here, that the only time I ever get to see weather is when I travel, so I look forward to that.
Dan: We definitely understand where you're coming from living in Chicago
P-Nut: Yeah no doubt right. the extremes.
Dan: Thanks for taking the time to interview with UnRated Magazine.
Dan: Do you guys have a new album in the workings?
P-Nut: You know it's only in the tiniest of beginnings. It's not even really worth talking about yet. We're really just focusing on the tour. But that's our next step after conquering America.
Dan: How excited are you guys to be playing with Matisyahu this summer?
P-Nut: Yeah it's gonna be great! I think it's perfect. We played with The Wailers last summer, and they're kind of like the perfect heritage reggae band. Matisyahu is a cut from a new cloth, nice reflection and such good vibes it's gonna be fun.
Dan: How much longer do you guys plan to tour and make music, because I know many of your fans dread the day you guys say you're done?
P-Nut: There is no real endpoint, except for this moral coil, that's the only thing that could really get us away. We love working with each other. We've said it before, if we ever need to take a break from each other's personalities, or we need to live a little different side of life besides touring and recording, we can do that. Just like we did this last year where we were totally free to do whatever we wanted and nothing really on the agenda except for this summer tour and planning out 311-Day '08. You know those are really the only things we're talking about right now and it feels really good we're really excited about doing this tour and then 311-Day '08 and then starting to make an album and really just putting our whole selves into it. While we're recording just be there for that and not have any kind of time schedule and really make the perfect album. you know that's not possible but it's a goal to shoot for.
Dan: Speaking of 311-Day '08 do you guys know where that is going to be yet? Is New Orleans ready to have you guys back, or are you having one more 311-Day show in Memphis ?
P-Nut: I think it's going to be New Orleans . Yeah we're really excited about getting back. That's part of the reason we're not playing New Orleans this summer is because we're planning on making a return in the spring. We've got all kinds of crazy ideas that we're shooting around and trying to see if they will work at all but we're really excited about getting back to New Orleans and at this point it seems like it's going to work out.
Dan: What tunes you currently listening to?
P-Nut: I've been listening to the new Deftones, here and there, as noisy as it is, but I love them for it, they can do no wrong. I'm still listening to Coheed and Cambria #4 disc, and I love all the stuff that the Iron and Wine people put together, or that guy, it's just great songwriting. You know and then I digress into heritage rock, and I've been listening to a little bit of Steely Dan, and my wife left a Fleetwood Mac album in my car that I listen to unapologetically. I can't believe the production techniques of both of those groups. The clarity and the precision and the warmth of all the instruments is just amazing, and just kind of washes over you. Where in this digital music age, the tones are a lot more irritating, it's more like scratching your hands across a chalkboard, and that's the analog to digital difference.
Dan: Have you ever done a side project or has anyone else in the band ever had one?
P-Nut: It's funny you ask that Dan because I have been working on a side project for the last half year. I listened to some demos of a friend of mine that I play basketball with sent over to me and he was playing in a two-piece, they were bass player-less, and they were playing candid track onstage and I thought that was an abomination. But I thought it was really cool that they pulled it off and I'm sure that they did just fine, but as a bass player, I loved the songs. So I asked them to let me come in and play, and they were happy to have me come in. I brought them into our studio in North Hollywood and we recorded 17 songs, and I got production credit for the first time on a solitary basis.
Dan: Congratulations that's pretty cool
P-Nut: Yeah it's really fun, and the coolest part of it is there's no pressure. It's kind of like really, really good demos and I just hope that this will get the band, 'Hollows Follow,' more attention, and as much as I can play together with the guys I'll do that. But never to get in the way of 311, but it's so much fun and so different. The album is all about the lead singer Owen breaking up with his girlfriend, so it's kind of angry and kind of loud so it's really fun to pound out live and we've been doing that around Hollywood, about 4 or 5 times now. Owen and Josh practice all the time, and that's another thing that kind of brought me over the edge was I saw how dedicated they were. We even got a rehearsal space and we've been practicing a lot. It's gonna kind of suck not playing with them while I'm out, but if the trade off is playing in front of 20,000 people as opposed to 20 people, I think I can handle it until we get back in September.
Dan: Has 311 ever considered doing an all-acoustic disc or having a small tour of all-acoustic shows?
P-Nut: We were talking in a favorable way about this boat cruise that we did out in Long Beach that was 5 years ago that we did for a radio station out here in Los Angeles. We just floated around the bay and played all acoustic and it was really fun but I don't know that we would ever do and album like that. Doing special shows and just more on the novelty side rather than planning a whole tour around it, because I think it would get a little bit unsatisfying for the fans and the band. We would be kind of limited with that, if it was here and there, just to kind of pepper that idea around, it would kind of keep us on our toes. It's a great idea but I don't know that we would do it on any kind of consistent basis.
Dan: When you guys are out on the road, what is your favorite place to eat at, and in what city is that in?
P-Nut: Well we have a band tradition of going out and eating on our days off. A lot of times we'll find a Mortons, I've definitely fallen in love with America 's finer steakhouses. And being a Midwest man, I just can't help it, I've got to have a big slab of beef on my day off as is usually the case, you know eat some cow.
Dan: Thanks very much for taking the time to share some of your greatest insights with UnRated Magazine, and we look forward to seeing you out on tour here soon.
P-Nut: Oh yeah Northerly Island ! I bet it will rain.
Dan: I was just there last night for the Honda Civic Tour, with Fall Out Boy and The Academy Is and it was a beautiful night, so lets hope you get some of that same good weather for your show.
P-Nut: Oh cool I like The Academy Is they are nice guys, we ran into them in Japan last year.
Dan: Well thanks again for your time we look forward to seeing you here in Chicago shortly!
P-Nut: No problem, well I can't wait. We're getting athletically ready to deliver as good a show as possible every night, especially in Chicago.
Dan: Very cool we're excited to see you guys out with Matisyahu
P-Nut: Oh it's gonna be great. we'll see you guys then
Thanks first and foremost to P-Nut for taking the time to speak with UnRated Magazine and thanks to Sony BMG Music Entertainment for making this interview happen.
---
RELATED LINKS