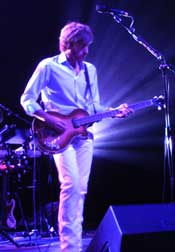 Imagine how it would feel to have one of the world's most iconic rock figures personally invites your band to play New York's famed Madison Square Garden Theater because he wanted to watch you perform. For us mere mortals, the chances of that happening are the same as Tony Soprano dunking over Shaquille O'Neal, not likely. But that's talking about mere mortals, not AIR, France's comic cowboys, guitarist Nicolas Godin and keyboardist Jean-Benoit Dunckel, who, at the behest of David Bowie, amazed a full house of fans at MSG to honor the inaugural year of New York's Highline Festival. Named after the elevated rail structure that travels through the Meatpacking District of New York's trendy west Chelsea area, the Highline Festival is a 10-day music, comedy, film, and art jamboree produced by David Binder and Josh Wood to celebrate the diversity of New York's varied culture.
With a vision to incorporate a different curator each year, Binder and Wood chose someone who, in their minds, was "multidisciplinary, lived in New York, had a very strong aesthetic point of view, [and] was very interested in nurturing new talent;" thus, Ziggy Stardust received the call to arms. "I love the word curate," Bowie told a New York Times reporter with a sarcastic chuckle. "One of the definitions is someone who overseas a zoo." Another definition for a curator is a holy man entrusted with the ability to cure the soul; and with six slots to fill, Bowie used his space oddity powers to summon a healthy mix of mainstream music interwoven with a touch of avant-garde. Bearing a penchant for the eclectic, Bowie reached out to AIR, fresh off the release of their new transcendental opus, Pocket Symphony, with hopes of Godin and Dunckel extending their blend of celestial music arrangements to New York socialites.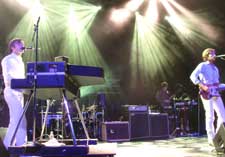 The show got underway with the euphoric instrumental "Radian" from 2001's 10,000 Hz Legend. Purple and green lights accentuated the soothing ambiance as they softly illuminated Godin and Dunckel who, wearing all white outfits, resembled pixies from another planet. Dunckel kept the crowd sedated as his fingers pressed a sequence of keys on one of his two specially engineered synthesizers to introduce the opening track off of 2004's Talkie Walkie, "Venus." While "Venus" sounded similar to the dreamy music one might hear at Disney World's Tomorrow Land the next song, "Once Upon A Time," from the new Pocket Symphony album, elicited a more emotionally charged sound as Dunckel's beautiful piano solo gave way to Godin's harmonizing vocals. Despite the somber undertone of AIR's sound, the lighting, combined with the instrument arrangement on stage, created an endorphin releasing hypnotic pull that left audience members breathing hard after each song's finishing note. The trance-like vibe continued as Pocket Symphony's "Napalm Love" projected sonic ecstasy throughout the two enormous speaker columns located at both sides of the stage. Reverberating throughout the auditorium, "Napalm Love's" final chorus, "How tough is your love" echoed love's resilience before Godin's suave bass-driven "Talisman (off 1998's Moon Safari)" teetered between minimalism and Jazz-fusion. Finding room for improvisation, Dunckel layered Godin's "Talisman" with some euphoric soundscapes that blossomed into an enchanted version of Talkie Walkie's "Cherry Blossom Girl."
Other highlights included an effervescent version of Pocket Symphony's "Mer Du Japon" (meaning Sea of Japan) which showcased an illuminated backdrop that resembled a night sky filled with blue stars, Godin's digitized voice and rocking guitar distortions on 10,000 Hz Legend's "People In The City," and the pounding wall of sensory stimulation used to close out a kinetic "Kelly Watch The Stars" from Moon Safari. Dunckel and Godin saved the most famous, not necessarily the best, for last with an encore set that included Talkie Walkie's riveting "Alone In Kyoto," Moon Safari's breakthrough single, "Sexy Boy," and the spacey crowd favorite, "La Femme D'Argent" (meaning Silver Lady), also off Moon Safari.
David Bowie could not have picked a more visionary band than AIR to inaugurate New York City's Highline Festival. For this journalist, AIR has always been a mysterious group. For nearly a decade, Dunckel and Godin have been cultivating emotional music that can easily be the soundtrack to a person's life, and to witness them perform some of their most spiritually cleansing sounds up close and personal was truly a divine experience. If next year's curator attracts half the talent David Bowie was able to swing than David Binder and Josh Wood's Highline Festival will have a long and fruitful existence.
---
RELATED LINKS