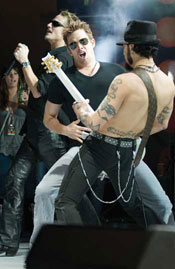 Bacardi's B-Live took over Bayfront Park in Miami, Florida with Camp Freddy and the best DJ's club seekers could ever want. The Bacardi event kicked off the DJ Music convention, and donated all proceeds of the event to the Miami Lyric Theater. They sponsored one of the most entertaining concerts Miami had seen this year. DJ's spun all day and night and Camp Freddy took the stage to a sold out house of twelve thousand fans.
The evening's concert was a packed stage having seen entry with a line of people outside that extended half way down The Bayside Shops, eager to get in.
The entire Bayfront Park Amphitheater and surrounding areas were amazingly decorated, with huge panels of sponsoring Bacardi graphics, shaded with deep red lights. Tents of Bacardi drink stations dotted the amphitheater grounds. The show was complete with side shows of dancers in demonic costumes and fire breathing entertainers, who mesmerized the crowds while the stage crews prepared for the main event, Camp Freddy.
Camp Freddy took stage shortly after 8:30 pm and brought the house down singing 16 songs straight out of old school rock that had the audience dancing, screaming and singing, myself included.
Billy Morrison and Dave Navarro shared the spotlight with guests making surprise stage appearances such as Mark McGrath who sang Cat Scratch Fever. Also present on stage jamming were Steve Jones of the Sex Pistols who sang Bodies, Cantrell who sang Jailbreak, and Brett Scallion who sang Love Removal Machine. On drums was Matt Sorum of Guns N' Roses and on guitars was a very relaxed Dave Navarro who took his corner on stage sporting his signature no shirt look while he played and smoked his way thru all 16 songs, non stop. The ever so popular Billy Morrison kept the songs coming, introducing all the artists adorning the stage.
The evening kept getting better and better with every song played. The audience grew ever louder as the song list rolled on. However, nothing could top the highlight of the night, which was David Draiman from Disturbed, singing the best version I've heard of Man in the Box by Alice in Chains 1990 CD, Facelift. I'm sure Jerry Cantrell was smiling backstage as his song got such a warm welcome. Putting Draimen's vocals to the test with this song was by far the pinnacle of the night. I put my camera down and just sang, forgetting I was there to do a job. I enjoyed this cover so much; I was singing it in the car for many days after.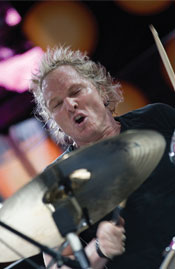 Nearing the end of their set, Camp Freddy's front man, Billy Morrison delighted the ladies in the audience by ending the concert by taking his shirt off for the last three songs and nearly jumping off stage onto the screaming, raging fans who tried desperately to get a piece of him. Mark McGrath, with a sly grin, held onto the back of his pants to keep him from going overboard.
Camp Freddy came and rocked Miami, giving us a taste of great musicians who put their own projects aside to come together in these jam sessions for the love of music.
Together all the performers sang and played in perfect harmony as if they had been a band for the last decade.
Camp Freddy performers:
Billy Morrison - Camp Freddy front man also from Circus Diablo currently touring (Ozzfest) and recording a new album.
Dave Navarro - of The Panic Channel currently touring
Mark McGrath - from Sugar Ray currently hosting TV show Extra
Scott Weiland - of Velvet Revolver - band on tour and they also have a new CD being released April 4, 2007, "libertad"
David Draiman -from Disturbed - Just finished touring in September maybe there will be new dates for the summer announced soon.
Steve Jones - of The Sex Pistols
Brett Scallions – ex-Fuel lead singer now member of The X's
Matt Sorum - of Guns and Roses
Jerry Cantrell - of Alice In Chains just finished touring in 2006
Billy Duffy - of Circus Diablo currently touring (Ozzfest)
Donavan Leitch - Camp Freddy
SETLIST:
Ballroom Blitz
Song Two
Love Removal Machine
Ziggy Stardust
Jailbreak
Cat Scratch Fever
Pretty Vacant
Search and Destroy
Bodies
Hey Joe
Man in The Box
Whole Lotta Love
Aint Talkin Bout Love
Roadhouse Blues
I Wanna Be Your Dog
And a collective rendition of Happy Birthday!!
---
RELATED LINKS