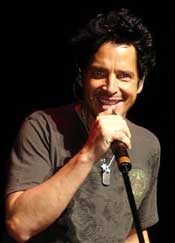 "Words mean more than what is set down on paper. It takes the human voice to infuse them with shades of deeper meaning."
American Poet Maya Angelou
Chris Cornell has been called the single most dynamic rock and roll force produced by the Grunge Revolution of the early 90's. His distinguishable voice and songwriting helped Soundgarden win two grammy awards for 1994's sonic blitzkrieg Superunknown, Audioslave reach platinum status twice in a row with its self-titled debut and second album, Out Of Exile, and earned him a grammy nomination for Best Male Rock Vocal Performance for the song "Can't Change Me," off his solo debut, Morning Euphoria; and that same voice enticed an onslaught of metal fans to spend the final moments of July head-banging at New York City's famed Beacon Theater as Chris Cornell barked at the moon for a thunderous two hour set.
"This part of the show is about you," explained Cornell as he sat on a stool armed with an acoustic guitar and a microphone. "It's about how long you can listen to a guy with a guitar on a stool," and while his stool and guitar appeared randomly throughout the show concert goers who filled the three tier theater were treated to a tour de force of Cornell's 19 year rocking resume that included classic Soundgarden hits such as "Outshined" and "Rusty Cage" off 1991's Badmotorfinger, more recent Audioslave chart toppers like "Be Yourself" from 2005's Out of Exile, the energetic "Cochise" off Audioslave's 2003 debut, and enlivened versions of "No Such Thing" and "Arms Around Your Love" from his most recent solo album, Carry On.
With two guitarists, a bass player, and a carbon copy of John Bonham on drums by his side Cornell credited his band with giving him the ability to tour with these famous songs. "It's because of these guys I can do it," exclaimed Cornell. "So they mean a lot to me," and they didn't let him down for one minute as the lead guitarist spent most of his time on stage morphing between Kim Thayil of Soundgarden and Audioslave's Tom Morello. A tough job considering both Thayil and Morello are exceptional guitar players whose styles are not easy to replicate unless you are, well, them. The band managed to preserve the energy of Soundgarden's "Outshined" before running guitar solo crazy to finish Audioslave's "Be Yourself."
Throughout all these songs Cornell, sporting a modest black T-shirt with a sparking design on the back, appeared comfortable with his band as he ran around from one side of the stage to the other, giving hi-fives to almost everyone in the front row. There was even a touching moment early on in the show when he brought his three year old daughter, Toni, and two year old son, Christopher, on stage to hold the mic as he belted out the closing verse of "Outshined." After testing the crowd's early 90's Soundgarden history with a forceful rendition of Badmotorfinger's "Rusty Cage" Cornell broke out the stool and acoustic guitar to play unplugged versions of "Can't Change Me," off Morning Euphoria, Carry On's "Finally Forever, and Audioslave's smash hit "Like a Stone," from the debut album. "Like a Stone" ended with Cornell relinquishing his vocal duties to enthusiastic audience members as they sang, in unison, the lyrics "I'll wait for you there, like a stone."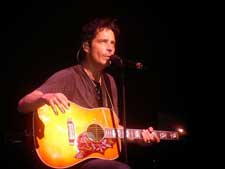 Some of the more memorable moments of the show's second half included a tribute to Robert Plant and Jimmy Page as Cornell demonstrated his vocal range by ending Audioslave's "Doesn't Remind Me" with melodic screams the were immediately mimicked by the bass player's skilled technique; the unforgiving power of Soundgarden's "Spoonman," which blasted the crowd with G-Force intensity; the lighters and cell phones that illuminated the dark theater as Cornell crooned the Temple of the Dog hit, "Say Hello 2 Heaven;" and the cataclysmic wall of sound finish that ended with an ear piercing scream sounding similar to a banshee about to catch its prey.
Before the encore, audience members waited in wonderment to hear what songs Cornell might pull out of his bag of classics. Whispers among fans began to circulate: "Black Hole Sun," no, no "Original Fire," no, "Fell On Back Days," no, maybe "Superunknown," but Cornell surprised everyone by bringing back the stool to sit on as he sang a tranquil version of the song "Seasons," from the Singles movie soundtrack (1992), which Cornell, alongside Pearl Jam's Eddie Vedder, both had cameo appearances in. He then dedicated Morning Euphoria's "Wave Goodbye" to the late Jeff Buckley before ending with Superunknown's smash hit "Black Hole Sun" and Badmotorfinger's "Slaves and Bulldozers." The show came to a close with a five minute drum solo that would have made John Bonham and Keith Moon very proud.
Watching Cornell and his band wow a packed audience of hardcore fans for almost two hours straight showed me that this young rocker of 43 still has enough juice left in him to bang out another ten years worth of hits. Although legendary bands like Soundgarden and Audioslave are few and far between we as fans should recognize and appreciate the fact gifted artists like Chris Cornell have the ability to create timeless sounds that can be enjoyed by fans of all ages. His vocal prowess and songwriting depth has propelled him to rock god status, and although his original fire may be gone, incredible music coming from Chris Cornell still carry's on.
SONGLIST
Intro
Let Me Drown
Outshined
Show Me How To Live
No Such Thing
Arms Around Your Love
Be Yourself
Burden In My Hand
What You Are
Rusty Cage
Can't Change Me
Finally Forever
I Am The Highway
Like A Stone
Doesn't Remind Me
Cochise
Spoonman
Ty Cobb
Say Hello 2 Heaven
Jesus Christ Pose
ENCORE
Seasons
Wave Goodbye
Black Hole Sun
Slaves and Bulldozers
---
RELATED LINKS