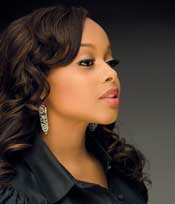 If you haven't heard of music sensation Chrisette Michele, you might have been out of television or radio wave range and it's now time to come out from under that rock and indulge yourself. The smooth sound that emits from this 24-year-old Def Jam artist is truly a treat to take advantage of. The only thing that tops Chrisette's voice on her debut CD "I Am" is her voice live. As proven during her summer tour as the opening act for Musiq Soulchild that just concluded, the singer lives up to Antonio "LA" Reid's praise. "When Chrisette Michele enters a room...The room becomes a better place, because she's in it," says the music mogul. In the case of her Chicago performance on July 8, 2007 at the House of Blues, the room was more than receptive. When Chrisette said clap, no one argued; when she whispered low soul into the microphone, it created goose bumps without anyone straining to hear and when she left the stage, the new fans wanted more.
Chrisette sings with her whole body and makes soulful alliteration seem effortless. Her passion for her work is undeniable when you watch a room full of strangers melt into her music and expressive performance. Even her sound through speakers gives the feeling that the Chairman of Island Def Jam Music Group wasn't just referring to a music venue. It seems this upbeat beauty could rock any room she enters when you hear her range-amazing "Let's Rock". The two singles she's released to radio-play, "If I Have My Way" and "Best Of Me" put the icing on the cake for her obvious career stability. But it's not entering a room the singer is stressing, it's the actual on-stage entry that worries her. She jokingly references how she "needs to start walking on stage correctly like a lady" in her UnRated interview. Chrisette carries herself not only like a lady but also with a level of maturity so great that she preserves her youth only in her look. Jazz greats like Ella Fitzgerald, Billie Holiday and Sarah Vaughan have become her idols and her source of study but the interest of that influence came from her elders during her youth. "I definitely think all the wisdom that I got back in the day definitely plays into who I am today," shares the singer. "I am really big on being a lady and lady-like behavior, so I think those ladies that I grew up with definitely showed me the way."
One could say that it may have been tough for the Def Jam songstress not to grow up perfecting her abilities as a performer. As the daughter of a church choir director mother and an organ playing father, Chrisette was constantly around music. "I was formally trained in jazz and choirs from the age of eight and I also did tap, ballet and hip-hop when I was a kid," she adds. Growing up in an arena where her talents could thrive definitely made a difference that is notable in her performances. Discovered by India.Arie in Chrisette's favorite New York City jazz club, The Village Underground, she proved that a natural flair for music was enhanced by her instruction. Ms. Michele has since worked with forces in the business so great as Nas, Jay-Z and John Legend to name a few. She remembers a moment when that stardom surrounding her really hit home--working with classic hit-maker, Babyface. "I think it's incredible to be a part of anything Babyface does. He is one of my song-writing idols," she gushes. "Being in the studio with him was a dream come true, so it was my job to try and learn from somebody who is so great. He definitely sat there and watched everything I did with that pencil and I felt like I was in school that day. It was a special moment."
What else is in store for this artist? The limits are endless, but she has taken a side of acting onto her plate for now. She will be making September (2007) appearances on the CW's "Girlfriends" and the ABC Family Original Series " Lincoln Heights". If Chrisette Michele ever decided to drop entertainment, though it seems unlikely that it will drop her, she's still got other options she'd be interested in exploring. "I always thought it would be cool to be called Dr. Payne," says the star, referencing her surname. "I would do something like get a Ph.D. in English and be a professor somewhere," she divulges of her entertainment alternative. Check out Chrisette's debut album, in stores now, for a clear picture of the tuneful talent that will take her far.
---
RELATED LINKS