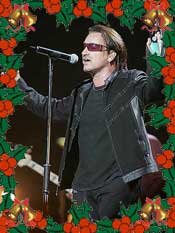 During this holiday season many of you will be attending gatherings or shopping at malls where in the background will be the continuous drone of holiday music. Many enjoy Christmas related music, some hate it, while others tolerate it, fully knowing that it's only played for a short time, though the holiday season seems to be getting longer each year starting up as soon as the Halloween decorations come down.
Like elevator music, Christmas music is supposed to provide a calming reassuring background noise for shoppers and partygoers, although watching the pushing match between some shoppers you would guess Bolt Thrower was playing on mall intercoms, not Burl Ives or Nat King Cole.
Excluding pre-rock and roll artists such as Bing Crosby, Frank Sinatra, Gene Autry, Jimmy Durante, the aforementioned Burl Ives and Nat King Cole, and others of the like. Below is a list of The Top Five Greatest Christmas Songs of all time sung by contemporary artists -- meaning those from the rock, pop and hip-hop community.
5. Santa Claus is Coming to Town -- Bruce Springsteen
A holiday classic written by J. Fred Coots and Haven Gillespie, "Santa Clause is Coming to Town" was originally recorded way back in 1935 by Joe Harris with Benny Goodman & His Orchestra. It's been re-recorded numerous times over the decades but it was the Boss' version that surpassed all other renditions being released as a B-side on his 1985 "My Hometown" single.
4. Christmas (Baby Please Come Home) -- U2
Irish rockers U2 took this sixties classic and made it their own contributing it to the first edition of the popular Very Special Christmas CD series. Written by Phil Spector, Jeff Barry and Ellie Greenwich and originally sung by Darlene Love, the song, like most Christmas songs, has been redone countless times over the years but U2's 1987 version still remains the best rendition.
3. Christmas In Hollis -- Run-DMC
Run-DMC bring a little hip hop flavour to Christmas with their 1987 hit "Christmas In Hollis." Released off the first Very Special Christmas compilation, the song and its accompanying video have become fixtures on radio and video stations come every holiday season. The song also closed the group's 2002 greatest hits album, which was released a month before the tragic murder of DJ Jam Master Jay.
2. Do they Know it's Christmas -- Band Aid
Released in 1984, this massive Bob Geldof-Midge Ure penned single from U.K. supergroup Band Aid hit number one in the U.K, raising millions of dollars for famine relief in Ethiopia. The single returned to the top of the U.K charts on two other separate occasions: in 1989 when a new line-up called Band Aid II recorded it after a second Ethiopian famine hit, and in 2004 for the 20th anniversary of the project.
1. Happy Xmas (War Is Over) -- John Lennon and Yoko Ono
The ex-Beatles' poignant protest song deals with heavy issues but concurrently displays an innocent child-like naivety in its simple, yet brash announcement that "War is over, if you want it." Melissa Etheridge recorded a live version of "Happy Xmas (War Is Over)" a few years ago that is widely recognized as the best cover version of the song.
Bonus: Worst Christmas songs
It wouldn't be a complete list unless the worst Christmas songs were not included. Not to take attention away from such recent seasonal stinkers as The Darkness' "Christmas time, Don't Let the Bells End," and Kathie Lee Gifford's horrendous version of "It's Beginning to Look a Lot Like Christmas," but the two worst Christmas songs are "Silent Night" from 80's glam rockers Winger and Paul McCartney's 1979 solo hit "Wonderful Christmastime."
Winger's interpretation of "Silent Night," is arguably the funniest and worst version of that song that has ever been recorded. The only thing missing in this crappy rendition was a guest appearance from Slaughter namesake Mark Slaughter, although Winger singer Kip Winger does a fine job of embarrassing himself on his own.
Paul McCartney's "Wonderful Christmastime," which actually made the top ten in the U.K, reaching number six, is really not any worse than any of McCartney's other schmaltzy hits of that era but takes the cake at being the worst Christmas song ever solely for its incessant chorus -- "Simply having a wonderful Christmas time." It will nauseatingly stick in your head well into the New Year.