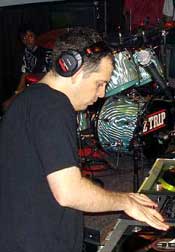 In the early 90's Hip Hop music was going through a transformation. West Coast artists such as Ice Cube, Snoop Dogg, and Tha Dogg Pound used their verbal arsenals to attack East Coast rappers. Further exacerbating the volatile situation between East and West rappers was the signing of Tupac Shakur to Suge Knight's Death Row Records. Upon defecting to the West Coast Tupac took it upon himself to battle all East Coast rappers, including Nasir Jones (Nas) and Christopher Wallace (Notorious B.I.G.), in an attempt to proclaim West Coast Hip Hop's dominance. The feuding between Tupac and B.I.G. seemed to foreshadow a never ending civil war between America's competitive coastlines. That prediction fell by the wayside in early-2007 when the 2K Sports game franchise announced it plans to unite the hottest Hip Hop acts from both coasts to create an energetic soundtrack to accompany the newest installment in their sports game repertoire: All Pro Football 2K8.
With stunning graphics and access to 240 former NFL players, APF2K8 is already proving to be one of the most anticipated sports games of the year. It's only fair that 2K Sports provide a high-powered soundtrack as the backdrop for APF2K8's bone crunching action; and who better than mash-up extraordinaire DJ Z-Trip (born Zach Sciacca) to engineer a compilation with enough bang to rattle your Xbox or Play Station. "One thing I really appreciate about 2K Sports is they take chances when it comes to their music selection, and I'm all about that," confessed DJ Z-Trip. "Working on the All Pro Football 2K8 soundtrack gave me the opportunity to really mix things up. The music fits perfectly in the game, making you want to nod your head and tackle someone at the same time." To simultaneously promote the game and soundtrack, 2K Sports put together a tour that gives gamers and fans a small glimpse into the world of All Pro Football 2K8; and on August 6 th, DJ Z-Trip landed in New York City with fellow turntablist Tricky T, lyrical genius Gift of Gab (from the group Blackalicious), tongue twisting wordsmith, Aceyalone, and drummer Pete McNeal to transform Highline Ballroom into a fully interactive house party equipped with Xboxs and all.
Before DJ Tricky T got the show underway people spent time testing out APF2K8 on the four stand alone console/T.V. exhibits outside the main hall. Similar to what one might see in the electronics department at a local Best Buy, each exhibit was equipped with two controllers which allowed people to enjoy tackling each other on screen while waiting for the show to start. With two huge screens in the stage's background flashing continuous loops of APF2K8 commercials, DJ Tricky T, a friend of DJ Z-Trip for 13 years, got behind the decks to show New Yorkers what Arizona DJing is all about. Tricky T's set started off with some old school New York records such as Notorious B.I.G.'s "Ten Crack Commandments" and Big L's "Ebonics," before slowing things down a bit by incorporating Barry White into the mix. Never causing awkwardness between tracks, Tricky T's transitions were smooth, allowing him to jump from Redman to Gangstarr to Roni Size to The Fresh Prince with ease. By the end of Tricky T's set, Highline Ballroom's huge floor had filled with Hip Hop enthusiasts primed to witness DJ Z-Trip's unique blend of mash-up mayhem.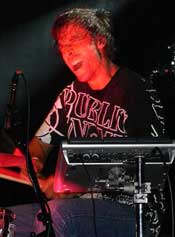 The "Mash-up" style is a controversial form of music because it often consists of two (or three) seemingly mismatched songs that are combined to create a euphonic hybrid. Most "Mash-up" albums are considered underground because the songs chosen for the mix are generally used without written or expressed consent from the artist (or artists) who own the royalties. For this reason, Z-Trip's original Uneasy Listening, Vol. 1, released in 2001, never received the mass production/distribution it deserved. Instead, only 2000 copies were made, and soon became a cult favorite after being distributed over the internet via MP3 format. After incessant touring and multiple collaborations, Z-Trip released his first major label debut, Shifting Gears in 2005. Complied with original material produced by Z-Trip himself, Shifting Gears not only received acclaim from critics and fans, but it catapulted Z-Trip from underground legend to mainstream pioneer, which was enough to capture the attention of 2K Sports' Director of Brand and Lifestyle Marketing, Tim Rosa. "It's rare when an artist can design an original soundtrack that integrates seamlessly into a video game and then transition that to a live setting," explained Tim Rosa about Z-Trip taking his show on the road for the All Pro Tour. "DJ Z-Trip has accomplished this feat, so we're excited to introduce his live mix show with various musicians and emcees from the soundtrack coupled with a live VJ kicking out visuals – this is going to be a sick show," and Mr. Rosa's prediction came to fruition as Z-Trip took the stage and, uh, got on the drums? Yep, you read correctly, Z-Trip banged out a few rhythms on the center stage drum kit, located between the two screens, before taking his rightful place behind the wheels of steel.
Welcomed by the crowd's roaring applause, Z-Trip got his set underway with the Beastie Boys' hometown hit, "No Sleep 'Till Brooklyn" before treating fans to a sonic collage as he mixed Alice in Chains with Peter Gabriel, which then mutated into a Nas/Jimi Hendrix arrangement. Flashes of old Robert Plant and Jimmy Page live footage consumed both screens while Z-Trip fused together Flavor Flav's vocals from Public Enemy's "Bring The Noise" with the thunderous blast of Led Zeppelin's "Immigrant Song," sending onlookers into a rocking frenzy. Just by looking at the audience it was obvious who was and wasn't familiar with Z-Trip's specialized technique. Fans of Z-Trip didn't stop bouncing throughout the set, whereas newcomers often seemed perplexed by the alternate versions of their favorite hits. With flashing strobe lights accompanied by live visual mixing, Z-Trip kept the audience in suspense as he jumped from The Pharcyde's "Passin Me By" to N.W.A.'s "Boyz In the Hood" prior to speeding things up with exceptionally fast Drum and Bass beats accentuated by synchronized Tron-looking graphics on the screen. Z-Trip's set cut to a close with a scratching spectacle that brought together Pink Floyd, Led Zeppelin, Rage Against The Machine, and Queen. After releasing a rush of endorphins on the audience Z-Trip brought out Freestyle Fellowship's Aceyalone to show New Yorkers how California rappers personify the ill rhyme sayer title.
As a founding member of Freestyle Fellowship, Aceyalone (born Eddie Hayes) took his raps in a more poetic direction during a time when hardcore gangsta rap dominated the airwaves. After the Fellowship disbanded, Aceyalone embarked on a solo career that spawned the release of several solo albums, including last years Magnificent City with production by famed mixmaster RJD2, and a slew of side projects such as Haiku D'Etat, The A-Team, and Project Blowed. With over 15 years of rapping experience under his belt, Aceyalone, sporting a mo-hawk hairdo and bright yellow shirt, hit the stage armed with a microphone and an eccentric rhyme flow that only a handful of artists can replicate. In between his multi-syllabic freestyles, Aceyalone jumped into a ferocious rendition of Project Blowed's 2005 single "Who The Fuck Is You?" which galvanized the animated audience. Acey slowed the tempo down a bit with a crowd pleasing version of "All For U," off Magnificent City, which was immediately followed by the aggressive "Automatic At It," from the APF2K8 soundtrack. The rapping smorgasbord shifted into high gear as Blackalicious' very own Gift of Gab brought his unprecedented wordplay skills to center stage, quenching the appetite of rabid Hip Hop fans who cheered him on.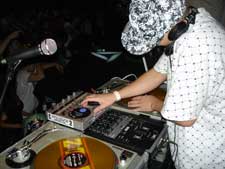 Gift of Gab (Born Tim Parker) started developing his skills as a battle rapper while attending high school in Sacramento, where he met producer/DJ Chief Xcel. They formed the group Blackalicious in the early 90's and released their debut single, " Swan Lake" in 1994. After a string of singles and EPs, Blackalicious dropped their first full length album, NIA in 2000 and followed-up with Blazing Arrow in 2002. The content and delivery displayed on both albums elevated Gift of Gab to superhuman emcee status in the Hip Hop world, which paved the way for Gift of Gab to release his 2004 solo debut, 4 th Dimensional Rocketships Going Up, named after the feeling one receives upon kissing the Blarney Stone. The audience got their own taste of the Blarney Stone as Gift of Gab opened his set with the song "Rhythm Sticks" off Blackalicious' 2006 album, The Craft. "Every time I step on stage, God keeps blessing me," Gift of Gab confessed to the zealous crowd. After dishing out the never-ending streams of consciousness, Z-Trip stopped the beat, allowing Gift of Gab to further exemplify his command of the English language through a fierce Acapella freestyle. Dressed in a white sports jacket with a matching kangol hat, Gift of Gab remained confident throughout his set despite stumbling a bit during one of his songs. The slight mishap came about because Gift of Gab rhymed with such intense speed that it seemed like his brain was processing lyrics slower than his mouth was firing them. Gift of Gab kept the momentum going as he finished his powerful set with the Cut Chemist produced, "Chemical Calisthenics," from 2002's Blazing Arrow. "Chemical Calisthenics" received approval from everyone on the floor via loud screams and deafening applause.
Although the All Pro Tour was billed as DJ Z-Trip w/ Aceyalone and Gift of Gab, there were two other special guests that dropped by Highline Ballroom to add fuel to the already booming fire. The first special guest was drummer Pete McNeal of the Mike Doughty Band. As Pete McNeal began banging away on the drums Z-Trip complemented McNeal's boom with classic rock songs which, together, replicated a live concert feeling. The audience was then treated to stellar versions of KRS-One's "Sound Of Da Police," Led Zeppelin's "Moby Dick," Black Sabbath's "War Pigs," and of course, Z-Trip's famous remix of Rush's "Tom Sawyer." All these songs were enhanced by the constant barrage of old footage visuals from each of the aforementioned bands. By the time McNeal was done drilling the poor drum set he was pouring with enough sweat to fill a two liter Gatorade bottle.
The second special guest of the evening goes by the name of King Heron, but anybody who claims to be a fan of Hip Hop might be more familiar with his other alias, Rakim (from Eric B.& Rakim). Sporting an "I AM HIPHOP.com" shirt and a half red half yellow New York Yankees cap, Rakim (Born William Griffin) opened his set with "I Ain't No Joke," off 1987's Paid In Full. Aceyalone, Gift of Gab, Pete McNeal, DJ Tricky T, and everyone else in attendance watched in awe as Rakim spit the legendary lyrics that inspired a generation of Hip Hop artists. After wowing the crowd with the initial shock of his presence, the microphone fiend went into his new song off the APF2K8 soundtrack, "Let The Rhythm Hit'Em 2007," a Z-Trip remix of the original Eric B. & Rakim classic of the same name. While the new track incited excitement from fans, it was the classic "Juice, Know The Ledge" off 1988's Follow The Leader, that brought the ruckus to Highline Ballroom. Rakim ended the show by thanking fans for their support and promising the release of new material later this year.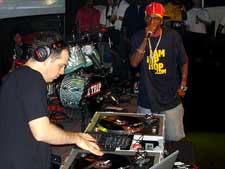 Hip Hop has definitely evolved since the days of the infamous East Coast/West Coast feuding, which resulted in the deaths of both Tupac Shakur and Christopher Wallace (Notorious B.I.G.). It's safe to say that most of the fans who attended the All Pro Tour at New York City's Highline Ballroom represented East Coast fans, and yet they cheered and sang along with West Coast heroes Aceyalone and Gift of Gab, as if those artists were New York rappers. DJ Tricky T, who was born on the West Coast, managed to include a nice amount of East Coast tunes into his mix while Gift of Gab, during his set, admitted to fans that he "grew up on New York Hip Hop." East Coast legend Rakim also gave respect to West Coast born DJ Z-Trip throughout his performance. The fluidity of the Highline Ballroom show, and the album this tour promotes is proof that Hip Hop has come a long way from the violent place it was a decade ago. If this All Pro Tour mash up trend further solidifies camaraderie between East Coast and West Coast artists then the advertisement for All Pro Football 2K8 will hold true for years to come: Legends on the Field, Legends on the Soundtrack.
---