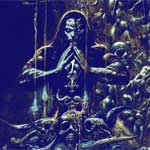 So you followed Glenn Danzig from The Misfits to Samhain and then to Danzig the band. And during Danzig's album career, I'd be willing to bet you thought you'd heard it all – voraciously eating up each release with a feral hunger, milking the B-sides and licking up any outtakes available.
Yet now, 'Mr. Evil' himself has got some aces up his sleeve – 26 of them to be exact. A two-disc collection of tunes recorded for various albums but which never made the final cut simply because they didn't flow with the feel of the records they were written for.
After digging up the songs to grace this "Lost Tracks" compilation, Danzig had to get to work in the studio and not just to produce the final product. Some of the songs had never been finished, some never even had vocals. On July 10th, 2007 Danzig fans can get a whole new injection of Danzig through the years, beginning in 1988.
Starting with Disc One and rocking chronologically, the first two songs on the disc - the meaty, grooving "Pain Is Like An Animal" and the brooding "When Death Had No Name," were both leftovers from Samhain days and carried over into the writing for the first, self-titled Danzig release.
Next up are the hypnotic "Angel of the Seventh Dawn" and subtlety fierce "You Should Be Dying" – casting a dark, enchanting spell on its listeners.
"Cold Cold Rain" – with its 1970's vibe features Danzig as an unlikely emotional crooner. And the T-Rex cover "Buick McKane" – blatantly peeking at one of the influences this performer and writer blossomed from.
A second version of "When Death Had No Name," a sound which so easily could have given way to a duet between Danzig and the late, great Jim Morrison – until the bridge, however, where the tune suddenly transforms into a more modern sounding rocker.
"Satans Crucifiction" – a moody, Danzig-meets-Black Sabbath toe-tapper. "The Mandrake's Cry" – is raw and in-your-face straight through. And "White Devil Rise" – ballsy in its lyrics that talk of a theoretical race war, and a bit callow musically; lacking the teeth it might have had if written a bit later in Danzig's career.
An acoustic version of a song originally written for Johnny Cash, "Come To Silver" – a nice change of pace for Danzig and perfectly fitting for Johnny Cash – I would have loved to have heard this recorded by him. Followed by "Deep" which is slinky and commanding, and then rapping up Disc One is the gloomy "Warlok."
What would it sound like if Rob Zombie wrote a song for The Doors? Probably something along the lines of the tune that kicks off Disc Two –"Lick The Blood Off My Hands" – a slow, undulating groove with a fragmentary production.
"Crawl Across Your Killing Floor" is a surprising sound for Danzig. More of a mellow feel with musical progression that's more refined than the typical Danzig tune. In the next song -"I Know Your Lie" – Danzig flucuates back and forth between an intimidating wail for the chorus but with more subdued stanzas. Then a rendition of The Germs tune -"Caught In My Eye" – executed with a swaying, sexy throb.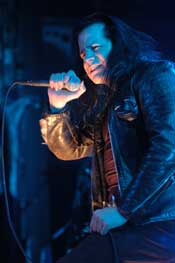 Another cover follows, the David Bowie song "Cat People" – and this is one of the brightest stars of this collection. Danzig carries this out with the authority of a gifted maestro. It starts out slow but builds up with a truculent power.
"Bound By Blood" is potent with some cool sounding harmonies, "Who Claims The Soulless" is typical for Danzig – with familiar inflections and cadence, Danzig fans will love this one, and "Malefical" – which flows on almost a psychedelic sounding lilt.
Another gem –"Soul Eater" – the perfect song to either drive fast to, or use for your striptease.
"Dying Seraph" – a slow wave of musical emotion, "Lady Lucifera" is simple but very listenable and very Danzig, and "Under Belly of the Beast" is as nefarious sounding as one would expect from the song title. Add this to the top tunes of both discs.
And buttoning up Disc Two is the Nine Inch Nails-ish "Unspeakable Shango Mix."
Any band or performer can write new material, but when fans are truly enamoured with the history of one of their favorites it's a rare and special experience to be able to savor songs from those eras which are all new to you and me. Danzig has given us that gift - in 26 different ways.
---
RELATED LINKS