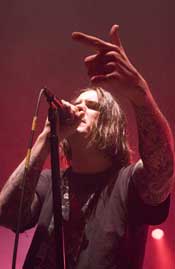 I've been a Pantera fan since I was fourteen, maybe earlier. Consequently I was introduced to Down's first album NOLA (1995). I had seen Pantera several times but of all the concerts I've gone to, I've somehow never seen Down before. There are times when I think I've been to so many concerts that sometimes I don't get as excited as I used to or as I probably should. Let me say though, that I was extremely happy to go see Down play in Denver . Maybe it was because of Anselmo, maybe because I was also photographing the show, or maybe it's because they just never tour...
Down formed in 1991 as a side project band and is an amalgamation of some of heavy metal's modern day superstars. Phil Anselmo (vocals), Pepper Keenan (guitar), Kirk Windstein (guitar), Rex Brown (bass) and Jimmy Bower (drums) are currently or have at one time been in the bands Pantera, Superjoint Ritual, Corrosion of Conformity and/or Crowbar. Confused? Basically everyone's been in another band with another member at some point.
Since I was so excited, I'd shown up early to get in and get to the front. Down was touring without any openers. Yes! Down, and ONLY Down for three hours! That's a lie. There was an opening movie. It included decades old footage of live performances by artists like Ted Nugent, Bad Company, Thin Lizzy, AC/DC, Deep Purple and of course Kiss. Footage of the members of Down on tour and recording the latest album, Down III: Over the Under (2007) was interspersed between the previously mentioned performance footage. The movie itself wasn't bad. What was bad was that the movie was an hour long and it wasn't long before the entire crowd was sick of it and began chanting "Down! Down! Down!" I really felt like the movie was Anselmo and the band flexing their rockstar muscles so to speak. It's a very egocentric move to tour without openers, even more so to have an opening movie that includes yourself. Why not give some lesser-known bands a chance to be seen?
Finally, Down took the stage. I was instantly impressed. Anslemo was looking and sounding better than I had seen or heard in years. Keenan and Windstein both had great guitar sounds and Bower was drumming steady. And I was happy to see that Rex Brown was actually still alive. (He had sort of disappeared during the Pantera break-up fiasco.) The crowd was reacting great to their new material. Down's third song of the night, Lifer, was dedicated by Anselmo to "Darrell" (Dimebag Darrell Abbott). Several times between songs Anslemo mentioned how stoned he was and before the band began playing Hail the Leaf he gave his usual speech on how great weed is and how everyone should smoke it. It's one of those speeches you either love Phil for or you just totally ignore it.
My initial good impression wouldn't last long however. Although the band came out rockin', it seemed like their energy faded fairly quickly. You could blame that on the altitude maybe, or you could say they just need a better stage show. I found it strange that a band with this caliber of members failed to bring any other lights or props except for that damn movie. And it became clear that no one in the band, or the entire theater was as important as Anselmo. Several times he yelled "STOP!" and the band quit playing. The first time there was a fight in the crowd, which I saw from the balcony above. A girl really was just flipping out and kicking people. There is a video of the incident on YouTube now. I think Anselmo was just trying to get people to pay attention to him not the fight and what better way to do it than stopping the song. Additionally the audience and the other band members were put on hold while Anslemo and his personal bodyguard went to the side of the stage to lecture the fighting kids saying, "Anger is just a mist." Thanks for the advice but we're paying you to sing and perform. Just let security do their job.
The second time he stopped a song it was because he felt the crowd wasn't yelling or singing loud enough. Keenan, Brown and Windstein proceeded to sing some lyrics from Rocky Mountain High. This is Denver after all. It seemed to have become the Anselmo show not a Down show.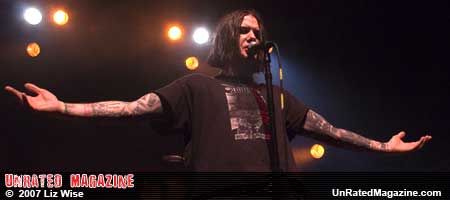 Despite the movie, loss of energy and the egos, I still loved the show. Anslemo's antics and 'quotes' are something I think any real fan as come to see as endearing. Keenan's guitar work is hard but very bluesy. During songs like Stone the Crow his Corrosion of Conformity influence in Down can really be heard. Windstein plays full of groove especially in songs like Ghosts of the Mississippi and Eyes of the South. I was impressed with Bower's cymbal work during Losing All. Down is a great band to go see because they're just hard enough where you can mosh some, headbang some but also not be too worn out to go to work the next day. If you're a fan of metal and/or southern rock this is a show you have to see. And since they tour once every four years or so, you probably don't want to miss it. Also, Down didn't play many songs from NOLA until the encore, I suggest you buy Down III: Over the Under and as Anselmo said, "Study up."
---
RELATED LINKS