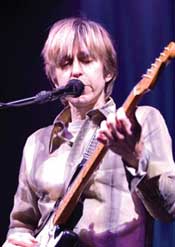 Through all the dulcet tones of night, the notes of Eric Johnson came through it all. His unique style called fans like few others could. Though his acclaim may be more felt within the halls of the guitar aficionado, his ability to bring forth both the subtle and passionate from the strings of his vintage Fender is a testament to his well deserved praise from fellow guitarists.
Born in Austin in the mid 50's, Johnson's first jump into music was but a mere decade and a half later with his first band, called Mariani , and the release of a record that was a time capsule of the time. His influences of technical guitar and blues were already creeping into his developing style.
By the mid 70's he was lending his talents to the Electromagnets. Though the band was short lived, his bluesy style continued to mature. And by the late 70's he set out on his own with Seven Worlds , an album that was cut but not released for 20 years due to a laundry list of behind the scenes wrangling that held back the release . During this period, he continued to play as a session guitarist and toured the local scene, building his name and reputation. Finally in 1986, he released Tones; a highly acclaimed album that though was a critical success, didn't pan out in album sales. This was to be a recurring theme in Johnson's career. He is a musical genius, who is lauded by his peers, but largely unknown beyond the inner circle of fans.
This however changed with the release of Ah Via Musicom in 1990. It became an instant must own album, with the Grammy winning Cliffs of Dover , and the much loved Desert Rose.
The lights dimmed and the crowd quickly settled and turned their attention to the stage as Eric Johnson opened up.
The line up of songs for the night was a great compilation of his music featuring songs like Back Pages , originally written by Bob Dylan, and Cruise the Nile , a great electronic introduction to strings and overall a great song that was something different from his known instrumentals. Originally in his CD release, the intro vocals where done by Shawn Colvin. Johnson took the vocals in this venue.
Though I expected to hear many of the new songs from his most recent CD release of 2005, "Bloom," he still played such songs like Desert Rose as he introduced the song as "his signature."
Some songs, where he does the vocals, I could not make out the words. Though that may be a style preference, it bothered me. I had to work overtime to catch the lyrics. I have to say his humming melody agrees with his strings but my ear was looking forward to actual words being heard.
As I took a moment to look around the audience I began to notice there was more then a few young faces amongst them. This was not just a casual few as I kept glancing back as the song played on. The younger following may be to the fact that he has a very loyal trans-generational fan base. There is no surprise, as his music is something treated almost as an heirloom would; passed down to the next generation.
His performance was of a humble man and his guitar captivating the audience one note at a time. And even more captivating was the reaction from the crowd as he played one great song after another. Throughout his set, the majority of the audience knew the songs from the moment the first tunes of its melody resounded. It was really amazing to watch.
He is one of the best guitar players in the 20 th century, there is no doubt he has an incredible talent.
The next morning I bought his "Bloom" CD online. I'm going to give it to my father in-law who is always telling me how today's a musician makes noise not music. Maybe then he can see there are still musicians who make great music with their guitar and not just noise as he puts it.
---
RELATED LINKS