Clandestine, in essence, means marked by secrecy. The definition makes the word a perfect fit for the formerly hard-to-find clothing line by Fall Out Boy bassist, Pete Wentz. Clandestine Industries was first available only online, and now, three years later, the creative clothes are so coveted that they needed a more permanent and visible dwelling. The designer t-shirts, haute hoodies, and happening trinkets reminiscent of the band member's childhood, now have a home of their own on the North side of a city very special to Wentz. The flagship store, tucked away at 952 W. Newport in Chicago, opened for the first time in October (2007). "It's important to me to be in Chicago because I feel like the brand is representative of Chicago and really, there is no place like home," says Wentz, who grew up in Wilmette, IL, just outside the city.
The brand designer even gives special treatment to his hometown comrades by creating limited-time-only shirts, 250 of each design, available exclusively in the shop. The elite tees are stacked on wall shelves to the immediate right when you step into the store, and are accompanied on the other side of the narrow room by two long racks of more uni-sex treats to cover the torso. The room is divided stylishly from top to bottom, with a black, gothic-style hanging chandelier matching the font style of the Woody Guthrie-inspired mantra on the wall, "This Machine Kills Fashion-ism. Mannequins and cases presenting Nike-styled Clandestine shoes, Toy Tokyo and Kid Robot items, and wallets baring the logo, give the spot away as a place to find merchandise. But the way the cash counter resembles a bar (complete with Crush soda and bottled water, free of charge) and the placement of a complimentary Ms. Pac-Man table-top game in the middle of the room, begs that the store be seen as somewhere you want to spend not only your money, but your time, too.
"I thought it would be a cool spot for people to just hang out and do whatever, and not be forced into buying something," shares Wentz. "We wanted the store to be really clean, but at the same time, we wanted to give the impression you're walking into a mom and pop store that sells punk rock t-shirts." He doesn't impress upon his friends the need to sport his line, but he does bring much of himself into the store and to the designs. Some could interpret the logo of a heart, hollowed out in the silhouette of a bat, as representative of the heart and dedication that Wentz puts into this venture. "I come up with every idea for the designs," he shares about his involvement. "I will do a rough sketch, and by rough, I'm talking stick figures." Though not an illustrator, he is a sage when it comes to the look of the line he's put so much blood, sweat, and tears into.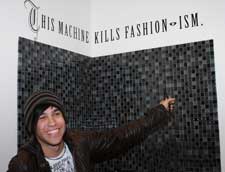 Wentz introduces us to some of his collections, including the "Help Gone Wild" and the "Every Lil' Thing" styles. Talking about the visually pleasing and comfort-heavy pieces, he shows his excitement as he takes us back to the moments when the ideas were formed. "I just remember thinking about the 'Help Gone Wild' collection, and how you know that Valet is going out and having a good time. So I thought, why don't we show that side of things?"
Wentz's efforts stand out in the clothes themselves, but also in the details of the Clandestine Industries Landmark store. It was the star's idea to incorporate the voyeuristic styled dressing rooms marked with the saying "If you show me yours...I'll show you mine." A small door in the middle of the side-by-side changing quarters is equipped with a two-sided lock, urging you to show your goods as you "try before you buy". Though Wentz's visions of the location are met to the tee, the modest designer credits those around him for many other components of the store. "I think the easiest way to be successful or to make an impact on art is to surround yourself with really good people," the designer shares. "The people around me are very smart and know what they're doing."
Stephen Westman, owner and operator of the location is mostly responsible for incorporating the hair-styling component, which will open this November. Two salon stations sit back to back near the dressing rooms and shampoo sink, promising one-stop shopping for a hot look, no matter who you are. With a reasonable price list, you'll choose your style by what you want to spend. Wentz jokingly relates the range in offerings as anything from a "Britney Spears look...if that's all you can afford," to more elaborate styling, much like Beyoncé Knowles' looks.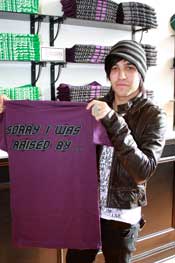 Though he's only added his influence into fashion relatively recently, the musician has been interested in it for some time. He recognizes the importance of fashion, which makes his line flourish. "Clothes should be something that make you feel better about yourself. They should be armor for you to feel safe in your own skin," he says. Though Wentz states that he's a "new-puppy kind of guy," always changing his mind about his favorites from the line, right now he's living in his tri-colored Clandestine shirt baring the words "Live, Eat, Sleep, Party, Die." The shirt couldn't be more fitting as he reveals, "I didn't sleep in this jacket or these shoes, but everything else that I'm wearing right now, I did go to sleep in last night." Similarly, the feeling of the store fits Wentz and his interests like a glove. "We are careful with the brand and where we end up and that's why it's so important to have a flagship store in Chicago...I don't feel like the fashion anywhere else is representative of what I know. The clothes that I wear around and on stage are kind of who I am."
Come as you are to the flagship store, just off the beaten path that is Clark Street. No matter how you walk in, you can always leave Clandestine Industries looking fresh from head to toe. And soon, the store will incorporate a creative outlet for everyone to become their own designer, to a certain extent. This element will allow shoppers to add their choice Clandestine logo anywhere on a blank shirt. Why does Wentz want to give everyone that same feeling he gets when he creates a piece of art? "I want to be able to put a movement in people's hands," he says.
---
RELATED LINKS