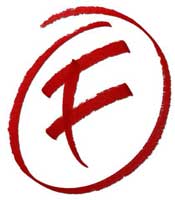 Being a writer has a lot of perks; however, it also has a twisted flipside. I can't tell you how often I'm asked to give a critical opinion on an up and coming artist or a local band. I hate doing this, as many of these talented individuals are still finding their way and they don't need someone like me informing them of their shortcomings. Being in a band is tough and requires hard work to be a cohesive unit without anyone being judgmental of the art. I'm always hesitant when friends ask me to review a CD or show because the first thing that goes through my mind is, "what if they suck?" Trust me, not all of those acts out on MySpace are good, but some of them have extraordinary talent.like the Chicago based foursome Farkus.
The bands name is inspired by the bully (Scott Farkus) from the classic movie "A Christmas Story". When I was asked to review one of their shows a few months back by a close friend, I was immediately apprehensive but agreed to catch a few of their gigs in January. To my great surprise, they gelled as a unit, showcasing not just immense talent but strong songwriting skills and most importantly.chemistry. Farkus formed a little over a year ago but only recently started playing live as they were hesitant to give anything but a unyielding performance that would leave an impression. They honed their craft working non-stop on their songs and their musicianship. When I first caught a glimpse of them in early January, this did not appear to be a band who just formed a mere eight months earlier or who had just a handful of live shows under their belt. This was a band who felt like they had a long and storied history behind them. It turned out they did.
The seed that sprouted Farkus was planted when singer-songwriter Tony Maguire and guitarist Brian Gillham bonded back in high school on the north side of Chicago. Late last spring Maguire began asking Gillham for his thoughts on some music he had been writing and before they knew it, they were jamming and performing with drummer Dave Durdov and bassist/vocalist Matt Kircher weekly. The plan was to not make a debut until they had full command of their material. When seeing their energetic and endearing show, I never would have imaged that it was only their fifth show in front of a live audience.
I never expected to see four musicians so full of energy and spontaneity. They packed a big punch with the slow, steady and sexy rhythms of bassist Kircher and drummer Durdov. Primary singer and songwriter, Tony Maguire, suavely blends the vocal stylings of Jim Morrison and Ian Asbury of the Cult while maintaining his own unique whispered vocal styling. Guitarist Brian Gillham adds a golden touch, complimenting the soaring harmonies of these whimsical songs. He is simultaneously Stone Gossard and Mike McCready (of Pearl Jam) as he segues between the rousing and intricately crafted melodies and supercharged rhythms. On the languid and gorgeous song "Wash", Gillham surprised me as he genteelly interchanged his playing style making you feel as if there were two of him. During this number, all eyes were on his fingers while all ears were on the mesmerizing vocals of Tony Maguire. I watched a handful of young women approach the stage entranced as they hung on every lyric. The live performance of slow building "Wash" had an extended jam which led to a "Baba O'Riley" crescendo, completely captivating the crowd.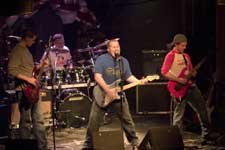 Categorizing Farkus' sound is difficult as it has small dashes of pop, metal and punk with a large underlying sound forged from early 90's alternative bands like Soundgarden, Alice In Chains and Pearl Jam. Their four-song self-titled EP is represented at every one of their shows and each of these songs has a steady beat with dramatic shifts in tempo and tones. As much as I enjoy these songs on the EP, hearing them live is where the music truly came to life. "Chance" is a driving rocker with guitars upfront and took off when performed live. "Believe" is a melancholy ballad with a radio-ready chorus, while "Angeline" is the bands signature song with its slowly building melodies climaxing in a full out jam that enraptured the audience. "Angeline" is one of those songs that gives your body an undeniable jolt of joy.
While the demo (which is available for free download on their MySpace page) is endearing, the live performance encompasses a deep understated urgency. You really believe these guys feel the music and are not just running through the motions. They are creating music because they need to; it's in their system and there is no drug that can cure this disease. All too often we see bands performing who merely seek fame and glory whereas I'm happy to say Farkus does this because they love it. If I had any bit of advice for them, I would recommend bringing a more physical presence to their shows, especially towards the end of each set. Interplay with the crowd is essential to a truly unforgettable performance. They have the skill, talent and charm and forcing the crowd to physically engage will differentiate them from other acts. The future of music will live and die with a band's live shows. Farkus is already a damn fine band with the potential to be explosive.
Farkus is:
Tony Maguire: Vocals/Guitar
Matt Kircher: Vocals/Bass
Brian Gillham: Lead Guitar
Dave Durdov: Drums
Anthony Kuzminski can be found at The Screen Door
---
RELATED LINKS