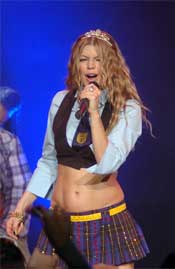 Spending an intimate night with Stacy Ferguson, better known as Black Eyed Peas temptress Fergie, was a Sunday night treat. Of course a host of fans shared the time with us but the cozy setting inside the Chicago House of Blues mixed with the singer's genuine nature made the night more personal. Fergie stepped on the stage on June 10 th just after 9 p.m. singing "Here I Come" off her album The Dutchess , showing right off the bat that we did, in fact, need to "get ready". Fittingly, Fergie was dressed like a queen, complete with a tiara, a short staff and red velvet cape. She spent the rest of the night living up to the portrayal, proving that she's truly deserved all of the recognition she's received up to this point, and maybe more.
The artist dove right in to her perfectly prolonged set with a scene set much the UK backdrop of her video for " London Bridge ". Next, hitting us hard with the hits, the stage switched to a house-party-with-homies feel as she got "Clumsy" underway. By the next song, "Big Girls Don't Cry," she was on stage with just two acoustic guitar players and her amazing vocals. Fergie's voice was on point that night and gave the message that she's here to do big things in her career. With four dancers, a hype man and a band, the genuine girl really took center stage with her signature style. The songs were expertly sung, the dancers were full of talent and the musicians collaborated to make it all fit together for a seamlessly Fergalicious performance.
After a short snippet from BEP's "Where Is The Love," a dance battle broke out between the dancers. Fergie then emerged again in her modest, casual dress, a brown Fergie Hoodie and black leggings with gold flair. The dancers switched costumes for "My Humps" and a transition into the slightly reggae "Voodoo Doll". Never sticking to just one genre, Fergie didn't hesitate to rock out to "Barracuda" by Heart and she definitely mixed her vocals with an unbeatable stage performance complete with animalistic dance moves and one-handed cartwheels. Before she ended the expertly crafted medley, she hit her listeners with Amy Winehouse's "Rehab." The crowd erupted when Fergie switched back into "Glamorous" gear finishing the song with a an unstoppable voice reverberation. To get even more "Fergalicious" the stage was set like the depths of the sweetest of candy stores--the female dancers wearing sexy garb reminiscent of Wonka's Oompa-Loompas, the men with large candy canes like Kappas at a step show. Morsels were tossed into the crowd and after an explosion of confetti from the ceiling, the stage went empty. Stacy came back for a heartfelt performance of her song "Finally" and as she took a bow before exiting, we got the sense that she was born for this.
---
RELATED LINKS