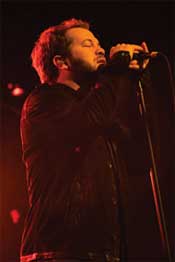 Back in the late 90s, the boys from Burlington, then known as Rainbow Butt Monkeys, came out of the gate with their first album in 1995, Letters from Chutney. Both their name and sound however were destined for change. RBM managed to capture a loyal Canadian following, the question was, would the fans follow the new direction in sound and style that was to come.
Their two year transformation between their debut work and their sophomore album gave the band their break into the US market with Tip, under their new name, Finger Eleven. Gone were the grunge, pseudo-metal sounds from Letter. Their sound now was more melodic and alternative, yet still painted with a rock edge. They developed more complex timing and tempo. Though the band was dropped by label Mercury shortly after the album debuted, they were picked up Wind-Up records, and the album was re-released in 1998. In addition to label changes, that band's drummer Rob Gommerman, left the band, to be later replaced by Rich Beddoe.
In 2000, they released "Greyest of Blue Skies." They landed "Suffocate" on the Scream 3 soundtrack, opening them up to a broader audience, in a market saturated by competing rock bands that dominated radio airplay. The album showcased a darker, more brooding side of F11.
Three years later, their self titled album, Finger Eleven was their biggest commercial success to date, with "One Thing" reaching the top 20 in the US, and additionally, landing songs on the movies The Punisher and Daredevil. The album was also a massive success in Canada hitting #4; confirming they hadn't lost their Canadian following. The album represented their most honest piece of work to date, encompassing a grand array of sounds and emotions, and avoided the sounds of being contrived.
And so, Canadian rock quintet, Finger 11, brought their very best to their fans in Ft Lauderdale on their latest tour with fellow rock band Hinder.
They played the leads from their near decade long discography. "Quicksand" from their F11 debut album Tip, "Suffocate" and "First Time" from Greyest of Blue Skies, and "One Thing", "Obvious Heart", and "Good Times" from their self titled 2003 album. But they led and finished with tracks from their upcoming album, Them vs. You vs. Me; "Falling On" and "Paralyzer."
The much anticipated album had led the charge to market with "Paralyzer," with its incredibly addictive hook. It mixes a bit of edgy rock with angsty lyrics that calls for listeners to move. Sensuous vocals and impeccable dual guitars make this a must hear song and album.
Anderson, their lead vocalist, was a crowd winner, chatting up each song with a story and genuinely showing the love he and his band have for their music. Connecting with the crowd and sharing stories of his experiences out and about in our city.
Finger Eleven has come a very long way from its origins, yet not so far as to forget their roots. They are a band that sounds as fantastic live as they do on disc.
---
RELATED LINKS