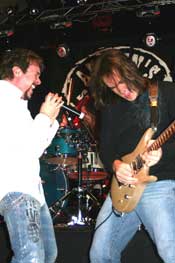 The cool calm town of Libertyville, IL had one explosive night when FireHouse rolled in to perform their worldwide hits and to showcase a few new songs off their 8th studio album Prime Time.
Singer/keyboardist C.J. Snare powered through their hits. Dressed in a white shirt and blue jeans with brushed silver, C.J. got the sell-out crowd to pump their fist and rock out to every song. FireHouse opened their set with Lover's Lane; a song off their 1990 smash album simply titled FireHouse, which rocketed them to international fame. In fact, in 1991 they won an American Music Award for best new hard rock/heavy metal band, beating out Nirvana and Alice in Chains.
FireHouse did not disappoint as they performed other favorites like the jamming Shake & Tumble, All She Wrote, and their breakout classic hit Don't Treat Me Bad. But of course, what is a hard rockin' night without a few ballads, and no one seems to rip these out better than this band. With C.J. at the keyboards, the mood was set for the heart wrenching hits Love of a Lifetime and When I Look Into Your Eyes. Yes, even a few couples were actually slow dancing during these songs.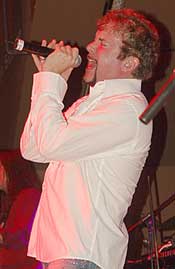 The surprise of the night is when C.J. told the crowd that they were asked to perform on a Judas Priest tribute album. Suddenly bassist Allen McKenzie and hard-hitting drummer Michael Foster broke into the Priest classic You Got AnotherThing Coming. This really got the crowd soaring. Foster later gave the fans a heart-pounding drum solo that was over-the-top. Foster could easily be rated one of the top ten best drummer's around. FireHouse did perform a few songs off their latest album including Door to Door where lead vocals are sung by drummer Michael Foster, and Holding On where the amazing and talented lead guitarist Bill Leverty took over lead vocals. Not only does Bill have the look but he is also one of the best lead guitar players the business.
---
Exclusive Q&A with Bill Leverty!
Bill took time out for an exclusive interview with Unrated Magazine. Here is what we found out:
FireHouse is still going strong after many, many years. What year did the band form and then eventually start touring?
Michael Foster (drummer) joined a band I was in called White Heat in 1984. CJ came aboard in 1986, and Perry (original bassist) finally joined up with us in 1988.
How did you get your band name?
>There were a few bands around that were already called White Heat, so we needed a new name. Michael came up with FireHouse. The trademark office showed the name to be available, so we jumped on it.
While other bands you started with have come and gone, what has been the secret of your band's success that keeps you rolling along?
There are a few things that have helped in our longevity. First, we are a democracy. Everyone is an equal, and there's no dictator. Second, we are all headed in the same direction musically. Third, we all have similar personal lives. Finally, we can't afford to quit!
Your debut album simply called FireHouse included the smash-hit Don't Treat Me Bad, which was your breakout song that launched FireHouse into an international success. When you were recording this song, did you feel that "this" was the song that would be the break-through for your band?
I don't know. I thought it was a great pop song, but I thought that there were other songs on that album like "Home Is Where The Heart Is", "All She Wrote", or "Overnight Sensation" that would launch the band further and longer as a credible hard rock band. Our label was all about making that quick nickel instead of the slow dime. If they had put out more of our rock songs first, I think we would have had more people familiar with our music today.
With other huge hits from your music catalog including; Love a Lifetime, Reach For the Sky, and When I Look Into Your Eyes, what is in store for FireHouse fans in 2007?
We'll be touring all year playing those tunes, and at the end of the year, we hope to start recording our next album. I'm currently working on my second solo album. This one is instrumental. My first one was all vocal songs. You can check it out at www.leverty.com.
Your 8th studio release is Prime Time, packed with ten incredible songs. What are some of your favorite songs off this album?
Prime Time shows the growth of the band musically and lyrically, as well as letting the listener hear Michael Foster's lead vocal debut on the song "Door To Door." I sing a couple of songs, and our primary lead singer, CJ, sings the rest. I'm very happy with the way the album turned out. Some of my faves off the album are Holding On, Door To Door,Perfect Lie,Crash, Prime Time, and I'm The One.
You are probably one of the best guitar players around. How old were you when you started playing?
Thank you very much! I started when I was about 15. That's pretty late to start, but I was instantly hooked.
Bill, thanks for spending time with Unrated Magazine. Have an awesome 2007 tour and see you soon!
FireHouse is a must see live act. Light it up and then let the heat and music burn you up! This could be the best thing that you'll ever have!
---
RELATED LINKS