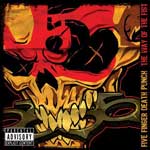 The new face of brutality!
This disc was spawned on July 31st (2007) and should be available near you as you read this, so when you're done your smartest decision this year will be to go get it.
The Way of the Fist is straight ahead, full force metal with an unbelievable punch. How else do you want it? The vocals rival early Phil Anselmo's attitude and power, crushing riffs that are also melodic passages and riveting double bass drums that pound from all sides. An assault on the senses is an understatement.
The riffs aren't just riffs, they grapple and gaff you from the start and only dig deeper throughout the entire disc. Guitarists Zoltan Bathory and Darrell Roberts trade licks back and forth and lay a solid foundation, allowing bassist Matt Snell and drummer Jeremy Spencer to cement the mayhem.
Vocalist Ivan Moody growls with grit and anger, and then his multidimensional voice shows its strength during the sing along choruses. Did he just say 'sing along choruses'? Yea, I did. During Ashes or The Way of the Fist I dare you not to sing along while throwing the horns. Good luck.
The lyrics don't mince words, with hate and discontent flying as easily as the foot stomps. And the nice change of pace is that this isn't a screamo vocalist. You can understand Ivan, which makes the lyrics even more forceful.
The blend of old school and new school mentalities gives us a very brutal debut by which the band has set its own standards. The band has set themselves apart in today's metal by simply not copying the tired metalcore formula.
No Mercy. It's the Way of the Fist.
---
RELATED LINKS