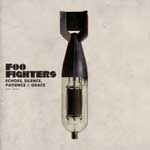 The Foo Fighters have managed to carve out a successful career that has outlasted, at least in years, the legendary runs of other such purveyors of rock as The Beatles, Led Zeppelin, The Jimi Hendrix Experience, and of course Dave Grohl's previous band Nirvana. Comparisons to these acts may be futile, though perhaps suitable, as Grohl's musical background encompasses a wide array of influences and experiences -- the four aforementioned groups included.
Now with their sixth studio release, Echoes, Silence, Patience and Grace, the Foo Fighters obviously felt the need to oppress any inclination to experiment, since much of the album plays to the group's familiar strengths. You have the hard charging rocker "The Pretender," the southern folk piece "Stranger Things Have Happened," the schmaltzy, lighter waving cryfest "Home" and the oddly out of place, acoustic softy "Ballad of the Beaconsfield Miners." Mr. Grohl reportedly wrote the song after meeting one of the survivors of a 2006 mine collapse in Tasmania (while trapped in the mine, the man asked officials to send down an iPod of Foo Fighter songs to keep him occupied).
It's been a decade since the Foo's magnum opus, 1997's The Colour and the Shape, and though the group has occasionally diverted away from that album's successful formula, there still is a propensity to revisit the sound that made them superstars in the post-grunge era. Perhaps the only stand out track on Echoes is the alt-country number " Summer's End," which truly sounds like nothing the Foos have ever done before, which is refreshing, yet unusual at the same time; because after twelve years together, you'd think that the band would have covered more musical territory and finally been able to move beyond the arena rock tendencies.
---
RELATED LINKS