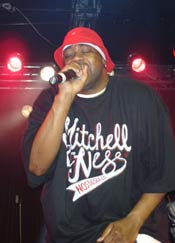 I was first introduced to Hip Hop in the early 90's while attending middle school in Ft. Lauderdale, Florida. As an adamant after school MTV viewer I was exposed to artists like Snoop Doggy Dog, Dr. Dre, Cypress Hill, Nasty Nas, Da Brat, A Tribe Called Quest, Ice Cube, Notorious B.I.G., etc. At the time, west coast artists were the chart toppers so my attention inevitably strayed more towards that mainstream "gangsta" sound. My thought process at the time was quite simple: If MTV plays your music, th an you are good. That logic remained until I met a Hip Hop enthusiast named Tony during my sophomore year in high school. Tony's wealth of Hip Hop knowledge extended way beyond what I had learned from MTV so our conversations were often educational for me. Then one day Tony started telling me about this New York based underground Hip Hop group he was really into called The Wu-Tang Clan. With cool names like Method Man, Ghostface Killah, Raekwon, The Rza, The Gza, and Ol' Dirty Bastard I became quite eager to hear their "revolutionary" sound. The next day, Tony brought 1993's Enter The Wu-Tang (36 Chambers) to school for me to listen to, and once I heard Ghostface Killah's distinct voice rip into the opening verse of "Bring da Ruckus ," I was immediately hooked.
Originally, though, it was the M.E.T.H.O.D. Man and Ol' Dirty Bastard who got my attention with their charismatic on stage personalities matched only by their hilarious off stage antics. Method Man (a.k .a. Johnny Blaze) was the smoker while Ol' Dirty Bastard (a.k.a. Dirt McGirt) was the joker. Although they were my favorites Tony was all about Ghostface Killah (a.k.a. Tony Starks) and Raekwon The Chef. Ever since Tony heard "Guillotine (Swordz)" off Raekwon's seminal classic Only Built 4 A Cuban Linx he knew that Ghostface Killah was destined to be the leader of the pack. What grabbed Tony about Ghostface was his fierce tenacity on the mic combined with the fact that he rarely, if ever, repeated himself in his raps. Ghostface would spit lyrics like "Do I like the kills for ice trife like botta digits/Gorillas injected with strength of eighty midgets" while Method Man was confessing his love to Mary J. Blige on "All I Need." It was at this time I began realizing that MTV was more about publicizing music they think sells rather than music that challenges the mind.
A few weeks before Tony and I graduated high school the clan dropped their critically acclaimed double disc Wu-Tang Forever LP, which was followed up by a summer tour with Rage Against The Machine that brought all the members to West Palm Beach to perform. We immediately hit up the local Ticketmaster like two bats out of hell and landed ourselves dead smack in the middle of the open air venue, but to Tony's dismay, Ghostface was the only member not present at the show. Don't get me wrong, the show was incredible. We got to witness Ol' Dirty Bastard sing Wu-Tang Forever's "Dog Shit" live, as well as watched Method Man perform some of his verses up close and personal as he sang from inside the crowd. Despite the impressive performance from everyone on stage the show was short one Ironman.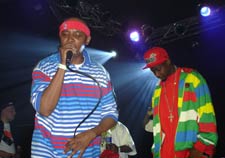 That changed, though, in September of 2006 at Ft. Lauderdale's Club Revolution when Tony and I witnessed the clan, including Ghostface (but minus the RZA and, of course, Ol' Dirty Bastard) give South Florida Hip Hop fans a stellar performance to close out their summer long tour. In the time between these two shows Wu-Tang had released two more mildly successful albums, The "W" and Iron Flag accompanied by a string of solo albums from Method Man, Raekwon, Ol' Dirty Bastard (who died in 2004), The RZA, The GZA, and yes, even U-God. Although the group dynamics were different the energy from the live show remained in tact. The thing that caught me by surprise at the 2006 Ft. Lauderdale show was how much love audience members gave Ghostface Killah during his verses. I started thinking to myself that maybe Tony was right about Ghostface becoming the leader of the pack.
Tony's prophecy was confirmed on May 15 th at New York City's Highline Ballroom when Ghostface Killah, accompanied by his entourage of at least 15 other rappers, received a roaring applause from fans as they hit the stage to perform songs such as "Ice Cream," off Raekwon's Only Built 4 A Cuban Linx, "Shimmy Shimmy Ya," from Ol' Dirty Bastard's Return To The 36 Chambers (The Dirty Version), and Wu-Tang Forever's "Triumph." Although the show's headlining act was the spirited group Spank Rock, who sang their hit song "Rick Rubin," it was obvious that half the audience was there to see Ghostface. Ghostface's set ended with a special guest appearance from fellow Wu-Tang member The RZA who led the famous "Wu Tang Wu Tang!!" cheer that continued even after everyone left the stage.
I applaud Tony for showing me that MTV doesn't always acknowledge the most skillful rappers, and exposing me to rappers like Ghostface Killah. With his stream of consciousness rap technique accentuated by an ability to stay fresh sounding throughout Hip Hop's evolving trends is a remarkable feat not mimicked by anyone else from the Wu-Tang Clan's original cast. If you listen to any of Ghostface's recent albums like 2006's Fishscale or 2007's More Fish or have an opportunity to see him live you too will realize that Ghostface Killah really is...The Champ!!!
Tony's Ghostface Killah Recommendations:
Guillotine (Swordz) off Only Built 4 A Cuban Linx
Winter Warz off Ironman/Don't Be a Menace to Society While Drinking Your
Gin and Juice in the Hood Stdk
Can't It Be All So Simple off Enter The Wu-Tang (36 Chambers)
Shakey Dog off Fishscale
Blue Armor off More Fish
Josephine off More Fish/Hi-Teknology 2: The Chip
---
RELATED LINKS