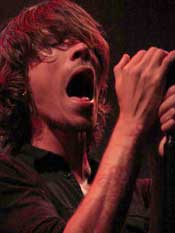 For a show that I was initially going to boycott because of the strong dislike of the last two Incubus discs, I felt the need to get out and see if their live show could still hold up to what it used to be. I knew if a live Incubus show failed me, I was going to lose all hope. After seeing the lights dim and hearing the guys start playing their respective instruments, I knew why I gave it a chance. I immediately got the chills and I was mesmerized by their presence and live show from the get-go. After watching them complete a solid set of both songs new and old, everyone in the crowd left with a sense of satisfaction. After getting back to the car and blasting some Incubus songs that we had not heard during the show, I knew my 'boycott' was over!
An opening band that kept the crowd-at-hand more than happy until Incubus came on stage; Simon Dawes played a great set that had a good number of people singing along. The crowd had seemed to receive the guys from California quite well, including dancing plenty to a group that has an off-kilter sound. While slightly resembling a Modest Mouse , mixed with a little bit of jam band, blues, and emo, Simon keeps fans of almost every musical genre happy. The overall sound touches on bits of The Beatles when they went through the stage of writing songs with a more trippy feel to them. With a crazy and almost mullet-like haircut, lead singer, Taylor Goldsmith wasted no time showing the crowd just how much emotion he was going to pour into each song. He switched flawlessly from guitar to piano, and kept the masses on their toes for the entirety of the opening set. These guys have a random style to their music, but one that many have become attached to. With a solid first major release, "Carnivore," Simon Dawes will continue to catch the attention of people all around the country as they finish their current tour with Incubus.
Now back to the start-studded band that is Incubus. During 'Sick Sad Little World,' lead singer Brandon Boyd played the bongos in a 'dual' with drummer Jose Pasillas. Everything Boyd would put together, Pasillas would follow right behind him with a perfect rendition. While Brandon played the bongos and the occasional shaker during the concert, his highlight of the night came when he decided to take small spotlights set up on the stage, walk around with them, shine them on the crowd, sway them around in his arms, and light up his band mates. First making a trip over to bassist Ben Kenney, then making a trip over to lead guitarist, Mike Einziger, and holding the spotlight above Mike's head while he played a short solo. Then Brandon took the two spotlights, headed back to his mic, held the lights straight out to the side in his outstretched arms, and bellowed a few lyrics before ditching the beams.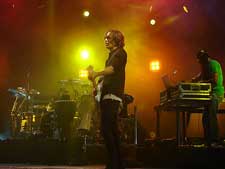 The set contained a little taste of all things Incubus, along with a great cover of Ben E. King 's (of The Drifters ) 'Stand By Me.' By playing at least one song from every one of their releases, and playing such a well known cover, Incubus had everyone in the crowd singing at some point during the show. With songs such as 'The Warmth' and an unbelievable live rendition of 'Nebula,' the rowdy members of the crowd had plenty of time to jump and bash into each other in the pit. While the crowd wanted more from Incubus even though they rocked a solid 13-song set and then a 3-song encore, the guys of Incubus finished with the perfect end to the night. the phenomenal lull that is 'Aqueous Transmission.' With all of the start power that Incubus possesses, their musical abilities far outweigh that, and this is painfully obvious when you experience their live show. It is great that a band is able to collaborate the musical genius of 5 guys, when at any given point in time, we know that any one of them could leave Incubus and go have the spotlight all to themselves in another band.
Setlist:
Kiss To Send Us Off
Wish You Were Here
Anna-Molly
Pistola
Vitamin
Love Hurts
Drive
Megalomaniac
Nebula
Sick Sad World
Stand By Me
Oil & Water
Dig
ENCORE
The Warmth
Punch Drunk
Aqueous Transmission