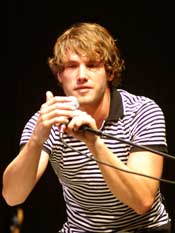 For somewhat of a newcomer, like Island Music's Jon McLaughlin, you would think opening for a well-known artist like Kelly Clarkson would spark an abundance of stunned, nervous energy. But the musician blames luck for putting him in the right place at the right time when he was asked to be on tour with Clarkson, and seems unchanged as a result of the exposure. Singer, songwriter, and pianist McLaughlin has gotten used to being in the right place at the right time a lot lately as he credits that for other great opportunities he's had, such as performing at Lollapalooza last year, and many other various sized festivals. His amazing talent, apparent during live and on-screen performances, probably has more to do with it. Sitting down to chat with McLaughlin reveals his relaxed disposition, though the passion and emotion in his music is hard to suppress when you listen to his debut CD Indiana.
A true Midwestern, McLaughlin won't allow the conversation to commence backstage at the Chicago Theatre on November 1 (2007), without offering bottled waters all around. Grabbing a cluster of grapes, he apologizes for a sound-check that ran a little long and settles easily into a chair in the green room to chat about his artistic adventures. As far as his journeys have taken him, home is never far behind. With his wife on the tour bus as support and a band from his hometown of Anderson, he always carries Indiana with him, and it shows in his comfort level. " Indiana isn't exactly a tourist attraction," McLaughlin says. "But you gain such a relationship with it. All the other places we go are gorgeous, but there is nothing like Indiana for me, personally."
Ironically, it was in Los Angeles where he penned his title track " Indiana." "I was writing a lot away from home and being gone a lot made me gain a new appreciation for it, and I was missing it for the first time," he says. Though traveling broadens one's sights, it also narrows them. Being on the road all the time, for McLaughlin, does get a bit monotonous, though it's those times where he has to find inspiration for new music. "I try to read a lot of books because you have to go inside yourself and keep things moving in your imagination." Apparently, something is working well because he wrote half of the songs on the album alone, while traveling, and co-wrote the other half.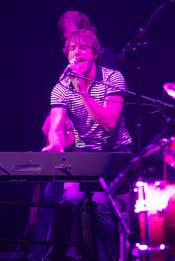 Inspiration doesn't only come from the road and from home, but also from some of his favorite musicians. "My four main guys are Ben Folds, Billy Joel, Elton John, and Harry Connick Jr. They have all been a big influence for years and I try to pull from all of these things. I would love to do something with Ben Folds at some point, whatever it is, mowing the lawn for all I care," he jokes. For now he's got his sights on current plans with co-writers that he looks forward to working with, such as Jesse Harris, writer for Norah Jones' hit "Come Away With Me."
McLaughlin's training has brought him to the point where anything is possible. He has been playing piano since he was four years old, and has acted in musicals and participated in various choirs over the years. He even studied music business in college for an expanded grasp on music. His love for the work is what pushes him, which is evident on his title track as he sings the verse, "I wonder how it feels to be famous but wonder is as far as I will go..." It's evident, backstage at the Chicago Theatre, as he gets ready to perform, that he's headed higher than he thinks. McLaughlin explains, thirty minutes before his performance, that fame is not the goal, but when paired up with the occupation, it's almost inevitable. "Fame is a byproduct of doing what you love, if it's music," he says. The catch is, this only happens if you're good at it. And on stage in front of a sold-out crowd in November, he proves that he is.
---
RELATED LINKS