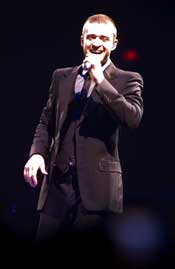 Justin Timberlake had us "LoveStoned" on the delicious beats and delirious imagery on Monday, March 12, at Rosemont's Allstate Arena. Though he did prove to some that it is possible to have too much of a good thing, it didn't appear that all of his fans were mad at him. The two-hour show was riddled with wowing effects and some of the fancy footwork we expected. But even before JT stepped onstage, we were in for a somewhat impressive routine by Pink. She set us up for the former N'Sync-er with a short agenda topped off with amazing acrobatics on two silky rope supports suspended from the venue's ceiling.
The stage setup for the crowded stadium allowed both artists to play to all four sides of the arena, but did fall short in maximizing the views for all, especially during Justin's portion. For the male act, the band rose to a level that practically covered him to those in "standing room" when he performed in the middle of the set. But though the five massive translucent drop-screens, which doubled as a projection of Justin's every move became a bit of an obstacle for some, they were a unique way of giving everyone a front-row seat and sending us into a visual frenzy.
The Grammy-winner performed many hits from his FutureSex/ LoveSounds album as multi-colored laser beams shot across the room. Rain images dripped down the large screens while Justin wailed away on the keys to "Until The End Of Time."
The new "Losing My Way" gave us an inspirational projection of larger-than-life gospel singers on the screen, backing up the star's vocals and adding even more stimulus.
Though most of the show was done in the futuristic style Justin also took us back to his Justified days with songs like "Senorita" and a heartfelt "Cry Me A River". It was songs like this and "What Goes Around..." that sent Justin's and close to a dozen dancers' fingers up, reminding us of the star's past relationships. Though a hand-held camera allowed the crowd to see him up-close-and-personal on screen and gave us a glimpse of what was going on inside his head, we watched him quickly recover from the pain that may have come with the inspiration for those tunes. Thoughts of Britney and Cameron were quickly forgotten during plenty of dance breaks filled with sexual positions and passionate kisses between Justin and his female dancers.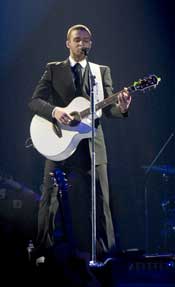 The performance wouldn't have been complete without some beat boxing on the microphone by Justin and an appearance by his trusty comrade Timbaland. The record producer showed up to add some additional accolades to the show. During about a 20-minute costume change for Justin, Timbaland took over with his shock-value screen work and break-beats. The drawn-out set featured tunes like Kelly Clarkson's "Since You've Been Gone," a little old-school Michael Jackson, a whole lot of Nelly Furtado, even The Fray's "Over My Head" and a tribute to a not-forgotten friend Aaliyah. The Timbaland portion showed off the beat-maker's non-surprising talents, but turned the mood a bit with some chilling images from various scary movies and could have been a bit shorter.
Justin brought the sexy back to the stage with "Rock Your Body" and "Damn Girl," which again, reminded us of JT's single status, and very plainly. When we thought it was all over, some were visibly satisfied...but there was more. As an encore, a piano rose from the center of the stage and the star returned in plain khakis and a navy t-shirt to play "(Another Song) All Over Again". Indications of maybe one song too many, people started emptying out the arena, though some stayed through to the notes that stretched through the rest of the evening. The appreciative star waved goodbye and brought all his dancers and backup singers up to take a bow. Overall, the night was long but entertaining to say the least.
---
RELATED LINKS