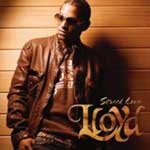 Street Love , Lloyd's latest record, is just what could be expected from the title--a romantic twist on a street sound. Young Lloyd takes it to another level with his sophomore set and the first single off the CD "You ft. Lil Wayne" is a perfect sample into the music that is exemplified on the rest of the record. It's sexy, dance-worthy and not without a head-bobbing beat. The single urges us to dedicate some time to a good long listen and "Certified" follows it up with a catchy hook.
"I Don't Mind" is a steamy track that proves that Lloyd knows how to "make it rain." "Get It Shawty" steps in next with a hot beat that serves almost like a perfectly placed dance break right in the middle of a great song. It's hard not to move your hips to the music paired perfectly with multi-leveled vocals. Almost half-way through the Lloyd hour, "Incredible" and "Valentine" take us back to an old-school Michael Jackson sound. Lloyd's vocal range is definitely displayed in these two tracks.
Perhaps the most catchy tune on this CD is "Hazel," in which Lloyd's signature purring, breathy tone is captured. The next track, "Players Prayer" follows suit on the romantic tip and then "Killing Me" focuses on lust but picks up the tempo a bit. "Take You Home," furthers the focus on sexual desire as does "What You Wanna Do." The title track sits at the end of the list and breaks it down into another affectionate thing again. Lloyd is offering all forms of his "Street Love" in story lines and seals the deal with "One For Me." This track pairs a background sample from what sounds like L.L. Cool J's "Doin' It" but with lyrics of love over lust in lofty proportions. The CD offers the bonus track "I Want You Remix ft. Andre 3000 and Nas," with smooth male voices pouring out over a sampling from "True" by the '80s English band, Spandau Ballet.
A strong beat gently accompanies the soft songs that spin throughout the CD to make for a mellow mix of music, rich with first-rate tracks. With each song, Street Love builds it's worthiness into any record collection.
---
RELATED LINKS