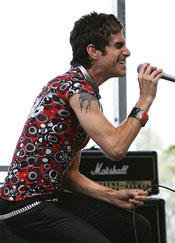 Lollapalooza – a music lover's dream! Or nightmare for me if you consider the lineup. I have to give founder Perry Farrell credit for booking a cornucopia of acts this year, but how can I possibly see everyone I want to see? I had to make some important decisions: Muse and Interpol were playing at the same time on different stages. So were My Morning Jacket and Modest Mouse. Ditto for Patti Smith and Spoon. What is a type A personality to do?
---
DAY ONE (August 3, 2007)
The day started off a bit warm, so I slathered my 'Chicago tan' in SPF 50 and hit the park bright and early. The festival started out on a high note with the Scottish band The Fratellis. Their song 'Flathead' was featured in an iTunes commercial, but don't hold that against them. Their catchy indie pop got my blood pumping and had me looking forward to a weekend full of hits (and a few misses).
Finally – a band that doesn't take themselves too seriously! The first of the festival's many Chicago bands, Chin Up Chin Up was next. With songs like "This Harness Can't Ride Anything" and "Fuck You, Elton John", we dare you to hate them.
Ted Leo & the Pharmacists. I don't get it. They were ok, but I saw much better at the three-day festival (continue reading). If that makes me uncool, so be it.
Lollapaloozers, you embarrass me! Blues legend Charlie Musselwhite came to play for a double-digit crowd. Regardless, he played a killer set. Serves you right for missing it!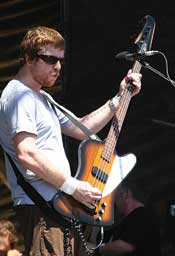 The sound bleed from The Polyphonic Spree playing at the next stage didn't help me appreciate them any more than I already don't. If you were anywhere north of Buckingham Fountain, you were forced to listen to a mob of people dressed in white robes, covering Nirvana. They seemed a bit like they should be on the PTL Network with Jim & Tammy Faye. (No disrespect intended to the PTL Network.)
Detroit's own Electric Six played an early slot. Nattily dressed, they tore their way though a schizophrenic set of tunes that can only be described as punk-metal-nu wave-disco-rock. The crowd loved it.
The Black Keys triumphant return to Lolla was the highlight of the day. They attracted large crowds in 2005 and were slotted a more prominent time slot at this year's festival. Their rockin' progressive bluesy style is enough to get anyone up on their feet.
Ben Harper closed out the night. Yes, I skipped Daft Punk. Two guys and their turntables vs. a possible guest appearance from Pearl Jam's Eddie Vedder? Maybe I should buy a lotto ticket, because I was right on target. Eddie played with Ben and on Sunday... well, Ben played with Eddie.
DAY TWO (August 4, 2007)
Day Two was much cooler and less sunny, to my mildly sunburnt skin's delight. My first band of the day was another winner! New York's High Class Elite came out dressed in black, white & gold. These self-described "gutter-glam rockers" are part 70's New York punk, part modern dance rock. Their stage show, complete with sequined back-up singers and an Iggy Pop-ster frontman, was the musical equivalent of a double shot espresso.
I'm From Barcelona should change their name to I Wanna Be A Flaming Lip. In a blatant attempt to copycat last year's attention-grabbing performance by the Flaming Lips, IFB came onstage with dozens of people in goofy outfits (including a bear suit), threw balloons into the crowd and even attempted to crowd surf on an inflatable raft. The Lips did it better with aliens and Santa Claus outfits, bigger balloons and confetti, and crowd surfing inside an inflatable ball.
For a change of pace, I decided to check out soul singer Ryan Shaw. Reminiscent of old R & B, he was a nice change from the indie rock bands. He has a great stage presence full of energy and the heart of a soul singer.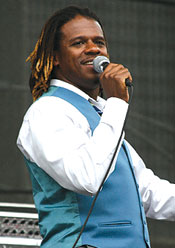 After a quick refueling at the Thai food stand, I headed out to see Cold War Kids. The sidewalk traffic grinded to a halt before I could even see the stage and the masses huddled on blankets near the port-a potties made me think twice. I chose a nice spot under a tree where I could hear (alas, not see) CWW. One of the most underestimated bands at the festival, they should have been performing on one of the main stages where the crowd would have been better accommodated.
Russian songstress Regina Spektor was also a much bigger draw than anticipated. Comparable to Tori Amos or Sarah McLaughlin with an edge, her soft piano playing was drowned out by the neighboring stage - another blow to the festival caused by sound bleed.
In the aforementioned Snow Patrol vs. Spoon battle, I chose Snow Patrol and was not disappointed. Their live show is every bit as good as their albums and even a little rain didn't deter the large crowd that turned out. Special guest Nikki Monninger, (from Silversun Pickups) filled Martha Wainwright's shoes on 'Set the Fire to the Third Bar'.
Legend Patti Smith performed immediately after in the adjoining field. She still has an unbelievable voice and was so nervous, she messed up her first song. It endeared the crowd that stuck around for a powerful set.
Logistically, it was easier to see Interpol than Muse, so there that decision was made for me. Dressed in dreary colors to reflect the day, they played a solid set of new and old favorites. If you missed it, they will be coming back to town ( Chicago, IL) soon to support their latest release.
DAY THREE (August 5, 2007)
Day three was the hottest and muggiest day of the festival. In order to make the most of my waning energy, I decided to pass on the first few early time slots in order to make it thru the later (and better) part of the day's.
I skipped Amy Winehouse, because, well frankly, she usually cancels her shows anyway. Instead I opted for a smaller crowd and Perry Farrell & Peter DiStefano performing on the Kidz Stage. Peter started the show solo with promises to jam with the kids in attendance. Unfortunately a generator blew in the middle of the set and there was not enough time. The crowd's patience was rewarded by the arrival of Perry Farrell and the (surprise!) rest of Satellite Party, who jammed on a few tunes, including a stellar version of Zepplin's 'Whole Lotta Love'.
My original plan for this time slot was to see The Annuals. I did see them, but after two songs, had seen enough. I quickly headed over to catch Blue October's set, which had already started. This Q101 (Chicago Radio Station) modern rock favorite drew a big crowd and played the hits that made them popular. Just call me ambivalent.
Iggy and the Stooges rocked the "named after a domestic beer" stage. It was loud. It was full of signature antics. It was pure rock n' roll! A few of today's bands could take a lesson from this 60 year-old veteran.
My Peter, Bjorn & John experience was much like my Cold War Kids experience. The sidewalks were clogged again and couldn't get anywhere near the stage, so I grabbed some grub and sat on the curb near the food tents to listen. Other than that whistling song I have heard no less than one thousand times, I enjoyed my loaded baked potato much more.
By this point in the festival, the crowds had swelled to the highest point of the weekend and the port-a-potties were out of toilet paper. I was sweating right thru my clothes and couldn't get anywhere near the stage where Pearl Jam would be playing, so a change of plans was quickly made. I headed out early and caught Pearl Jam on the live webcast. A stellar 2+ hour performance made them worthy of the headline slot and I was glad I was actually able to see and hear them. Maybe it was a bit of a cop-out, but how long did you have to wait for a train home?
Thanks to Perry Farrell and the hundreds of people (artists, sound techs, maintenance crews, food servers, etc.) it takes to put on a great festival. We are looking forward to next year!
---
RELATED LINKS