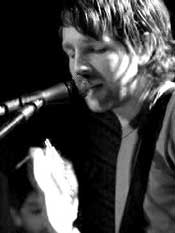 After checking out Lovedrug's latest release, "Everything Starts Where It Ends," I was instantly intrigued by what I heard, and right away got an undying urge to see them live and hear that one-of-a-kind sound come from the large speakers only a few feet away from my ears. Let me tell you that there was no disappointment whatsoever with this live performance. I figured Lovedrug would be a force to be reckoned with, and now after seeing them in concert, my infatuation and respect for their music, along with the realization that they will make it big sometime really soon have all grown ten-fold. While their music is considered indie, it approaches the emo type with the off-kilter singing, but is brought back down to Earth with the unyielding rock tunes that provide its solid base.
For having such a deep, coarse, and almost spastic way of singing, lead singer Michael Shepard sure doesn't look anything like what you would picture him to look like. He is a short and skinny guy with the musical ability of a giant, and honestly he should carry himself in that manner. He is bound to become a major rock star, now he just needs to acquire the cocky, don't mess with me or I'll kick your ass attitude that most major rock stars have. Lovedrug has got the frontrunner and the sound to project them onto the world's musical stage, and they are ready to prove it. While being one of the openers for the Every Second Counts Tour, they are sitting back and taking their proverbial lumps before stealing the spotlight and the headliner rank on major tours in the future. The crowd was into every minute of Lovedrug's set, with much applause, avid listening, and people turning to friends standing next to them and saying, "hey, these guys are pretty good." That's all an opening band is looking for...the approval of the crowd at hand, no matter how large or small. They will not be opening for too much longer because they got a better reaction from the crowd than did the Plain White T's—and the T's were in their hometown!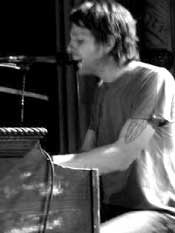 Shepard approached his piano for a few songs during Lovedrug's set, and both of which were mind-blowing displays of musical ingenuity. Just before the last song of their quick set, Michael said to the crowd, "We thought we would add a little glamour to the last song," followed by the lead guitarist and Shepard himself putting on long 80's looking mullet-wigs. Then halfway through the last tune of the night for the boys from Ohio, a few guys from the other bands came out to help them with their final hoorah. After polishing off their brief but great set, the drummer put an exclamation point on their performance by jabbing both of his drumsticks through his snare drum.
Lovedrug has the makings to do some great things, and as long as lead singer Michael Shepard carries them along, there is no telling on just how big they could make it. With a unique sound and solid live performances, their fan base will continue to grow more by the day.
Set List:
American
Castling
Casino
Blackout
Ghost
Doomsday
Pushing
---
RELATED LINKS