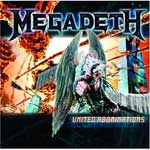 Megadeth's Dave Mustaine is angry. You can feel the fury emanating from the strings of his guitar - you can hear it in his voice. And music lovers relish in it.
If there's ever been a heavy metal musician with no qualms about pointing out the idiocy of politics and the moral decay of mankind, it's Mustaine - and he does so with a keen intellect, a fierce finesse, and guitar licks aflame.
United Abominations produced by Mustaine and co-produced by Jeff Balding and Andy Sneap, is utterly fluid. With dual crunching guitars, a dynamic rhythm section, and emphatic vocals - if all those parts aren't pulled together and balanced out well then there's chaos. Mustaine has produced a collection of thrash metal tunes which are powerful yet not overbearing. The 'noise' that non-metal and non-thrash fans refer to when debasing this genre seizes to exist when Mustaine's songs and studio performance showcase the eminence of his talents.
Augmenting the 11 high caliber songs, this - the band's 11 th studio album - is a guitar lover's dream come true. As Mustaine and Glen Drover both harmonize and battle out the grooves and solos, the licks on United Abominations are stellar in their own right. And among the printed lyrics in the CD Mustaine and Drover's solos are differentiated as well - the ultimate bet and debate resource when trying to decipher who's playing which solo.
Opening the disc with "Sleepwalker," Mustaine, brothers Drover, and Lomenzo come out with all their musical weapons blazing, and nightmarish lyrics which might just make one question the glamour of sleeping beside Mr. Mustaine.
"Never Walk Alone.A Call To Arms" is as haunting as it is both rocking and catchy.
The harshly poetic "Washington Is Next," the pugnaciously bitter title cut, "United Abominations," and "Gears of War," with grim lyrics and musical brilliance, each protest global, post-911 atrocities.
A unique version of "A Tout Le Monde (Set Me Free)" was recorded for this disc, bringing in Lacuna Coil's Cristina Scabbia and recreating this classic into a tender albeit meaty duet.
And "Burnt Ice" - lyrically chilling whilst blending with musical rage, this is heavy metal greatness.
Other songs on United Abominations include "Blessed Are The Dead," "Pray For Blood," "Amerikhastan," and "You're Dead."
United Abominations is a triumph for the Dave Mustaine and company. There's no doubt after giving this disc a listen that it was recorded with not just musical know-how, but thought, heart, and aforementioned anger. This isn't simply the culmination of a few months of hard work - words on paper paired up with harmonious symmetry, this is art reflecting life, it's humanity and all that goes along with it expressed in a way we all can both relate and rock to.
---
RELATED LINKS