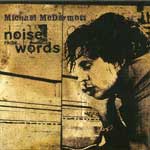 Chicago's own folk-rocker Michael McDermott has just released his 12-song CD filled with his contagious melodies, and pen perfect lyrics. He started in the music scene back in the early nineties and he continues his constant touring while punching out new music. You might remember in 2004 his critically acclaimed album "Ashes", well "Noise From Words" has been in the making for a few years now, and finally the finished product is available and it has certainly been well worth the wait. If you are a fan of his music, you probably know that he is a master at writing soul-searching songs, and he successfully writes about religion, relationships, love, pain, and redemption. However," Noise From Words" might be his most honest, stripped down, and revealing CD yet. McDermott smashes through his pain and addiction he has faced, and bravely delivers some truly confessional songs about his personal experiences over the last several years. In fact, some songs are so revealing and moving, that you just might get a little teary eyed. The CD breaks out with his guitar strumming to the toe-tapping "Mess Of Things." This song is about going down a wrong path or loving someone who is not good for you and hoping when you hit that dead-end sign, you can find your way back to the positive side of things. He passionately sings, "Like a poet writes/A singer sings/And you and I/Make a mess of things." "Still Ain't Over You Yet" is so elegantly written and sung in that seductive McDermott classic style. The song is about a broken relationship, and the sting of love from it that you just can't shake off. McDermott sings, "Most nights I wish that we never met/And most days I choke on my fear and regret/But I hate to admit/that I still ain't over you yet." "A Long Way From Heaven" is by far the most refined and pure song on the CD. You can almost feel and see McDermott walking the streets alone at night and you simply want to put out your hand to guide him back home. Powerful lyrics are circling this song like, "Hey Lazarus where have you been boy/Is death something you still enjoy?/You're a long, long, long way from heaven." The breakout song on the CD has to be the cleverly written "The American In Me" as he exams life around him. The upbeat tempo could make this his anthem song. In fact, the only fault I can find on this CD is that this song should have been track one instead of track four. McDermott sings, "Sometimes I'm proud/Sometimes I'm so ashamed/Of the American in me."
"Noise From Words" is one of the year's best releases. I don't think you will need that remote to skip songs as they are each packed with emotional strength and they are perfectly crafted in true McDermott form. The CDs official release date is August 28, 2007. If you can not wait, you can download the complete CD by going to this web site: www.olistore-us.com.
Join Michael McDermott for his record release party at Davenports in Chicago on September 6-8, 2007.
---
RELATED LINKS