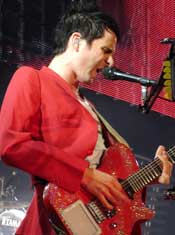 Watching a band perform live is meant to be an experience that surpasses the ingenuity of their studio album. Led Zeppelin, Pink Floyd, The Grateful Dead, and many other successful bands established themselves as legends in the music industry because they would play alternate, often extended, versions of their songs in juxtaposition with mind-blowing visuals that would simultaneously inspire every onlooker in the venue; thus solidifying their godlike reputation across the globe, and in early August (2007), British band Muse carried that rock'n'roll torch through New York City's renowned Madison Square Garden as they took 20,000 screaming Muse fanatics through a kaleidoscopic audio/visual journey that consisted of five huge screens, another five multi-colored luminous panels, king-sized balloons filled with confetti, and an slightly elevated drum platform at center stage with four lead screen panes wrapped around its base.
Number nine in Q Magazine's "10 Most Exciting Bands On The Planet Right Now," Muse, comprising of Matthew Bellamy (vocals, guitar, keyboards), Chris Wolstenholme (bass guitar, keyboards, vocals) and Dominic Howard (drums, percussion), have traveled a tumultuous road to stardom since winning a local battle of the bands contest back in 1994, as the gothic group Rocket Baby Dolls. After changing their name a few more times the band finally chose the Muse moniker before releasing a series of EPs that eventually got them signed to Maverick Records in 1998. The following year Muse put out their first full length LP, Showbiz, which sold over 700,000 copies and spawned two singles, "Unintended" and "Muscle Museum." Despite being deemed Radiohead copycats, Muse dropped Origin of Symmetry in 2001 and found hints of success when singles "Plug In Baby" and "New Born" both found their way into the British Top 20 Countdown. Origin of Symmetry might have bolstered Muse's American fan base, but Maverick Records did not consider Bellamy's voice "radio-friendly" and requested that Muse change some of their songs prior to U.S. release. Muse, insulted, declined the request and left the label altogether, which resulted in Maverick's decision not to release Origin of Symmetry in America. The band signed to Warner Bros Records in early 2004, and in September 2005, Origin of Symmetry made its American debut. While touring for Origin of Symmetry, Muse began to develop notoriety for their dynamic live shows which inevitably led to the release of a live CD/DVD titled Hullabaloo. Muse ended the year on a high note as they were named Best Live Band at the 2002 Kerrang! Awards.
In 2003, Muse got together with producer Rich Costey (known for his production work with Rage Against The Machine) and recorded a new studio album called Absolution. Described as an "Uplifting" album by Muse themselves, Absolution touches upon apocalyptic themes that derive from Bellamy's interest in conspiracy theories, theology, science, and the supernatural. The album was well received around the globe and earned Muse their first UK number 1 album. With chart topping singles "Stockholm Syndrome," "Time is Running Out," and "Hysteria" Muse was invited to headline the 2004 Glastonbury Festival. Wowing hordes of people at Glastonbury, Muse played what Bellamy described as "the best gig of our lives." The euphoric feeling of this phenomenal achievement was soon halted as Dominic Howard's father died from a heart attack after watching his son's Glastonbury performance. The band wrapped up touring in January of 2005 and took some time off before resurfacing in the summer of 2006 with their most recent opus to date, Black Holes and Revelations. Earning their second UK album chart topper, Black Holes and Revelations is a sonic roller coaster that combines heavy metal, electronica, and classical music; taking listeners through a purifying 70 minute adrenaline rush. With songs like the effervescent "Invincible" and mythological "Knights of Cydonia," it's obvious Muse have perfected their craft, and the 20,000 people who filled up Madison Square Garden in early August got a first hand look at why the BRIT awards deemed this talented band the Best Live Act of 2007.
Resembling sardines packed in a tiny can, the ocean of spirited Muse fans who occupied Madison Square Garden let out a thunderous roar as a Matt Bellamy, Dominic Howard, and Chris Wolstenholme emerged from a red and orange haze. Within seconds, MSG exploded into a barrage of flashing blues, purples, reds, and whites as Bellamy, dressed in an all red suit, strummed out the opening riffs to Black Holes and Revelations' "Knights of Cydonia." Howard's infectious John Bonham-esque beats drove the crowd wild while Wolstenholme waved his bass guitar at fans in the front row. This tidal wave of stimulation attacked all the senses, and set the tone for the rest of the show.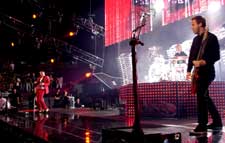 Channeling Freddie Mercury, Bellamy transported fans to another galaxy as his operatic voice reverberated across Madison Square Garden during a beautiful version of "Butterflies & Hurricanes" off 2003's Absolution. Synchronized with Howard's pulsating drum technique, flashes of white light beamed throughout the arena like cannonballs of condensed energy. A break in the tension came during Bellamy's mesmerizing piano solo that eventually climaxed with an eruption of compelling instrumentation and strobe lighting effects. Before a sparkling backdrop that resembled bright stars in a sky, Bellamy continued his piano/falsetto combination during a dark intro to Black Holes and Revelations' "Hoodoo." Each piano note incited a unique shape on all three screens above the stage. The addition of drums and bass accelerated the visual intensity; thus, ripening both sonic and optical elements into a wall of sensory bliss that left the audience shouting for more.
Other highlights included a montage of radar screens, people marching, and biohazard signs flashing upon the screens as a orange and red mist enveloped the stage during a fierce "Apocalypse Please," from Absolution; the psychedelic patterns projecting from the back panels as huge confetti filled balloons bounced over fans on the floor during a buoyant "Plug In Baby," from 2001's Origin of Symmetry; and the rambunctious guitar solo and pouncing drums that finished off a breathtaking version of "Invincible," off Black Holes and Revelations. The audience showed their appreciation for Muse's mind expanding assault by mirroring an arena overridden with fireflies as thousands of people raised their lighters and glowing cell phones in the air. Muse closed the show on a green note as green lasers backed by screens filled with pulsating cubes of the same color lured everyone's eyes while Black Holes and Revelations' spellbinding first track, "Take A Bow," stamped an exclamation point of power on their New York City performance.
"Their music really touches my soul," described Jared Levine of Haverstraw New York. "I've seen them four times, and they seem to get better every time. They are absolutely amazing and this show was outstanding." It's safe to say that Jared's view of this show is indicative of the thousands of fans who left Madison Square Garden after Muse's awe-inspiring performance. Despite their bumpy road to stardom, Muse have accomplished in a decade what most bands spend their entire careers trying to achieve. This is because they go above and beyond the call of duty during their live performances. Muse belongs to the new generation of bands who my grandchildren will hear about 50 years from now, because, like rock legends who have amazed audiences before them, they have learned how to use their talents to touch the innermost parts of one's soul. And that deserves, as my new friend Jared would say, "five stars and two thumbs up!"
---
RELATED LINKS