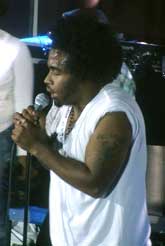 Grandmaster Flash and The Furious Five taught us that clever wordplay backed by head bobbin rhythmic beats can incite revolution throughout the masses. Mele Mel's lyrics about his neighborhood resonated with listeners because he was talking about problems that every listener could relate to such as drug abuse, poverty, and crime. This level of "conscious" thought is what solidified Hip Hop's place in music history, but recently, rappers have replaced that message-driven rap with more self-absorbed lyricism that glorifies the gluttony of material objects like jewelry and cars while simultaneously degrading women. Although this so called "egotistical rap" has helped further the careers of artists like 50 Cent, Snoop Dogg, Lloyd Banks, and Juelz Santana one has to wonder about the longevity of their music. When was the last time you heard someone referred to as a "Wanksta?" Probably not since 50 dropped his debut album in 2003. In other words, the phrase that he coined has now become obsolete. In contrast, every Hip Hop fan can still relate to Tupac when he says "a coward dies a thousand deaths, but a warrior dies but one," off his 1994 classic Me Against The World. We honor the memory of rappers Tupac Shakur and Christopher Wallace (a.k.a. The Notorious B.I.G.) because their words sound just as pertinent to today's current events as they did in the mid-90's, when being a gangsta helped artists sell records. Today, artists who write message-driven raps like Tupac, Biggie, or Mele Mel are coined as "conscious rappers" by the Hip Hop community because they have more to talk about then their bling bling. Despite the praise "conscious rappers" receive from fans and critics there is a stigma that surrounds this title because the albums these artists release are often slept-on by the masses despite critical acclaim from Hip Hop enthusiasts.
Queens-born lyrical shapeshifter, Pharaohe Monch, has been composing so called "conscious" music since he teamed up with Prince Poetry to form Organized Konfusion in the early 90's. After releasing three albums, Organized Konfusion (1991), Stress: The Extinction Agenda (1994), and The Equinox (1997), Organized Konfusion broke up because, according to a 2005 Prince Po interview with MVRemix.com, they "didn't want to hear the fans say the same thing like, 'You're dope but you are not getting the right promotion.'" Although Po and Monch created three solid albums the "conscious" bug played a small role in the demise of Organized Konfusion, and sent Monch to an indie label known as Rawkus Records, where he came in contact with two other rappers known for their lyrical depth and prowess, Mos Def and Talib Kweli (a.k.a. Blackstar). Monch gained some recognition after several guest spots on albums such as the popular Rawkus compilation Soundbombing 2 and Priority Records' Lyricist Lounge Volume 2 compilation, but it wasn't until he dropped the monster hit "Simon Says" off his solo debut album Internal Affairs (1999) that Monch became known as a full fledged solo artist. Despite being sued for sampling the old Godzilla movies on "Simon Says" the song was used in two movies, Charlie's Angels (2000) and Boiler Room (2000) and, of course, on that unforgettable Dave Chappelle skit where Dave crushes the city of Tokyo in pure Godzilla fashion.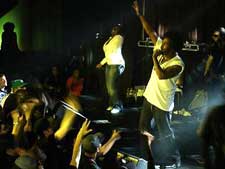 After the release of Internal Affairs, Monch spent the next eight years floating throughout the Rap Industry draft as many record labels, including Eminem's Shady Records, sought to sign the intellectual wordsmith, but could never seal the deal due to Monch's prior contracts and financial obligations with Priority Records. Even though the legal red tape prevented Monch from signing to a new label he continued to increase his fan base by either touring solo or alongside Def and Kweli. Monch's tireless efforts on the road helped him create a loyal following in Europe and other parts of the world. Monch also kept himself busy by lending his lingua franca trademark and production skills to a few songs off Diddy's Press Play album in late 2006. As soon as the label drama smoke finally cleared Monch signed with Street Records Corporation, and in late June dropped his second album, Desire, which he calls "a true reflection of who I am as a person." Monch confesses to England's Blues and Soul Magazine how he really cares "about the socio-political state of society, but at the same time after I've had a few drinks you might hear me talking about 'Look at those titties!'" To celebrate the release of Desire Monch teamed up with Live'N'Direct promotions to assemble a slew of talented performers to tear the roof off NYC's illustrious Highline Ballroom.
The evening got underway with mixtape messiah DJ Ready Cee, of NYC's WHUT 91.9 Underground Lockdown radio show, on the wheels of steel spinning Hip Hop ear candy to warm up Highline Ballroom's whopping speakers. Chicago's very own The Cool Kids followed for a 15 minute set of intertwining tic-tac-toe rap before DJ Ready Cee introduced New York City's very own Polyrhythm Addicts. While the Polyrhythm Addicts kept the rhymes flowing, it was the enchanting voice of Apani B Fly Emcee that tickled the ears of listeners. Things didn't start popping, though, until Detroit's up and coming producer/emcee Black Milk (born Curtis Cross) excited the crowd as he tore through a plethora of verbal explosions. In addition to his skills with the microphone apparatus, Black Milk also brings the ruckus with his production expertise on the energetic track "Let's Go" off Monch's Desire album. "I'm really impressed by Black Milk," Pharaohe Monch explained in an interview with The Smoking Section. "The 'Let's Go' record, I didn't even wait. [Black Milk] put on that beat and I was like 'ok, hook up the microphone right now.' I dropped that first verse on it and then I wrote the second verse." After Black Milk closed his set Pharaohe Monch made his stage presence known as he blasted Milk's pulverizing "Let's Go" beat throughout Highline Ballroom's thunderous sound system to get his performance underway.
Backed by a band and two vivacious singers, Monch hit the stage with the fury of five hurricanes that immediately swept up the entire audience. "One for the money, two for the show, three to get it crackin in the hood...Let's Go!!!!" was the lingual combination that sent a lightening bolt of energy into the pumping fists of fans throughout Highline Ballroom. Lights were flashing and heads were banging as an animated Pharaohe Monch fired his verbal arsenal at the audience while simultaneously feeding off the crowd's reciprocated energy. Although this was the release party for Desire, most of the audience knew the words to most his new songs because half of them had already hit the street thanks to Clinton Sparks' The Awakening Mixtape and the controversial video for "When The Gun Draws" where Monch raps from a bullet's point of view, reminiscent of Nas' "I Gave You Power" off It Was Written (1996). D-Block's Styles P also got the chance to bang on the crowd's eardrums with a special guest appearance to revisit his verse on the song "My Life," which debuted on Rawkus Records' Soundbombing 3 compilation. Monch's back up singers demonstrated their vocal range on the uplifting title track "Desire" as they passionately stretched their sound even after music came to a close. "Let's get in a time machine and go back to 1955," Monch instructed the audience before going into his tribute to Elvis, "Body Baby." The show ended with a cover of Amy Winehouse's "Rehab," with Monch dangling his fingers in front of crowd to match the speed of his rhymes he spit between the choruses, and, of course, the almighty "Simon Says," which got the crowd as crazy a feline on cat nip.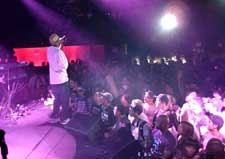 Although being a "conscious rapper" has worked as a double edged sword throughout Pharaohe Monch's career his new album Desire accompanied by the cerebral intensity of his live show is a step in the right direction for rappers who share the same penchant for using more profound messages in their raps than what artists on TV and radio glorify. "The purpose of making records like "Hold On," "Desire," and "Push" [all from his album Desire] is to inspire millions," Monch explains to The Smoking Section. "I want millions of people to hear those messages." Many artists and fans forget that most of Hip Hop's oldest heroes were "conscious rappers." Rakim, Big Daddy Kane, KRS-One, Mele Mel, MC Shan, RUN DMC, etc. all touched the hearts of millions because they used their creative wordplay as a vehicle for their message, and that is why we still listen and learn from their songs today. The lack of "conscious" thinking in today's rap stars is what Nas is referring to when he says "Hip Hop Is Dead." His comment is directed at rappers who are big today but don't have enough substance in their lyrical content to carry over to the next generation of fans. If Hip Hop is dead, then artists such as Talib Kweli, Mos Def, Common, Can-I-Bus, and Pharaohe Monch are slowly bringing it back to life.
SET LIST
Intro
Let's Go
Free
Fuck You
Right Here
Agent Orange
When The Gun Draws
Oh No
We Must Be In Love
My Life ( Ft. Styles P of D-Block)
Push
Desire
Body Baby
ENCORE
---
RELATED LINKS