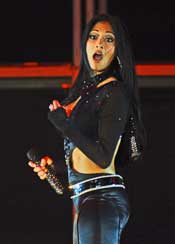 On the evening of April 21st, I witnessed with the music industry is in a freefall of failure, confusion and disarray. I caught Christina Aguilera's concert at the Allstate Arena in Rosemont, IL and I went largely for one reason; Christina's pipes. This young woman has a weapon of a voice and in the last few years she has not only been utilizing this weapon, but has been attempting to prove to everyone that she is more than a bubblegum pop star. For the most part, Aguilera has shown growth as an artist by following her own muse and making her audience aware of where she truly draws her inspiration from (Billie Holliday, etc.). For all of this, I applaud her, however, I wish she or her management had more common sense when approving the opening acts for her most recent tour. The choices of Danity Kane and the Pussycat Dolls are shameful and embarrassing ones.
What I witnessed before Aguilera hit the stage was an atrocity of unimaginable proportions. Both Danity Kane and the Pussycat Dolls consist of attractive females who have limited musical talent. Scratch that...no musical talent. Aguilera has survived and thrived because she has been able to show the world she's more than just a pretty face, but potentially an artist to keep our eyes on. Whether she was attractive or not is beside the point. However, the only thing worth watching during these opening sets were the perfectly sculpted bodies of these young women. Without these bodies, they would not have a career of any kind. I didn't see a single ounce of musical talent and it was an insult to even have to witness it. The two performances combined lasted sixty-minutes; sixty-minutes of my life that I can never have back.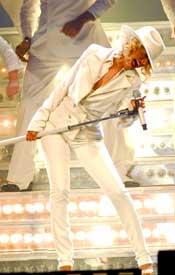 The music from both acts was completely forgettable and even worse; there wasn't even the sight of a fake musician anywhere on the stage (although Danity Kane did have a DJ). They didn't even try to cover up the fact that they are musical hacks. These two acts are prime examples of why the corporate record companies are in a dismal financial state. These acts will never have long careers and while some people do buy this music, it doesn't inspire fanaticism where the fans will follow these artists for the rest of their lives. There is zero artist development here. Both acts are the equivalent of fast food; it may taste good going down, but when you digest it, it leaves you with a bad feeling and you immediately wonder why you enjoyed it in the first place. This music does not and will never resonate.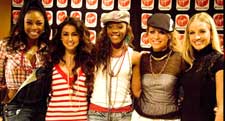 There was zero emotion or feeling in either performance. I love stupid guilty-pleasure pop music, but what I witnessed was nothing more than a plan hatched by executives sitting behind a desk attempting to make a slew of money by advertising nothing but sex. There was no heart or soul is any of this music. I can't imagine anyone ever being inspired by these vapid women, let alone wanting to go out and actually fork over money for this music. Even though there was a generous crowd response to some of the Pussycat numbers, I doubt anyone will be telling their children about how this music spoke to them in a time of need in their youth. Instead, their parents won't tell them anything as it will fade faster than a flower.
Anthony Kuzminski can be found at The Screen Door.
---
RELATED LINKS