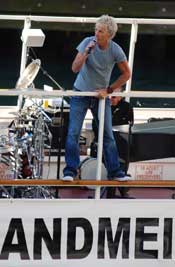 Chicago commuters got a rockin' wake up call this morning at 8:00 am while going to work from REO Speedwagon. The band performed a teaser concert of several songs on the Star Of Chicago boat, (or would that be the REO Speedboat) floating on the Chicago River for pedestrians around the Merchandise Mart. Positioned on the top deck of the boat the band played fan favorites like Ridin' out the Storm, Time for me to fly, and their new single Smilin' in the end. Though several members of the band had white hair, they still played like they were in their twenties. The current members of the band include Kevin Cronin (vocals), Neal Doughty, (keyboards), Bruce Hall, (Bass), Dave Amato (Lead Guitar), and Bryan Hitt, (Drums). Their trademark harmonies and riffs echoed all around the river.
This impromptu concert was broadcasted live on the Loop's Jonathan Brandmeier Morning Show, as well as WGN's Morning Show, in promotion for the upcoming fundraiser for the *Bear Necessities Pediatric Cancer Foundation (BNFCF) at House of Blues on Thursday, September 13, 2007. Paul Conrad of WGN even got to sing back up vocals on Roll with the changes, while Johnny B got to do a cowbell solo from the bandstand set up along the Merchandise Mart during REO's cover of the song Gloria.
Johnny B hung out and signed autographs and posed for photos for a crowd of 300 VIP contest winners for this event. One fan shared his story on how REO's song Keep Pushin', which the band played, got him though the AIDS walk last year and then he presented his false leg to Brandmeier as a symbol of perseverance. Johnny B held it up to a cheering crowd and then returned the leg to the fan. (Editors Note: I knew you were going to ask if he returned the leg).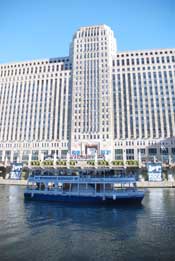 Tickets for $15.00 are still available at WLUP.com, LiveNation.com and HOB.com, so come out and support this worth wile cause and listen to some great music. After all, some of your late co-workers in the Loop were treated to the rockin' tunes of REO Speedwagon, why deny yourself the pleasure?
*The BNPCF is a national organization whose mission is to eliminate pediatric cancer and to provide hope and support to those who are touched by it. The foundation's Small Miracle Program provides means to fulfill the mission to brighten the lives of pediatric cancer patients by granting special requests to them and to ease the burdens of the families through assistance with some of the immediate needs that they may be facing while fighting this physically, emotionally, and financially devastating disease. It was founded by Kathleen A. Casey, President and is named in memory of her eight-year-old son, Barrett "Bear" Krupa.
---
RELATED LINKS