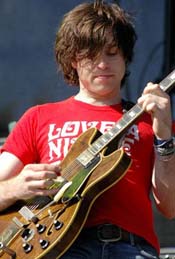 I'm always in need, and it's hard to be reciprocating
-"Everybody Knows"
If you have ever seen a Ryan Adams concert, you probably have a renowned story to tell. Whether it's a good one or bad one is the question at hand. Ryan's live performances over the years have been polarizing. If you were to rank concerts on a scale of 1 to 10 (1 being bad and 10 being great) you would find most people rank Ryan's shows at these two extremes. I've seen him three times and each time I felt like it was watching Jesus Christ nail himself to the cross. The most disheartening incident occurred six months after the release of 'Gold' in March of 2002. I was hoping to see this magnamimously endowed artist elevate and exhaust me in a way the preeminent Bruce Springsteen shows always have. Unfortunately, Ryan self imploded on stage performing a mind numbing 160-minute set that peaked 45-minutes in. Aside from a cover of "Brown Sugar", the final two hours consisted of lingering drawn out jams and curtailed poetry readings that alienated the entire crowd. I remember turning to my friend Jeff about 90-minutes in and we both wanted to leave, but we were hoping a flash of brilliance was right around the corner. Seventy-minutes later we left without ever seeing that moment of brilliance come to light. It was a demoralizing experience to see someone whose music opened doors for me only to have the artist shut the door on me during the live performance. I never wrote about this experience because it was such a heartbreak I couldn't bring myself to condemn someone whose music I loved so profoundly. After two other less than stellar experiences in 2003, I swore to never seen him live again so as to not ruin the blissful experience his studio albums give me.
I apparently talk the talk but don't walk the walk because I found myself in the unexpected spot of the Biograph Theater in Chicago ready to witness Ryan Adams and the Cardinals perform an intimate acoustic show in support of Ryan's ninth studio album, 'Easy Tiger'. The Biograph Theater is rather legendary as it's where John Dillinger was gunned down in the 1934 and has recently been refurbished into a gorgeous 300-seat theater providing an intimate experience no matter what the occasion. My only concern going into the show was whether there would be some sort of massacre on the concert stage. Would Ryan Adams rise to the occasion or wallow in his own excess. Adams and his band came out at 8:15 and strummed and swayed ever so gently for the next 95-minutes. The performance wasn't epic, it wasn't rocking...it wasn't even rolling...but one thing I can say (and I hope I don't sound too melodramatic) is that Ryan Adams is reborn.
The 20-song performance was nothing short of astonishing. This was the first time I laid witness to the genius of Ryan Adams. I saw an artist in command of his music and stage presence. More importantly, my faith was renewed. The evening opened with the entire band on stools in a dimly lit stage that would rotate different shades of color (red & blue being the two prominent) throughout the entire night. While this may seem jarring, it wasn't. I truly believe the intention of this tour is for Ryan to showcase his songs in a distinctive light. I believe his goal was for the show to showcase the songs and allow them to have their moment in the sun while "Ryan Adams" disappeared. Adams was seated to the far left and wore sunglasses during the entire performance. I only recognized him because he was the only performer without an instrument.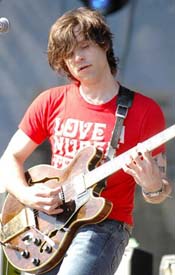 Only two songs were performed from 'Heartbreaker' and 'Gold' ("My Winding Wheel" and "Goodnight Hollywood Boulevard") with the bulk of the performance focused on his last four albums ('Cold Roses', 'Jacksonville City Nights', '29' and 'Easy Tiger'). I'll use the word polarizing again to define the trifecta releases from 2005. While most fans dream about one release a year from their favorite artists, Ryan Adams fans were left scratching their heads because we were blessed and cursed with three distinctive releases in just under eight-months. Each album is unique unto itself and I'm not sure if taking a sampling from the best of each release would have made a more concise record either. Nevertheless, with so much material released in such a short time, I do not feel that anyone digested it properly, myself included. Mixed reviews for the concert performances in support of these releases did not help either. Despite all of these factors, I always found myself drawn to '29', a melancholy stripped affair of somber songs that was released in December of 2005. By the time of its release most people were burned out on new material that was largely uncommercial and twangy in flavor. Many fans never got around to getting the album (only 81,000 copies were sold) or in some cases, even listening to the album. Throughout 2006, I found myself returning to this silently sublime nugget. However, at the Biograph Theater, I finally HEARD the majority of this album for the first time. Five of the album's nine songs were performed with vigor that made these songs come to life. Ryan appeared to be channeling from within when he sung each and every lyric. It was almost as these were long lost forgotten friends he was becoming reacquainted with. "Starlite Diner" and "Carolina Rain" gleamed like forgotten paintings where the imagery of his lyrics tied perfectly alongside the expressive vocal delivery. I could feel his emotions pour forth from the stage; this was something missing from previous performances I had seen. So many of these songs paint transcendent pictures and it took an intimate setting like this one for me to fully grasp these masterful songs. This is why the live performance is so integral to the lifespan of a song. One may overlook a song on an album, but if the performer stuns an audience with a riveting performance, we'll make sure to go back, rediscover it and it may give the album a new life. Many of the songs on '29' may repeat various love torn themes but the subtlety of the production and performances do not ever feel like you're listening to the same song twice and proved my initial feelings correct; '29' is a far superior album than anyone ever imagined, including myself.
Everything I longed and hoped Ryan could be in the flesh, he was on this evening. It was a very stirring and subdued experience without a single electric guitar in sight. What I realized is that many of his softer (and what I initially deemed throwaway tracks) found their spark in the dark. The songs actually reached out to me and I felt like I was watching a master painter work his magic in front of me. A pair of songs from 'Cold Roses' shimmered in the dimly lit theater "How Do You Keep Love Alive?" and "Let It Ride" brought about some of the more transcendent and uplifting moments of the evening. There was genuine excitement within the crowd when these songs were performed. The band may have been stripped and acoustic but you could feel the electricity on stage. Ryan's vocals were ardent and on the spot.
The material of "Easy Tiger" sounded magnificent as well. I don't feel 'Easy Tiger' is Ryan Adam's masterpiece, but it's a strong and consistent work. "Two" shows a maturity in his lyrics even if they don't reach the poetic heights of his earlier work. It's a restrained and somber track that shows the knowledge that comes with age ("It takes two when it used to take one").
With everything changing how am I to know
How I'm going to hold on to you when I'm spinning out of control
You and I together but only one of us in love
And everybody knows
-"Everybody Knows"
Adams has a knack for channeling the emotions of mislaid souls who are seeking more from their life. At the Biograph, his performance was indomitable which allowed his songs to be properly presented and heard. "Everybody Knows" and "Halloween Head" showed the charismatic but reserved Adams really excise demons when the lyrics soared from his lungs. He even pulled out "Down in the Hole" an Alice in Chains cover that not so coincidentally was sung by someone who lost the battle of fighting with his demons, Layne Staley. As Ryan sang "Down In The Hole" his hands wavered in the air as if he was conducting an orchestra but I saw this as him taking control of his life and his career with a stirring and moving performance no one will soon forget. He exuded staggering confidence and artistry over the course of the show, proving he's capable of greatness.
Seeing this show made me giddy at the thought of what an attentive Ryan could accomplish during a rip-roaring rock n' roll show. Ryan Adams invigorated me with a soft, subtle and focused performance that proved redemption in rock n' roll is not a myth but a reality. He disappeared into a murky existence a number of years ago and while he continued to be wildly productive he left many scratching their heads as to direction he was taking with his music and more importantly his life. The Ryan Adams I saw on stage was an artist I had never seen before, it's almost as if the old Ryan died and the new one was resurrected and reborn. I hope this new one is here to stay for a long time.
Don't live your life in such a hurry, life goes by us so so fast
And the sun will come up again, and I will be here
-"Goodnight Rose"
Set list:
Please Do Not Let Me Go
Dear John
Nightbirds
Carolina Rain
How Do You Keep Love Alive?
Let It Ride
Elizabeth, You Were Born To Play That Part
The Sun Also Sets
Blue Hotel
Oh My God, Whatever, Etc.
Goodnight, Hollywood Blvd
My Winding Wheel
Games
Two
I Taught Myself How To Grow Old
Starlite Diner
Everybody Knows
Halloween Head
Encore:
Blue Sky Blues
Down In A Hole
Goodnight Rose
Anthony Kuzminski can be found at The Screen Door
---
RELATED LINKS