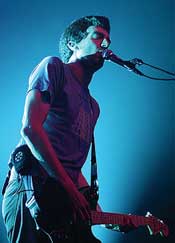 If I just lay here
Would you lie with me and just forget the world?
-Chasing Cars"
Unless you've been living under a rock for the last year you have heard Snow Patrol's "Chasing Cars" on the radio, in "Grey's Anatomy", on VH-1 or have a friend who has the song on constant rotation on their iPod. While it's always terrific to see a band break through to the mainstream all too often the "big hit" winds up hurting these artists. It sadly can be the only song the average fan will associate them with and at times, they spend the rest of their careers trying to redefine themselves to a public who is unwilling to listen. If you doubt me, I'll ask one simple question; Did anyone actually buy Daniel Powter's album last year (aka Mr. "Bad Day"). Every once in a while a break through hit allows an artist to augment their audience and in turn the number of devotees expands. Thirty-minutes into Snow Patrol's concert at the Aragon Ballroom in Chicago, I knew I was seeing anything but a one-hit wonder.
One year ago this week, I was sent an advance of "Eyes Open" and it knocked me to the ground. The soaring symphonic melodies and the cathartic lyrics found their way into constant rotation in my iPod. Being a writer I have dozens of albums sent to me monthly and why I choose to listen to any of them depends on luck, but I listened to this one because of my friend Kevin. Snow Patrol was in my memory from a phone call Kevin made to me a few years back. He raved about Snow Patrol's presence as a live act. Just this past week, I was able to witness myself the live majesty of this band. Arriving on stage to a swirling array of red lights with an anxious sold-out crowd that was nearly four times as large as the last falls Chicago show. The band opened with "Spitting Games" from their 2003 album, "Final Straw" and reigned over the stage like veterans. Despite having an enormous hit, this crowd came to see more than just "Chasing Cars." They came for an experience. As the evening progressed, they continued to showcase all but one song from "Eyes Open" and most of "Final Straw." Even though the middle section of the show found many mid-tempo numbers performed back to back ("Shut Your Eyes", "Somewhere A Clock Is Ticking", and "Make This Go On Forever") the band was so engaging I never once looked at my watch or anxiously waited for the next song. The five members of Snow Patrol oozed confidence and charisma from the concert stage, especially vocalist Gary Lightbody. I've seen dozens of acts who did not have the proper flow or sequencing of songs to perform a live show and sadly these shows wound up leaving me with a negative impression.
The evening had many highlights including the pensive "Chocolate" whose performance was precise with an unrelenting back beat by drummer Jonny Quinn. Many in the audience, including myself, were reintroduced to the song last fall in the Zach Braff film "The Last Kiss." The song is featured prominently in the film's opening title sequence. It truly is amazing how different artists, including filmmakers and video directors, can breathe new life into a song by merely showcasing it in a unique distinctive manner. "Headlights" found a breathtaking array of colors and strobes complimenting the soul searching lyrics. Tom Simpson's piano and Nathan Connolly's guitars act more as a rhythm tracks with enormous symphonic sounds I didn't think any band had a chance of replicating in concert, but they did!
When the band began the opening chords to "Chasing Cars" the audience shrieked screams and sung every lyric. Their voices encapsulated the ballroom which besieged the band by the look of surprise on their faces. In this rare and wondrous moment, they basked in the rapturous applause of the sold-out crowd. I give the band props for playing "Chasing Cars" early in the set and not making it an all too predictable encore song. A song this deep in the public's consciousness could have been the evening's climax, but there were plenty of highlights which followed. Snow Patrol succeeded where most other bands fail, by building on the crowd reaction to "Chasing Cars" with a perfectly sequenced set list appealing to not just the hardcore fans but the casual ones as well.
"Set the Fire to the Third Bar" is a luscious duet with Martha Wainwright on "Eyes Open" but in concert the band picks a fan to assist with the languid duet enrapturing the audience. I looked around and not one but hundreds were singing along to every word. Devotion on this level is atypical. Snow Patrol is finding themselves in a unique point in their careers where they can leave an indelible impression or cash in on their one hit. So far they're more focused with their ongoing musical journey than worrying about whether or not Coke will pick up "Chasing Cars" for a series of commercials. Here is a distinctive band that is poised for bigger things and yet somehow, I don't feel alienated by this. The acts that are able to attain their coolness while increasing their fan base ten-fold are few and far between. Only U2 has truly managed to succeed at this, but don't count Snow Patrol out. The level of fan devotion this band warrants is stirring.
The perfectly paced show had no moments of self indulgence or extended solos. The fusion of the bands instruments along with the spectacular light show occupied the audience for the entire ninety-minutes. Here is a band that wisely chose a succinct set list and even during the few moments which lagged, they were equally betrothing because of the eye candy perfected by their lighting specialist. The one-two set ending punch of "Run" and "You're All I Have" were met with thunderous applause. There are concerts where crowd participation comes about because they know the song and other times it's because it is in their DNA, Snow Patrol fans have a DNA connection.
The encore was equally prevailing with the final three songs being so ostentatious the band could have swapped them with the opening trio and had the same effect. "Final Straw" fluently segued into the riveting "Open Your Eyes" which as every song that preceded it continues to take the audience higher and higher until the evening's finale; "Hands Open". When they sung the lyric "Chicago bursts to life" the crowd was already intoxicated, alive and completely seduced. Snow Patrol is clearly a band in command of their destinies and who should be headed for an arena soon. They are not a one-hit wonder walking through the motions thirsty for fame and fortune but a defiant act who believes in making devoted followers of their fans. The only difference between them and many other acts on the verge of mass love is that they are going to be ready for it with the hands, hearts and minds open.
Put Sufjan Stevens on
and we'll play your favorite song
"Chicago" bursts to life and your
sweet smile remembers you, my
Hands open, and my eyes open
I just keep hoping
That your heart opens
-"Hands Open"
Anthony Kuzminski can be found at The Screen Door
---
RELATED LINKS