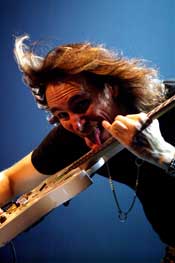 "Sound Theories I'II" freshly packed at your local entertainment store, it was obvious many had different expectations towards his new touring streak. When Mr. Vai himself announced this short stint being a one-off and special event, his beloved Amsterdam seems the perfect place to experience his newest brainwaves.
Opening tonight is Zack Wiesinger who seemed to have run from the Boom Chicago comedy club only a block away. Zack is extravagant and funny stunning apart of the audience with his finger fast picking techniques and tapping skills. Even though relying on his humour, his 20 minute performance is enthusiastically celebrated by the audience, singing along, yelling and cheering. Zack is at his best and when he unplugs by mistake, his performance turns into Stand Up Comedy. Zack is the rock solid "Yes!" to Zappa's question whether humour belongs in music or not: Funny and entertaining.
Of course, we have all come to see the master, the high priest of guitar himself: Mr. Vai!
When Steve takes hold of the stage and unleashes his razor sharp playing, the 1.500 (or more) are set for a 2 3/4 hour long rollercoaster ride through the sonic landscape of experimental guitar playing. His groundbreaking playing is anticipated by an audience lead into temptation. Jaw dropping musicians standing alongside fans and music enthusiast from all over Europe, as well as women idolizing his moves and charisma.
Like no other, Steve knows how to blend his exceptional skilful and extravagant playing with ear mingling and sugar coated melodies, serving his listeners. Furiously opening with "Now we Run" and the experimental and taunting "Oooo" on his neon lit Jem, Steve sets the pace for this show with his fingers flying over the fret board with tremendous speed and finesse. Bending notes, skipping strings and weird noises; it is all there! He keeps the tension high and while the Melkweg club is slowly heating up, Mr. Sexy delivers one of his best performances ever. "Real Illusions" top notch guitar extravaganza "Building the Church" and "Firewall" are delivered inspired and driven. "Crying Machine" comes by prior to the first solo spot of this night; Dave Weiner. The introvert and 'shy' axe master gives a brief insight in his skills and techniques, before the gas goes full throttle again in "I'm becoming", "Die to Live" and a staggering performance of the pretentious "Freakshow Excess". The set list bears some sounds previously unheard; "Tender Surrender" is one that ain't present usually and is one of tonight's highlights. It also shows the perfect symbiosis of Steve's music performed in combination with classical violins. The astonishing collaboration is brought to live by the lovely Ann Marie Calhoun and Alex de Pue, together firing up the rock guitarist for some amazing duelling on stage. Alex being the extravert player, favouring modern music, and more eclectic parts, where Ann Marie adds a more classical traditional style. Their solo spot halfway through the show is a pleasant showcase of their skills and diversity in style, including an outtake of the 'Crossroads' guitar duel between Vai and Ry Cooder. Exactly the same diversity in styles, therefore a perfect pick for this occasion. This solo creates an excellent outline for "All about Eve" in which Steve takes the microphone for a change. It is during these rare moments when Mr. Vai shoots with razor sharp one liners and fun facts. Especially tonight he seems amused about the atmosphere and audiences anticipation to his newly styled music. Vai laughs, cheats his guitar tech, and does some funky James Brown moves shuffling left to right over the stage. Thanks to his enthusiasm and pleasant presentation, the temperature rises to a boiling point when "the Beast" is set loose for a hunting streak.
Something completely different is offered by the 'rage onstage'; Mr. Jeremy Colson with his marching band drum kit. Attached to himself and decorated with light and masks is quite a sight, he first makes way for some great down to earth playing in "Angel Food" accompanying his master. When sets in for some drum shuffles and his solo spot behind his kit, all hell breaks loose. The man is gifted with technique and finesse like a Neil Peart, but also has the thunder captured in his wrists, skilfully showcased in his short and high power solo psot that is entertaining and effective. This explosive hard hitting in combination with the slappy and funky bass playing of Mr. Modest, Bryan Beller provides a rock solid foundation for the rest of this exceptional band.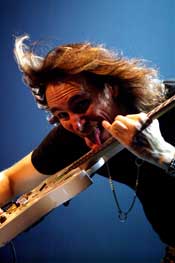 Colson's drum solo is the upbeat towards the final chapter of the set with the highly anticipated hit single "The audience is listening", "The Murder", the fusion inflicted thunderroar in "Juice" before the grand finale in "Whispering a Prayer" once again opening all of it's beauty and passion for music.
Already clocking over two hours of guitar extravaganza, Vai and his band are cheered back for a smashing set of encores including the guitar outburst from "Fire Garden Suite" and "Taurus Bulba." Once again it is striking to see the skills of Vai with his guitar; blowing and whistling into his DiMarzio pickups, licking his strings, torturing his tremolo and bridge and tormenting every guitar player in the audience that hasn't already left to burn his instrument. Calhoun and Due return to join the master together with Wiesinger for a smash ending with the hymn " Liberty" and the jazzy and fusion inflicted "Answers." Another highlight of every Vai gig is the amazing tear jerker "For the Love of God," which sounds pompous and vibrant in combination with violins and Steve weeping and screaming guitar.
In the midst of this remarkable show a girl in front of us mentioned "Guitars to be the most sexy instrument on earth," it struck me... Steve wasn't just playing music for his fans tonight; he was worshipping and lovingly caressing his Jem. Talking with it, talking to it, caressing, squeezing, and licking it: Vai making love to his guitars is sheer magic. After the 2 hours and 45 minute long musical joyride, the high Priest of rock guitar playing proves to be setting new standards for all players out there, with love for his guitar and music...
Set List:
Now we run
Oooo
Building the church
Tender Surrender
Firewall
Crying Machine
Daves Solo
I'm Becoming
Die to live
Freak Show Excess
Violin Solo
All about Eve
The Beast
Angel Food
Drum Solo
Audience is Listening
The Murder
Juice
Whispering a Prayer
Encore:
Tarus Bulba
Liberty
Answers
For the love of God
---
RELATED LINKS