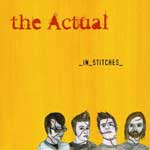 Today's guest stars are the California based pop-punk band called TheActual. We join them on their patchwork recording, four years in the making, to find out what keeps them in In Stitches; their new release on Scott Weiland's (STP and Velvet Revolver) Indy label Softdrive Records.
The influences which make up The Actual's musical landscape is like a wall of sound tagged by Hüsker Dü, Simple Plan, and Queen, with Agent Orange highlights. Their introspective skate punk lyrics on this 13 song release speak mostly of social self worth: either you have it or you don't.
"The Pride of the Echelon" sets the tone, but not the text, for the record. It is a song about letting your dreams escape you. The rest of the songs, or at least the lion's share, are about females: and more importantly the problems that come with them. Two of the more interesting ladies on the release are a Devil-Worshiping-Good-Girl-Pixie in the song "September Had A Trigger Finger," followed up by a"Permanent Kitten" with catchy guitar hooks that have 9 lives of melodic sound. You are going to be rocking out with these songs all summer long.
The first single off of the album is, "This Is The Worst Day Of My Life (Do You Want To Come Over)." The Actual set up a melodramatic tone that doesn't sink into the awe-shucks-Emo-band self-indulgent rhetoric. This song has a duality, not unlike the title of the record. It poses the question to the listener; if he sings it will she come over?
The record marches on with the song "If You See Her", in a post relationship scene of angst and how he's finally ok; NOT! Though roughly based on a cornucopia of chicks, any similarity to a specific individual, living or dead is purely unintentional and coincidental. Max Bernstein suggested that a good follow up song would be from a female point of view in another style:
"I would want it be performed by another band that I thought was really great with a girl singer and have it like a conversation between two bands."
Any female fronted band up for the challenge? Other songs on the release, "To All The Plain Janes", "Between The Bridge and The Chapel" and "Lindsay Never Gets Lonely" sound like three different bands performing, showcasing the musical adaptability of the band. "In Stitches" holds together and paves the way for another episode of sonic entertaist
Track List
The Pride Of The Echelon (3:24)
This Is The Worst Day Of My Life (Do You Want To Come Over) (3:43)
September Had A Trigger Finger (2:06)
If You See Her (3:55)
Permanent Kitten (3:57)
Needle Park (3:30)
To All The Plain Janes (3:17)
Between The Bridge And The Chapel (3:07)
Dancing On The Perimeter (4:19)
Sending You A Signal (4:24)
Lindsay Never Gets Lonely (2:28)
Stay In My Rectangle (2:30)
Hospitality Girl (2:54)
---
RELATED LINKS