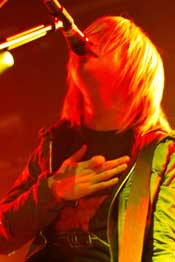 Pop rock bands are usually made up of a group of musicians who pool their talents together to make one band. However, for the band The Rocket Summer this is not the case. Bryce Avary fell in love with music at age 12 and put out his first EP when he was only 16. He became consumed with music and wrote all aspects of his songs from start to finish. However, to perform his creations live, he recruited some friends to help him out. His latest record "Do You Feel" is his first for Island Records. I caught up with Bryce on the road during the 'Sleeping With Giants' Tour.
---
What is the recording process like writing "Do You Feel" because you write and record all aspects of your music?
I wrote the record in the summer time in an apartment. Then I went into the studio. I generally start with drums and build the songs from there. That is a pretty big way of putting it because it is a very long and complicated process. It is just me in the studio so I can lose it at times being in there all alone. It is fun. (Laughs)
How different is this album compared to your past releases?
I think it is the natural step up. I mean I love my old records so I don't want to say these songs are way better but I think they are a little better. (Laughs) My lyrics are a little more focused this time.
What do you want listeners to take out of playing your record?
I want people to experience the possibility of healing. I want people to hear it and feel different.
How do you keep a positive attitude in such a cut throat industry?
I smoke a lot of weed! No I am joking! (Laughs) I am totally joking! To be honest it is a personal thing. I have never smoked weed. A little joke I shouldn't have said. (Laughs) Music moves me and that is the bottom line. I am inspired to keep going by the idea of inspiring people.
What's their biggest fear about stardom?
I want to have a real fan base. I don't want the fickle fan but any fan is good. (Laughs) I just hope that if that ever happens to us that our core fans don't turn on us. I never thought our fans would do that but I get some little hints about it now and then. We were on TRL (on MTV) this week. They played our video once and I got some "You're a sell out" comments and was like "What?" To me a sell out is when you deliberately write music differently or change who you are as a person or take pictures of your self naked and put them online. That is what selling out is to me. If you write a record that you just want people to feel something from and then MTV catches on to what you are doing and want to put you on their network, than I don't see how that is selling out at all. Luckily those people don't have to worry because it only happened once. (Laughs)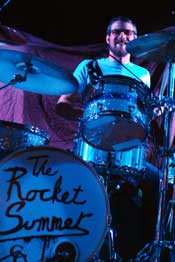 What is your best tour story?
On this tour, the PA system went out during the last song of our set which is a really intense song emotionally. The PA went out but the monitors were still working on stage so no one can hear me singing. However, they could hear my guitar amp. It was really intense. So all of our people went out, grabbed the monitors and started throwing them around towards the crowd so that people can hear it and I was screaming on the top of my lungs. It was a really terrible moment that was also extremely like "Whoa!" It was really powerful and cool.
What is your most weird or craziest fan experience?
There are two people who have named their children Bryce Avary. The first name is Bryce and the middle name is Avary. That is pretty nutty and one time someone licked the bottom of my shoe. That was really, really weird. They grabbed my foot and started licking it. It is not like I said "Yo, lick my foot!" (Laughs)
---
RELATED LINKS