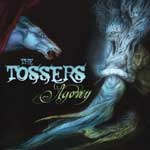 There will always be a special place in my heart for Celtic punk bands, and the distinctive sound that they produce. With my punk rock roots, and my family's Irish heritage, Celtic punk music gets to my inner being. Punk music is where my fascination and passion for music began. Every time I hear a band like The Tossers, the fast beats take me back to the small punk shows we used to frequent, and the cultural Irish instruments strike upon my green genes and get my heart beating to a tone that could only be had from that wonderful Celtic sound.
To release a disc with an Irish-loaded tone within a few days of St. Patrick's Day is a genius idea because you are able to latch on to the festive spirit of this drunken holiday. While The Tossers sing of the ever present topics of old cultural Irish music, they put a few different spins on it. They have their fast songs that while they may have a sad or depressing undertone, are covered up well by the slew of instruments and fist-pumping beats that these upbeat songs provide. Their slower songs tend to dwell or focus more on some of those topics in a serious, in-your-face manner. These songs get you to take a step back and reminisce about some of the things that happen on the darker side of life. It's not a topic that many bands want to look into publicly, but The Tossers have no problem confronting those issues head-on. They hit those 'forbidden' topics with so much depth, angst and emotion that you can't help but to feel like you've gone through some of the very same things they speak of.
The Tossers new disc, Agony, provides 17 songs to keep your Irish spirit up in arms until next year's March 17 th celebration! Using a proven cultural sound that has lasted for centuries, The Tossers have slightly tweaked that sound to fit their own style - a style that is quick, intense, heartfelt, and one that makes anyone feel like they've got a little Irish heritage in them. For those actually sporting some Irish blood, it forces those Leprechauns way down in the depths of your soul to show their face, bring their jig-in' shoes, and move to a sound that raises the blood pressure, and puts a big fat smile on your face!
The Tossers keep the majority of their faster tunes to the quick 2-minute fury that leaves you gasping for breath. Lead singer Tony Duggins adds an off-kilter and immensely emotional quality to their music. Agony features a rallying cry song called 'Political Scum' that offers one of the best tunes on this disc, strongest messages, and easiest to sing and dance along to. With a disc title like Agony, The Tossers look into some tough subjects of everyday life. When fast, an almost positive outlook on those subjects comes about, and when slowed down, you tend to dwell on them a bit more. Both these styles of song make for a thrill ride that keeps you more-than-interested for all 17 songs.
Agony Lineup:
Shade
Never Enough
Pub and Culture
Did It All ForYou
Spook Reel
Not Forgotten
Siobhan
Traps and Ultimatums
Claddagh
Leapordstown Races
Where Ya Been Johnny?
Not Alone
Political Scum
Romany
The Nut House
Movin' On
Be
---
RELATED LINKS