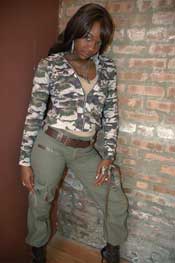 A Chicago based artist has hit and is blowing up the hip-hop scene with a dynamic combination of lyrical versatility, never-ending creativity and a charismatic stage presence that is explosive. Trinity is the new Chicago female face representing the rap game. Writing rhymes since the age of 10, she is a protégé at 21. Her skills as a writer are undeniable. The gift of rhyme comes easy to her, a lover of poetry, music, and writing. There's no wonder why her lyrics have power and meaning behind them. Trinity is a very talented self-contained artist. She writes and co-produces her own material. So gifted is this young lady, she could literally put together a song from...start to finish,...all in one session. Trinity has been very busy the past five years, writing songs, performing and developing her ...sexy... no nonsense image... she is backed up by her professional dance troupe... Triple Threat... and has performed in auditoriums, theaters, stadiums and at outdoor festivals all over the Chicago area. Trinity has had the pleasure and privilege of being the opening act for numerous artists such as, Public Announcement, Crucial Conflict, Twista, Do or Die, Boys to Men, D-Brat, Eclipse and a host of other local Chicago artist. Trinity does not like to compare herself to any other female rap artist that is on the scene now. When asked why, her response was..."female rappers already have a struggle in this industry because it is a male driven industry, so instead of battling or creating friction I feel that all female should come together in this business to make a statement." That statement is that we are here and we are not going anywhere. My hat goes off to any female rapper that stands up and take that challenge and say hey I'm good, I'm her, and most of all you can not stop me. In the first quarter of 2006 Trinity formed her own team and started her own record label, Shewins Entertainment Co, and released her first single called ..Money Money... with her new release Trinity displayed a totally new marketing concept by handing out over 10,000 flyers alone with 5,000 free single copies of her single to new found fans. She also put her new single in the hands of over 50 DJ pools all over the world. In her upcoming release of her album called, Da Interview... Trinity will tell her amazing story about her life, accomplishments, challenges, major breakthroughs, heartaches and most of all her wild journey to success through songs titles such as "Only You," "In this Life I live," and "Ride with me" to be released March, 2007. Trinity fresh new approach and marketing strategy has been a huge success with her single being aired on several radio stations. She is in the top 10 requested song on many college stations, and has made the charts on several DJ pool where she held the spot of 21 on masspool.com and remained on the charts for over two months moving upward. She is also on the charts of respected independent internet radio stations such as American Idol Underground, and Garageband. She is also presently being played overseas and is being played on two of Chicago most listened to stations Power 92, and B96 mix show. Most importantly she has over 5,000 thousand advance request copies on order for her upcoming album. With her new ideals and concepts Trinity hopes that she can make a name for all female MCs in the business right now. She feels she has some very talented sisters to come behind, but she is up for the challenge of bringing her own style, clever lyrics, hypnotic tracks and a impeccable sound that the world will soon love. For most of her career, Trinity has been managed and supported by her Founder, Manager and SheWins CEO Sheila Williams, who works closely with Vernon Mahan and On Our Own Music Groups CEO Randolph "Big Nawlege" Hale to ensure maximum effort and positive results. Trinity is presently in the studio finishing the work on her debut album due to hit hip-hop hard. To contact Trinity you can hit her up at her myspace at www.myspace.com/shewins.
---
How did you get started in music?
Well I started rapping at the age of 10 when I first heard the song by Slick Rick called Bedtime Story. I knew then that this was my calling. I could remember reciting that song over and over and then one day I pick up the pin and started written my own rhymes. It came easy because I wrote poetry already so writing rhymes came naturally. I already had that style down packed. So I wrote my first song and let my mother and father hear what I wrote and they loved it. My mother formed a group and put us in the studio and I've been at it ever since.

How do you define your music?
My music is real. I like writing styles of real stories like DJ Quick, Tupac, Slick Rick, Biggie Smalls, Jay-Z and Nas. I try and write about things that people can relate to. I write about my life, but sometimes my story is not what the people what to hear so you have to know how to listen and pay attention to everything surrounding you and choose someone else story. Some rapper don't know how to do that, you have to know how to step away from your own situation and grasp hold to others, because sometimes other people story is a lot better then your own and I'm never too proud to say my life story is boring or not interesting. My music has to be positive; even if I write a song that's provocative it still has to be positive.

How do you see yourself in a year and beyond?
I see myself as a nation wide Hip Hop star. I see this because I'm working hard for it, and I have so much to offer the people in world today. Some artist's are just for a season, but me I'm all time. I have a great personality, humility, strong faith, a winning smile and most of all a strong respect for my fans. I realize and know that with out the people there is no way I can make it to the top I need them and I will always have a great appreciate for them that they will never be able to understand unless they was in my shoes.

Who would you like to work with?
Man there so many I respect for all artists large and small, but I must list a few, Mary J, Lil Kim, Luda, Busta, Timbaland, Paul Wall, Trina, Ladi Lyke, Shawna, Monica, and all time producers Rick Rubin and Scott Storch

What are you listening to on your iPod right now?
Rick Ross, T.I., Young Dro, Ludacris, The Miseducation Of Lauryn Hill, Jay-Z, Nas, Biggie and Tupac.
---
RELATED LINKS