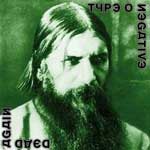 The fabulous four members of Type O Negative returns with a new album
Type O Negative has gone and created another album masterpiece to add to their collection. The album Dead Again is set to release in the US on March 13, 2007, and will be the band's first album release since their 2003 Life is Killing Me album. For those of you out there that are fans of these incredibly dark, and gothic sounding musicians, I would recommend getting a copy of their newest album, as it is truly different from their former albums, yet still carries the unique sound that Type O Negative started back in 1989.
The one thing I did notice in this album is that there is not nearly as many keyboard sound effects as they have done in previous albums such as Bloody Kisses or in October Rust. Type O Negative has been known for their heavy keyboard use, and can typically be counted on to include in their albums the true sound of pipe organs imagined to be orchestrated in some dark castle while listening to their songs. This has also always helped to add to their dark sound, but regardless of this change, the band still pulls off a gothic feel. On Dead Again they seem to have taken to more of a piano sound in some of their songs, especially in the beginning of the song "September Song", which I would have to say is one of my favorites off the album for its rise and fall from soft melody, to hardcore guitar and drums throughout the entire song. The song "Tripping a Blind Man", though very fast paced, has what I felt were the best keyboard special sound effects in the beginning of the song off of the entire album. This is also a song about somebody seeming to believe they could pull a fast one on someone who cares for them, which, for anyone who has been burned by a friend, they could definitely relate to this song. Another song I truly enjoyed is "Halloween In Heaven", where the chorus states "Halloween in heaven...;Christmas in hell...;Halloween in heaven...;oh well, oh well". I love the idea that this band actually came up with a song that would have most die-hard religious fans outraged and offended at the lyrics. This is definitely not the song you want to play for your regular church going relative! The song "She Burned Me Down" starts off with a hypnotizing guitar and drum duet that sounds nice and slow at first, but then quickly goes to a faster tempo while Peter sings about a love of his that has truly let him down, and that feels that she "Burned him down, down to the ground, something I could expect from a stranger, but never from family and friends." This is definitely a song most "love burned" fans can relate to. On the song "Some Stupid Tomorrow", it starts off slow, and quickly moves into an almost punk sounding melody accompanied by Peter singing powerfully faster than I've ever heard him sing. This song surprised me since I honestly am very used to his slow, entrancing voice for most songs the band has released. I would also have to add that this song would be a good one to get some of the metal music fans out there hooked on the band if they have previously felt that their music is too slow paced for them.
Overall the album Dead Again is brilliantly written, and I give credit to the members of Type O Negative for their ability to pull off yet another beautifully crafted work of music. Type O Negative is also touring the album Dead Again; so go to www.typeonegative.net for details or more news on the band. You can also go to www.SPV.DE for details.
---
RELATED LINKS