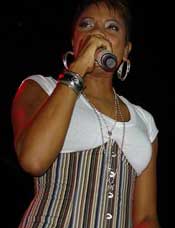 Most of today's youth view Hip Hop as a vehicle used to flaunt one's accomplishments. Whether it is money, women, power, or status it's practically impossible to turn on the T.V. or radio without being bombarded by messages of how cash rules everything around you. Is that what Hip Hop is really about, gaining respect by flexing a penchant for gluttony? Fortunately, materialism was not the message Mele Mel rapped about during Hip Hop's infancy. Mele Mel spoke about society's faults and how they almost pushed him to "act a fool." This social commentary trend continued with artists like KRS-One, Kool G Rap, Kool Moe Dee, Run DMC, Slick Rick, Rakim, and so on. But while kicking knowledge was a crucial part of the culture rocking the party was equally as important, and there was no better place to do so than at a home style block party around the way. "I could remember getting water from Johnny pumps (fire hydrants) and splashing people," remembers Marcus Glover, 40, out of East New York . "But when any song from Run DMC, The Fat Boys, Expose, or KRS-One pumped out the boombox - everyone stopped and just started getting down. That was the fun part about having a block party," and it was that atmosphere VH-1 aimed to recreate during the Hip Hop Honors Tour's last stop at NYC's famed Nokia Theatre in early October. Billed as two and a half hours of must see classic Hip Hop & Soul, the show featured Philadelphia's Grammy award winning five piece band The Roots alongside Virginia's freestyle prodigy, Skillz, and Brooklyn born Hip Hop legends Big Daddy Kane and MC Lyte.
The VH-1 Hip Hop Honors is an annual event (currently in its fourth year) that celebrates the accomplishments of influential pioneers who paved the way for today's superstars. Recognizing the memory of these cultural icons also works as a history lesson for the new generation of fans who have been listening to Hip Hop for less than a decade. "It's like when you talk to the youth today, old school to them is Biggie and Pac," explains legendary emcee Big Daddy Kane in an interview with Brooklyn Nite One. "There are few that can relate to brothers such as myself, KRS-One, Rakim, [Kool] G Rap and hardly any know about the Furious 5, Sugar Hill Gang, and they damn sure don't know about Cold Crush, and Funky Four, and people like that. I mean, it's like almost forgotten, but thanks to shows like [VH-1] Hip Hop Honors, they are starting to receive the proper recognition." New York City's truest Hip Hop promotion team, Live'N'Direct got the show underway with DJ Mixx and rapper Kinetic Energy (of the Arsonists) hyping the crowd as DJ Ready Cee pumped out enough classic hits to wet the beak of any Hip Hop enthusiast. After 40 minutes of Kinetic Energy's powerful raps he passed the mic to The Roots' Black Thought, who, backed by bassist Owen Biddle (Leonard "Hub' Hubbard's replacement), guitarist "Captain" Kirk Douglas, percussionist Frankie Knuckles, keyboardist Kamal Gray, and afro-centric drummer ?uestlove (Questlove), unleashed a tirade of lyrical fury that garnered vehement cheering from the audience. With a fashion conscious Skillz by his side Black Thought's high-powered renditions of Run DMC's "King of Rock" and NWA's "Fuck Tha Police," slowly quenched the crowd's overwhelming hunger for the old school. The throwback frenzy continued as Black Thought and Skillz brought back a tidal wave of classic rap with covers of Rakim's "Microphone Fiend," Kool G Rap's "Men At Work," Nas' "Illmatic," and a stellar rendition of Wu-Tang Clan's seminal hit "Protect Ya Neck," which demonstrated Black Thought's diversity as he flawlessly performed every verse from all nine Wu-Tang members.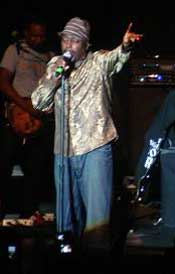 Halfway through The Roots' performance the queen of the game, MC Lyte, wearing jeans with a corset wrapped around a white shirt, showed that Brooklyn swagger as she galvanized the capacity crowd with an impeccable version of the song Rolling Stone Magazine called a "slamming, street-smart" effort, "Cha Cha Cha," off 1989's Eyes on This . MC Lyte was the rapper who gave women a platform to express themselves through witty lyrics spoken over hardcore beats. Because of her relentless pursuit towards success we have female superstars such as Mary J. Blige and Lil' Kim, who are both polar opposites of each other; but when asked by John Burnett of nobodysmiling.com inquired about her opinion of women in today's music industry, MC Lyte describes how she "can in no way put any of [her] sisters down for excelling in a world so male dominated, but [is] hoping as folks get older they begin to see the world and understand the game more, and want to become more socially conscious and inspire (others) in a positive manner to change the world." The seismic booms kept fans dancing and cheering as MC Lyte gave a shout out to her brother Milk Dee (the voice 50 Cent sampled on the song "I Get Money" off 2007's Curtis ) with a verse from the chart topping "Top Billin" off 1987's Lyte As A Rock before bashing shallow love during "Paper Thin" and describing the intricacies of a sour relationship with a "crackhead" as during "I Cram To Understand U," both from Lyte As A Rock . After MC Lyte's sinewy rhymes tore the roof off the Nokia Theatre Black Thought and Skillz returned for another round of high-speed rap gymnastics (visually enhanced by strobe lights synced to ?uestlove's drumming) until Big Daddy Kane showed the people his clout with a collection of lyrical knockouts.
Big Daddy Kane, born Antonio Hardy, is another Brooklyn descendent credited as having profoundly impacted this Hip Hop game. With a lighting quick flow accentuated by freestyle rap battle techniques Big Daddy Kane is regarded as one of the greatest rappers of all time. Raised on the streets of what he called "the hood of the lyricist," Bed-Stuy, Brooklyn, Kane was not only a mentor for other Brooklyn-bred rappers such as Jay Z and the Notorious B.I.G., but he also gave Jay Z his first shot at stardom by hiring him as a hype man, and the standing ovation Kane received during his on stage strut was indicative of everybody's respect for his overwhelming contributions to Hip Hop's "Golden Age." In honor of Black Thought's birthday, which was a few days earlier, Kane and drummer ?uestlove (Questlove) presented him with a pimp cup before Kane turned up the heat with a few of his classic party tracks "Set It Off," off 1988's Long Live The Kane , "Smooth Operator," and "Warm It Up, Kane" off Kane's most successful album, 1989's It's A Big Daddy Thing . Kane even brought out Big Scoob for a flashback dance routine, which also included Black Thought, during a heart pounding rendition of "Raw" off his debut album, Long Live The Kane . Towards the middle of his set, Kane took a few minutes to acknowledge some of rap's fallen heroes like Tupac Shakur, The Notorious B.I.G., Chief Cowboy from the Furious Five, and Old Dirty Bastard (a.k.a. ODB) by inciting the audience to honor each artist's name with a "moment of noise" rather than silence.
Another surprising part of the evening's festivities came when The Roots' drummer ?uestlove (Questlove) shed some light on one of Hip Hop's most influential producers, who happened to be on stage behind some turntables, the original Hitman from Bad Boy's famous Hitman crew, DJ Rashad "Tumbling Dice" Smith. "This man has a very impressive resume," ?uestlove explained to the crowd before giving them a small taste of his most famous "joints" like LL Cool J's "Doin It," and Eric B & Rakim's "Don't Sweat The Technique." "This cat is a student of the Large Professor and he's been making records since he was 15," continued ?uestlove before introducing Eric B and Rakim's "Juice," as one of the first beats Smith made. Each time the crowd got riled up with one of Smith's records ?uestlove would cut it in the middle, unleashing a tornado of boos from the audience. "I know it's blasphemous to cut The God (Rakim) off," answered ?uestlove. "But there's more," he continued as Smith's beat for Busta Rhymes' "Woo-Hah" bumped from Nokia's immense sound system. Both ?uestlove and Rashad Smith appeared to enjoy this record the most since they kept it running for the longest time while imitating Busta's funky dance rhythms. "This is the song that will put his grandchildren through college" were the words ?uestlove used to introduce The Notorious B.I.G.'s classic banger, "One More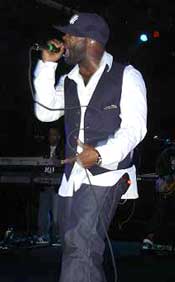 Chance." Later in the show MC Lyte returned to the stage and sang "Cold Rock The Party" which was followed by Kane's dance step pop quiz. "Do you remember the running man," Kane asked the audience. "How about the wop? Anybody remember the snake?" These dance demonstrations lead to serious gyrations by the "microphone lord" who then finished the show on a high note with a slew of fascinating rhymes from his timeless hit "Ain't No Half-Steppin'," off Long Live The Kane . "You know it's nothing that's trendy, or what [labels] feel the music is supposed to sound like," confesses Big Daddy Kane when asked about the longevity of his sound's success after being honored on VH-1's 2005 Hip Hop Honors program. "It's what I feel and what I believe. I think the audience accepted me for being me, and they want to keep hearing old songs I have done because of what I represent."
Big Daddy Kane, along with MC Lyte, The Roots, and Skillz all represent the essence of Hip Hop's earliest incarnation. The revolutionary culture known as Hip Hop was never about getting the biggest record deal, flashing money and images of scantily clad women in videos, or displaying strength with fire arms and gang signs. San Francisco rapper Gift of Gab (from Blackalicious) describes Hip Hop as "a voice that we enlist to express how we be feelin about this and that," which has absolutely nothing to do with record sales and money. His definition represents the most altruistic quality of this beloved culture: expression. From the graffiti to the dancing, and all throughout the music, the freedom to artistically express one's point of view regarding any situation or obstacle is the central idea that bridges generational gaps together. The pioneers of this social movement created a freedom-of-artistic-expression template that has survived long enough to impact the world, and through mass gatherings such as block parties or events similar to the VH-1 Hip Hop Honors 2007 show, we can continue to empower our youth by planting this seed of knowledge in them; thus, forever cultivating the spirit of Hip Hop. In an interview with JR of the San Francisco Bayview, MC Lyte, 2006 VH-1 Hip Hop Honoree, took a moment to impart some wisdom on today's youth, "set goals for yourself and stop at nothing until you've made it happen through good energy and positivity." When Brooklyn Nite One asked Big Daddy Kane how he would like to remembered, Kane simply answers: "as one of the great lyricists, someone that had an impact on the people, and touched people's lives." After watching The Roots, Kane, MC Lyte, and Skillz radiate urban ingenuity at the 2007 VH-1 Hip Hop Honors "block party" it's clear that Mele Mel's original message is just as relevant to society today as it was 30 years ago. Long Live Hip Hop!
---
RELATED LINKS